Wealthy Donors Fuel Newsom's $13 Million California Recall Fight
Netflix CEO, state realtors' PAC are among top givers
Governor's total dwarfs recall supporters' $4.7 million
Bloomberg Government subscribers get the stories like this first. Act now and gain unlimited access to everything you need to know. Learn more.
California Gov. Gavin Newsom's backers have raised over $13 million in just three months to keep him in office as critics seek to remove him in a recall election that hasn't even been set yet.
The total is a testament to the first-term Democrat's ties to wealthy, politically active Californians—including the heads of Netflix Inc., DoorDash Inc., and the Wonderful Co., which distributes Fiji Water and POM pomegranate juice—as well as donors from New Jersey, Texas, and Utah.
Newsom also has a significant advantage over candidates who want him out. California's campaign finance law lets donors give as much as they want to recall-related campaign committees, while supporters of individual gubernatorial candidates are limited to $32,400 per election.
In 2012, a recall target in another state had a similar leg up on his competitors. Former Wisconsin Gov. Scott Walker (R) was able to take inunlimited sums while his opponents circulated the petition to remove him from office, raising six times more than his four challengers in his successful bid to stay in office.
As for the expanding fund to help Newsom fight off the recall attempt, "once the election is scheduled, this is going to go very quickly," said Pete Quist, research director for the National Institute on Money in Politics.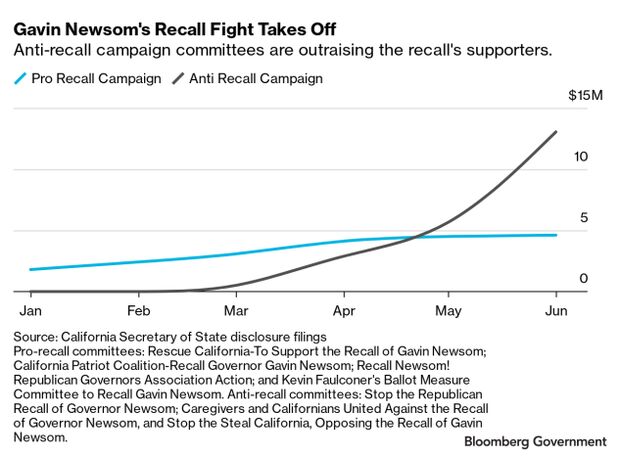 Tuesday is the last day for Californians who signed a petition to remove Newsom from office to withdraw their support for a recall if they've changed their minds.
County election officials have until June 22 to report any withdrawals to the Secretary of State's office. If there are fewer than the required 1.49 million valid signatures on the recall petition after that, there won't be an election. However, the Secretary of State's office said in April that nearly 1.72 million people had signed the petition.
Once that office determines the final count, the Department of Finance must publish a cost estimate for the election that a state legislative committee has 30 days to review. The lieutenant governor would then set an election date between 60 and 80 days after the review.
Newsom's anti-recall nest egg has grown because of several six- and seven-figure donations over the past month, according to disclosure forms filed with the California Secretary of State's office. Netflix CEO Reed Hastings contributed $3 million, and the California Real Estate Political Action Committee pitched in $1.5 million. The Federated Indians of Graton Rancheria, who are backing a 2022 ballot initiative to legalize sports betting at tribal casinos, gave $500,000. And the Democratic Governors Association donated $500,000.
More Dollars Uncounted
The $13 million doesn't include smaller second-quarter donations. Sums under $5,000 are to be disclosed after Aug. 2.
That tally also doesn't include Newsom's 2022 gubernatorial campaign coffers, which had $20.2 million on hand at the beginning of the year and collected at least $3 million more as of Monday. Hollywood director Steven Spielberg, then-Westfield top executive Peter Lowy, and former Google Inc. CEO Eric Schmidt are among donors who gave the maximum $32,400 to the re-election committee.
To compare, campaigns in support of the recall had collectively raised about $4.6 million as of this week, according to state filings.
Anne Hyde Dunsmore, campaign manager for the pro-recall Rescue California committee, said the campaign has raised about $500,000 and grown the donor base by roughly 2,000 people since recall petition signatures were submitted in March.
The organization is now training volunteers and preparing for the upcoming election rather than actively fundraising, Dunsmore said.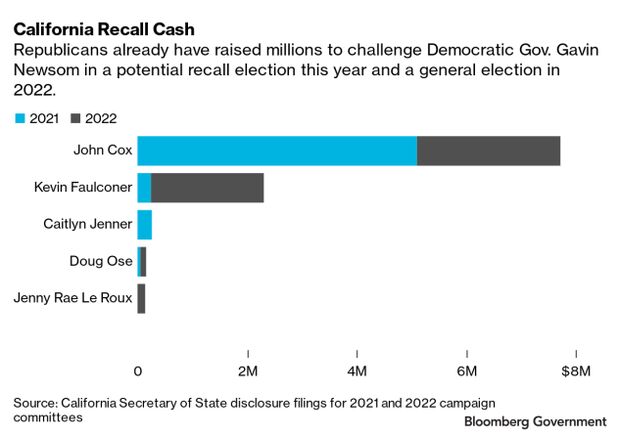 In a recall election, voters get a two-part ballot. The first is a yes-or-no question: Should the official be removed from office. If voters chose "yes," the second part asks them to select from a list of candidates who want to be the replacement. In the 2003 recall election of then-California Gov. Gray Davis (D), 135 names appeared under the second question.
So far, 43 people have filed statements of intent to run for governor in a 2021 recall election. The cost of entry in the race is low: $3,916.12 or 7,000 signatures.
No Limits
Campaign committees advocating for or against the first question are considered ballot committees under California law, and can solicit unlimited donations.
Of the would-be replacements, the best-funded announced candidate is Republican businessman and 2018 gubernatorial candidate John Cox. He's taken in at least $7.8 million in cash for his 2021 and 2022 campaign committees, of which $5 million is from his personal fortune, according to state disclosure forms. Former San Diego Mayor Kevin Faulconer has raised about $2.3 million for this year's potential election and next year's general election. Television celebrity and Olympic gold medalist Caitlyn Jenner, who entered the race in April, reported collecting $269,805 in the past month. Eight of Jenner's 24 donors were from outside California.
Former U.S. Rep. Doug Ose raised $157,400, and Redding, Calif.-based business owner Jenny Rae Le Roux has collected $142,400 for 2021 and 2022 campaign committees.
Longer-term Strategy
For some of Newsom's Republican opponents, winning the recall may not be the point.
With only 40% of voters surveyed in a recent poll saying they want Newsom out, established Republicans like Faulconer are probably setting their sights on 2022, said Luis Alvarado, a GOP strategist who was an adviser to 2010 California Republican gubernatorial candidate Meg Whitman.
"The name of the game is to demonstrate viability and strength over the other recall candidates, to demonstrate viability for the next election cycle," Alvarado said.
To contact the reporter on this story: Tiffany Stecker in Sacramento, Calif. at tstecker@bgov.com
To contact the editor responsible for this story: Tina May at tmay@bloomberglaw.com
Stay informed with more news like this – from the largest team of reporters on Capitol Hill – subscribe to Bloomberg Government today. Learn more.