Water Pollutants in Michigan May Sway Swing Voters in Top Races
A water pollutant issue in Michigan that's widespread and doesn't split neatly along partisan lines is expected to be played up in some of the state's most competitive races.
In the past several years, thousands of Michiganders learned their drinking water contains high levels of so-called "forever chemicals" linked to high cholesterol, kidney cancer and thyroid disease, among other conditions. Per- and polyfluoroalkyl substances, or PFAS, were used in firefighting foam on military bases, and in manufacturing plants to keep products water-proof or stain-resistant. They have now leaked into the water supply for numerous communities.
Elected officials in the state are now touting recent legislative wins to address PFAS and are promising further action. Meanwhile, challengers on both sides of the aisle are making the case that it's too little, too late. And the issue has already cropped up in a Senate race TV ad.
Along with being a battleground in the presidential contest, Michigan features a Senate race to watch, a couple of House seats being targeted by Democrats, and a pair of House Democrats who represent districts President Donald Trump carried in 2016, including Rep. Elissa Slotkin of the 8th District.
"Everyone knows what PFAS is; everyone wants to know if it's in their communities," Slotkin said in an interview. "There's a lot of interest because people want to know when they give their child a glass of water, it isn't going to give them an early childhood cancer or rare ailment."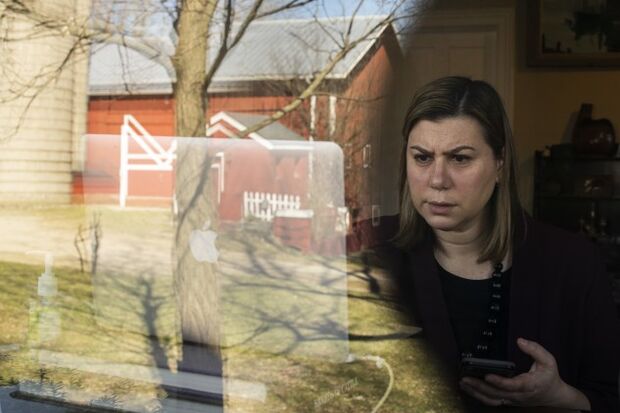 Water in the Great Lakes State
The Michigan Department of Environment, Great Lakes and Energy has identified 93 PFAS sites around the state, touching every congressional district. Among the sites are military air bases, manufacturing plants, landfills, and even schools.
While PFAS is an issue across the country, Michiganders tend to be more concerned about water issues, regardless of their party, said Stu Sandler, a Republican political consultant in the state.
"Water quality is a part of everyday life in Michigan. It's not only the actual use of water, but it's also a part of tourism, it's part of the economy," he said. "Michigan has a close relationship with water."
The issue has attracted both Republicans and Democrats in the state. Reps. Debbie Dingell (D) and Fred Upton (R) co-sponsored a bill (H.R.535) the House passed in January that would prohibit the manufacturing of such chemicals, direct the EPA to label the chemicals as hazardous, and authorize $200 million for treatments to clean up the water. A similar bill (S. 638) has been introduced In the Senate that's cosponsored by Sen. Gary Peters (D-Mich.).
Slotkin said while she sees environmental issues being politicized in Washington, back home, it's an issue for both parties.
"You should see my anglers, hunters, and conservationists who are more active in more conservative circles, who will go to the mat to protect the local environment," she said.
Clean water is an issue that resounds with more conservative voters including non-college-educated white voters, particularly men, said Adrian Hemond, a Democratic strategist. Those are the groups Democrats need to win if they don't want to lose the state again, as Hillary Clinton did in 2016.
"Democrats need to prevent that from happening, and PFAS is one of those issues that can help them make some of those inroads," Hemond said.
Swing voters are able to be swayed by environmental concerns, especially those dealing with clean water and health, according to polling in six swing states from the League of Conservation Voters Victory Fund. The group found 65% of swing voters had serious concerns about re-electing Trump once told his administration opposed rules that would have banned corporations from adding chemicals to the water supply.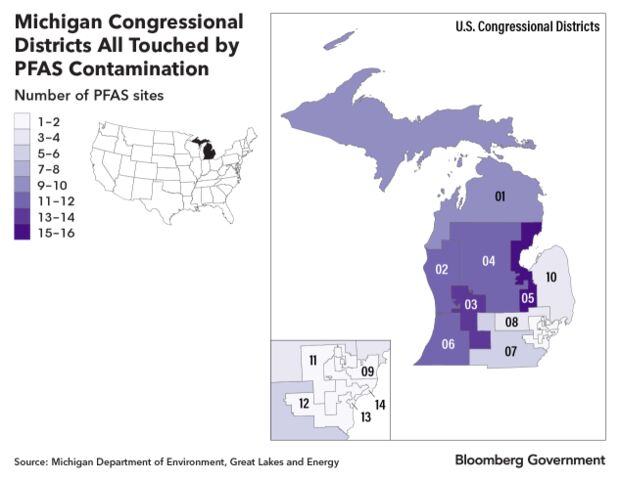 In Michigan's 3rd district, a shoe factory used PFAS chemicals in their products and heavily contaminated the drinking water in the area. Peter Meijer, a Republican seeking the open seat, said he wants to see the federal government help clean up the areas, but also review federal regulations that might have led to PFAS chemicals being used on a military base.
The district is currently represented by Libertarian Rep. Justin Amash, who left the Republican Party last July and briefly ran for president.
Meijer said there is a "tremendous opportunity" for Republicans to embrace conservation efforts.
"The notion of stewardship and sustainability are intrinsically conservative," he said. "Places where we benefit today, we want to make sure we maintain that gift for generations to come."
Upton has also highlighted his experience cleaning up polluted water on his campaign website. But one of his Democratic opponents, state Rep. Jon Hoadley, is making the case PFAS contamination happened on Upton's watch and his response has been too little too late.
"He's coming in after the fact and trying to clean up the mess that was party caused by the regulatory system he enabled for decades," Hoadley said.
Senate Race
PFAS could also impact Michigan's Senate race, one of the few opportunities Senate Republicans have to flip a seat this November. Three environmental groups—the League of Conservation Voters, Environmental Defense Action Votes and Natural Resources Defense Council Action Fund—launched an ad featuring a woman discussing the link between her cancer and PFAS, and praising Peters for his work on the issue.
"What he's doing makes a difference," she said. "We need to him to continue the fight."
Peters is facing his first re-election against Republican John James, an Army veteran and businessman. James challenged Sen. Debbie Stabenow in 2018, taking 46% of the vote.
Peters has made his PFAS efforts a key part of his campaign, noting his work including several provisions in the 2020 National Defense Authorization Act to phase out the Defense Department's use of PFAS in firefighting foams and to test, monitor, and remediate contaminated areas.
In 2018, James said on his campaign website he would "champion policies and programs that not only protect environmental quality throughout the Great Lakes but will protect them from invasive species such as Asian carp."
"Protecting our waterways and Great Lakes from pests and pollutants is certainly an important issue to John James," James spokeswoman Abby Walls said.
To contact the reporter on this story: Emily Wilkins in Washington at ewilkins@bgov.com
To contact the editors responsible for this story: Kyle Trygstad at ktrygstad@bgov.com; Bennett Roth at broth@bgov.com