Watch Twin Cities Suburbs in Minnesota Map: Ballots & Boundaries
A panel of five Minnesota judges is to release congressional and legislative redistricting plans this afternoon.
Of the eight congressional districts, now evenly divided between Democrats and Republicans, we'll especially be watching for the new shape of the 2nd District, which takes in some Twin Cities suburbs and is probably the most politically competitive district in Minnesota. Two-term Democrat Angie Craigwas re-elected 48%-46% in 2020.
The Minnesota judges are intervening after state legislators in the Democratic-led House and Republican-controlled Senate indicated they wouldn't agree on new lines by today's statutory deadline. Look for the maps HERE. — Greg Giroux
(Was this newsletter forwarded to you? It's free. SUBSCRIBE )
RHODE ISLAND: FEW CHANGES
Rhode Island's Democratic-led legislature today will be considering new maps recommended by an advisory commission.
The proposed lines wouldn't make significant changes to either the 1st District of Democrat David Cicilline or the 2nd District of Democrat Jim Langevin. But with Langevin retiring from the less-heavily Democratic of the two districts, the question is whether Democrats will feel compelled to amend the bill to buttress the 2nd ahead of what could be a difficult November election for their party. — Greg Giroux
KANSAS: 'SYSTEMATIC DILUTION'
Kansas Democrats are challenging a congressional map that could shut them out.
A lawsuit filed yesterday accuses majority Republians of an "egregious and systematic dilution of Democratic and minority votes" by dividing Wyandotte County (Kansas City) into two districts and by shifting the city of Lawrence and the University of Kansas into the sprawling and mostly rural 1st District. A majority of Wyandotte's residents are either Hispanic or Black.
The new configuration endangers Democratic Rep. Sharice Davids, who represents all of Wyandotte. Republicans say Davids would have won re-election in 2020 under the new lines.
The lawsuit was filed by the firm of Democratic election lawyer Marc Elias. There's a second lawsuit from the ACLU and the Campaign Legal Center making similar claims. — Greg Giroux
Tally: 34 Completed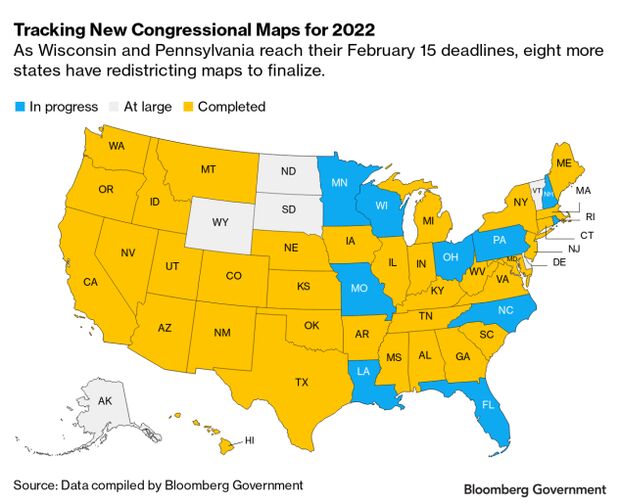 The finished maps:
Alabama|Arizona | Arkansas | California| Colorado |Connecticut |Georgia |Hawaii| Idaho | Illinois | Indiana | Iowa | Kansas | Kentucky |Maine | Maryland| Massachusetts | Michigan | Mississippi |Montana | Nebraska | Nevada | New Jersey | New Mexico |New York | Oklahoma | Oregon |South Carolina |Tennessee| Texas | Utah | Virginia|Washington | West Virginia
MISSOURI: '6-2′ VS. '7-1′ DEBATE
Missouri's Republican-led state Senate is still struggling to resolve an impasse over how aggressively to redraw the state's eight congressional districts.
A bloc of strongly conservative Republican senators last week tied up the chamber to demand a map that would give the GOP an edge in seven out of eight districts, dismantling the metro Kansas City district of Emanuel Cleaver (D).
They also said the House-passed map, which proposes a GOP edge in six of the seats, wouldn't do enough to shore up the 2nd District of Rep. Ann Wagner (R) in suburban St. Louis, where Democrats have made gains in a state that otherwise has shifted strongly Republican in the past decade.
Other Republicans called that a risky approach that could expose one or more Republicans to defeat in a good Democratic year. The state Senate rejected the proposed 7-1 map.
Senate Majority Leader Caleb Rowden said he could use some diplomatic help from those with a stake in the outcome. "It is my hope that the congressional delegation will work to unify rather than divide, and be part of the solution and not just add to the problem," Rowden said on Twitter. — Greg Giroux
WISCONSIN: VOTING LAW
Hearings have begun on a Wisconsin legislative package (S.B. 934, S.B. 935, S.B. 936, S.B. 937, S.B. 940, S.B. 941, S.B. 943) that would change how voter rolls are updated and maintained.
The measures include a ban on private money in the administration of elections such as grants from the Mark Zuckerberg-funded Center for Tech and Civil Life. The initiative also would prohibit elections clerks from curing absentee certificates that don't have complete or accurate information, and would require voters in long-term care facilities to have proof of identification to be eligible to fill in forms to receive ballots. — Stephen Joyce
PENNSYLVANIA, MARYLAND: PRIMARIES DELAYED
Courts in Pennsylvania and Maryland have delayed primaries while they consider legal challenges to new congressional and legislative district maps.
A hearing in Pennsylvania Supreme Court is set for Friday on objections to a recommendation that the state adopt a redistricting plan vetoed by Gov. Tom Wolf (D). Commonwealth Court Judge Patricia McCullough (R) also suggested delaying the petition-gathering period until early March, without changing the primary election date. Candidates for the May 17 primary were to start gathering signatures for petitions today to get on the ballot.
In Maryland, the state Court of Appeals extended the filing deadline to March 22 from Feb. 22 as the court weighs four challenges to the redrawn legislative map. The order affects anyone who wants to run for local, county, or state offices. — Jennifer Kay, The Washington Post
ARIZONA: INCONVENIENT TIMING
A judge could decide whether it's legal for Arizona's online system for congressional and legislative nominating petitions to temporarily go offline so the state can coordinate district data—right before the April 4 filing deadline for candidates.
Secretary of State Katie Hobbs (D), whose office runs the system, filed a complaint against Attorney General Mark Brnovich (R) for saying the move would break the law and come with penalties. Hobbs wants the Maricopa County Superior Court to find she's in compliance with state law and to stop Brnovich from "investigating or initiating civil or criminal actions" against her. — Brenna Goth
Caught Our Eye
The leader of the Kansas Senate stripped three GOP dissenters on the new congressional map from some committee assignments. (The Topeka Capital-Journal)
Michigan State Police are investigating allegations of unauthorized voting equipment access in Roscommon County. Secretary of State Jocelyn Benson requested the probe. (Bridge Michigan)
Resources
Add Us to Your Inbox
Click HERE to sign up for Ballots & Boundaries, your check-in on redistricting and state voting laws.
To contact the reporters on this story: Greg Giroux in Washington at ggiroux@bgov.com; Stephen Joyce in Chicago at sjoyce@bloomberglaw.com; Jennifer Kay in Miami at jkay@bloomberglaw.com; Brenna Goth in Phoenix at bgoth@bloomberglaw.com
To contact the editors responsible for this story: Tina May at tmay@bloomberglaw.com; Katherine Rizzo at krizzo@bgov.com