Washington Supreme Court Accepts Commission's Congressional Map
New map doesn't significantly alter the 10 House districts
Legislature has 30 days to make limited changes to map
Washington's Supreme Court declined to redraw political district lines and accepted final maps from the state's redistricting commission even though it technically missed a deadline.
In a unanimous ruling Friday, the court said the commission in effect complied with state law when it voted to approve new congressional and state legislative maps less than one minute before midnight on the Nov. 15 deadline to complete redistricting, while formally transmitting the maps to the state legislature 13 minutes after midnight on Nov. 16.
"After reviewing the submissions and considering the constitutional and statutory framework as a whole, we conclude it is not necessary for the court to assume responsibility for adoption of redistricting maps under the present circumstances," the court said. "By voting to approve congressional and legislative redistricting plans before the end of the day on November 15, 2021, the Commission complied with its obligation" under the state constitution to complete redistricting by that date and it "substantially complied with the essential purpose" of the state law "to approve and transmit a plan to the legislature by that date."
The court directed the commission to "complete any remaining tasks necessary to complete its work so the process for finalizing the redistricting plan" may proceed. The state legislature has 30 days to make limited amendments to the map with a two-thirds vote of both the state House and state Senate.
The commission, in a statement, said it "appreciates the Supreme Court's quick decision to allow the redistricting process to continue forward" and will "carefully review the decision and update the public on next steps soon."
The commission's map didn't significantly alter most of the state's 10 congressional districts, seven of which are held by Democrats.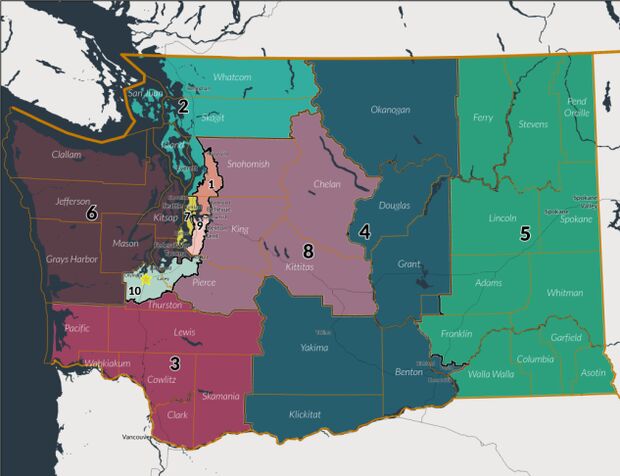 The two House members with the most competitive districts would continue to be Kim Schrier (D), who represents the 8th District in suburbs of Seattle and some central Washington farmland, and Jaime Herrera Beutler (R), whose 3rd District includes Vancouver and other territory in the southwest. Schrier was re-elected 52% to 48% in 2020 and is on the Democratic Congressional Campaign Committee's list of "Frontline" Democrats who are in competitive 2022 races. Herrera Beutler was re-elected 56% to 43% in 2020.
The map would shift more of Snohomish County to the 1st District of Suzan DelBene (D) from the 2nd District of Rick Larsen (D). Whatcom and Skagit counties, now split between the 1st and 2nd districts, would be wholly in the 2nd.
The Washington delegation also includes Rep. Dan Newhouse, one of 10 Republicans who voted to impeach Donald Trump for his role in the Jan. 6 attack on the U.S. Capitol. Newhouse's 4th District would continue to be a Republican-leaning swath of central Washington in and around Yakima, Kennewick, and Pasco. The 7th District of Rep. Pramila Jayapal (D), the chair of the Congressional Progressive Caucus, would continue to be a Democratic bastion based in Seattle.
To contact the reporter on this story: Greg Giroux in Washington at ggiroux@bgov.com
To contact the editors responsible for this story: Tina May at tmay@bloomberglaw.com; Bennett Roth at broth@bgov.com