Wanted: 7,000 Recruits to Bolster 'Too Thin' Border Patrol (1)
Migrant wave drives Congress, agency to hire more agents
Long hours, tough conditions, death risks deter applicants
(Update with retention incentive announcement in 22nd and 23rd paragraph.)
Border agent Hermann Rivera climbed out of his SUV on a dusty strip of land off the Rio Grande to help a pregnant Honduran woman who had just crossed the river. As he looked toward the tree line to the south, a stream of 50 more migrants crossing into U.S. territory were coming toward him, looking to claim asylum.
He called on his radio for backup. A medic and about a half-dozen agents would be needed to get these migrants to an already overflowing border processing station near McAllen, Texas.
Then the urgent voice of another agent came across his radio. A suspicious vehicle had been spotted near the border down the road—who could stop it and screen for drug trafficking?
"We're too thin," another agent's voice chimed in.
"We've been too stretched," Rivera said.
The U.S. Customs and Border Protection has struggled for years to hire and keep agents along the more than 100,000 miles of southern border and coastline, battling morale-sapping conditions including extreme climate, long hours, and remote outposts.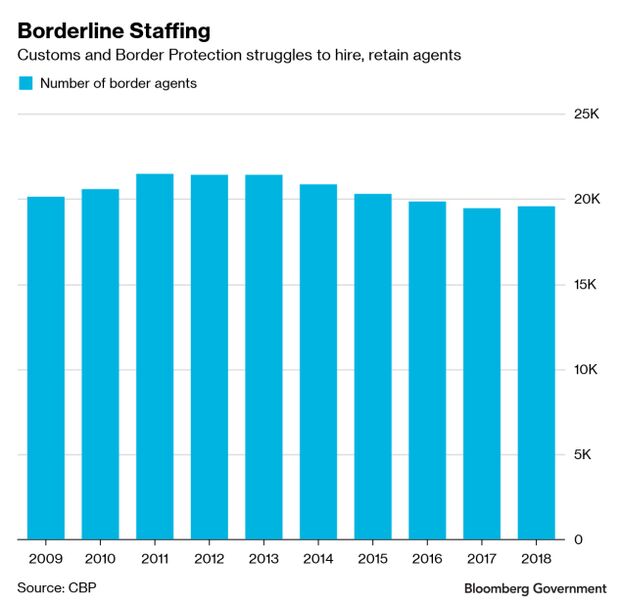 This spring's surge in migrant border crossings is exacerbating a shortage of almost 7,000 agents, according to data from a government watchdog report. Caring for the migrants has torn agents away from their other national security duties, and forced hundreds of airport and border customs officers from their posts to lend a hand, leading to millions of dollars in lost and delayed trade and travel. Acting Homeland Secretary Secretary Kevin McAleenan has warned of a "breaking point."
Hiring remains at a trickle, as Congress and the agency are accelerating efforts to shore up staffing at the agency. Last year, a net total of three agents were added along the entire Southwest border, according to agency data. This month, the agency canceled a hiring contract with Accenture Federal Services worth potentially $300 million, amid scrutiny of its performance.
With that announcement April 4, Department of Homeland Security officials also said the agency isn't on track so far this year to replace agents leaving or retiring in part because the current "political and economic environment" is making it "very difficult" to recruit.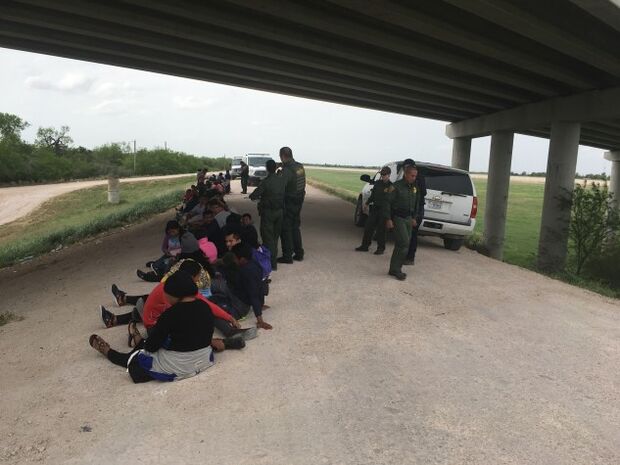 Money Versus Policies
Top Senate appropriators including Homeland Security Subcommittee Chairwoman Shelley Moore Capito (R-W.Va.) and ranking member Jon Tester (D-Mont.) said in interviews they're hesitant to throw more money at hiring while so many vacancies remain.
"They need to fill the positions they got," Tester said. "They spent a bunch of money in hiring a head-hunting outfit, they paid the head-hunting outfit more than we paid the agents, they've got to go out and address that and recruit."
A revamp of agency recruitment and retention policies may be needed even to do that. Since 2003, a string of reports from the Government Accountability Office and DHS Inspector General have offered fixes for the border agency's hiring woes while detailing the challenges: One report found 750,000 applicants would need to go through the agency's rigorous screening to hire just 5,000. Another outlined how the agency had worked to shorten the hiring process, but it still stretched 274 days.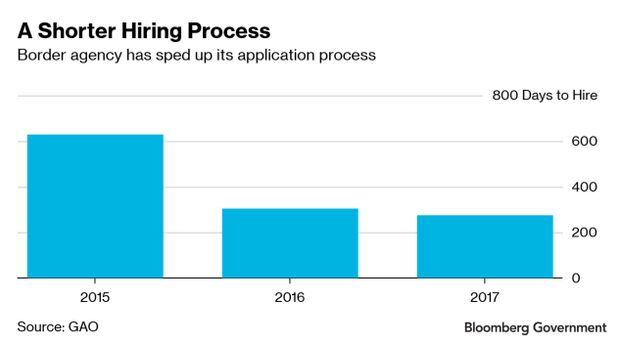 The border patrol agency would struggle to meet its recruitment targets and didn't have the capacity to train those recruits even if it did, acting Inspector General John Kelly said in March.
"They will be challenged to achieve their goals," Kelly testified at a House Appropriations Homeland Security Subcommittee hearing. "They have not achieved their goals in the past."
The job is grueling and requires long hours and mentally and physically taxing tasks. More than 100 border agents have committed suicide in the last decade, and more than 40 have died in the line of duty since DHS was launched in 2003, according to agency data.
Bills for the Border
Last month, the House Homeland Security Committee approved two bipartisan bills focusing on the agency. One measure (H.R. 1598), by Rep. Xochitl Torres Small(D-N.M.), would direct the agency to bolster its strategy to recruit and retain for remote locations. Another by Rep. Clay Higgins (R-La.) would require the agency to further develop its workforce staffing model (H.R. 1639).
Small is also the co-sponsor of another bill (H.R. 1392) by Rep. Will Hurd (R-Texas) to ensure agents are paid properly for overtime. A measure (S. 1004) by Sens. John Cornyn (R- Texas) and Gary Peters (D-Mich.), offered this month, would increase the authorized number of customs officers, who are also facing a shortage of 1,100, according to GAO reports.
Legislation (S. 731, H.R. 1609) by Sen. Martha McSally (R-Ariz.) and Rep. Dan Crenshaw (R-Texas) would help quicken hiring by waiving polygraph requirements during applications for certain military or law enforcement posts.
"These personnel shortages create national security risks," Crenshaw, ranking member of the House Homeland Security's Oversight, Management and Accountability Subcommittee, said. There's "no substitute for boots on the ground."
Agency efforts
The border agency hasn't been idle. After a 2017 executive order instructed the agency to increase its staff by 5,000, it hired Accenture to help super-charge recruitment. That contract came under fire in December when an inspector general reported only two agents had been hired almost a year into the contract. The agency ultimately canceled the contract this month, saying it can handle recruitment.
In parallel to the contract, the agency has tried new tactics, including more outreach to veterans and colleges, establishing a national recruitment task force, and allowing senior agents to have more control over their locations.
A retention incentive was also announced by the CBP April 24, which would pay some agents a quarterly bonus, equal to 5 percent of their annual salary, for signing up for a 12-month service agreement.
"We are facing a humanitarian and border security crisis on the Southwest border, and those who serve on the frontline are vital to that effort," John Sanders, acting head of the CBP, said in a statement.
The efforts have shown some success. Applications across the CBP more than tripled between fiscal 2013 and 2017, according to the GAO. Last year, for the first time, the agency hired more agents than it lost, according to officials.
Border officials say they're doubling down on recruiting to repeat that trend this year, but attrition has already surpassed it.
"This is noble and vital work, but there's one serious problem, there are not enough of us," Benjamine "Carry" Huffman, an acting executive assistant commissioner at CBP, told the House Homeland Security Committee last month.
Huffman ended his testimony with a recruitment pitch: "I will say it again, cbp.gov/careers, we're hiring."
To contact the reporter on this story: Michaela Ross in Washington at mross@bgov.com
To contact the editors responsible for this story: Paul Hendrie at phendrie@bgov.com; Robin Meszoly at rmeszoly@bgov.com