Vulnerable Lawmakers Push for Expedited China Competition Bill
House Democrats say bill needed to address inflation concerns
Possible floor vote next week sets up conference with Senate
Democrats facing challenging re-elections are seizing on a bill to boost U.S. competitiveness with China to help address voters' concerns about inflation and supply chain issues ahead of the midterms.
More than two dozen Democrats sent a letter to House Speaker Nancy Pelosi (D-Calif.) and Majority Leader Steny Hoyer (D-Md.) on Wednesday urging them to bring the bill (H.R. 4521) to the House floor next week so it can quickly pass and go to conference with legislation (S. 1260) the Senate passed in June.
The House bill, called the America COMPETES Act and in the works for months, has taken on fresh importance to vulnerable Democrats as November's elections look increasingly worrisome for their party. With President Joe Biden's social policy and tax plan, Build Back Better (H.R. 5376), stalled in the Senate, the economy-focused bill may present Democrats' best chance to pass major legislation this year.
"We continue to hear from constituents who are rightly concerned about supply chain backlogs and the rising price of goods," the lawmakers wrote in the letter. "It is incumbent upon us to take swift action in response to these concerns, and to seize a once-in-a-generation opportunity to set the course for America's economic future."
Of the 25 lawmakers who signed the letter, 10 were identified by the House Democrats' campaign arm as likely to run in the most difficult races. Others involved could join them as more states finish redrawing district lines.
In the letter, lawmakers also asked to vote on the bill "as soon as possible" when they return to Washington next week. The House Rules Committee announced it will likely have a meeting on the bill next week. A House leadership aide confirmed the goal is to hold the vote next week.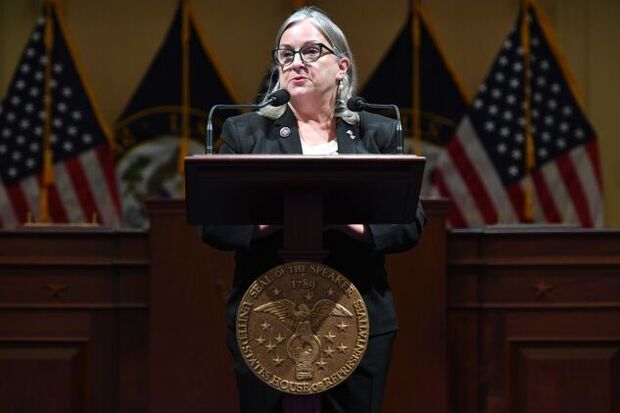 Rep. Susan Wild (D-Pa.) said in an interview she heard concerns about higher prices from constituents while in her district this week.
"It's really important as we are talking about the challenges our constituents are facing every day," she said, "whether it's costs in the grocery store or trying to get a new car, or whatever their need is, that we are able to explain what we are working on that will create solutions."
Wild said she's still working to find avenues to pass portions of the Build Back Better legislation, but she welcomes the increased focus on a bill that's more likely to become law.
"We should be working on things that do have a path forward," Wild said. "People are interested in results not process."
To contact the reporter on this story: Emily Wilkins in Washington at ewilkins@bgov.com
To contact the editors responsible for this story: Kyle Trygstad at ktrygstad@bloombergindustry.com; Bennett Roth at broth@bgov.com