Vulnerable Democrats Urge Progress on Biden's Economic Agenda
House-passed spending and tax bill stalled in Senate
Some lawmakers want to break it into smaller pieces
House Democrats facing competitive re-elections are growing frustrated with the lack of progress on the wide-ranging social spending and tax plan.
Some are already touting aspects of the Build Back Better Act, a roughly $2 trillion package the chamber passed in November. But progress on the bill (H.R. 5376) ground to a halt last month in the 50-50 Senate when Joe Manchin (D-W.Va.) revealed he couldn't support the bill in its current form and with unanimous Republican opposition.
With only a few months before primaries begin in earnest and Democrats facing the prospect of losing their House majority, lawmakers are calling for negotiations to kick into high gear. Some are even ready to stop working on a comprehensive bill and focus on smaller, more popular provisions as standalone legislation that they can tout back home to voters.
Rep. Susan Wild (D-Pa.) said she keeps wondering "whether Joe Manchin is just yanking our chain."
"Maybe we give it some finite amount of time for Joe Manchin to tell us 'no' again, if they want to keep working on trying to convince him," she said. "But let's not beat our collective head against the wall for three months."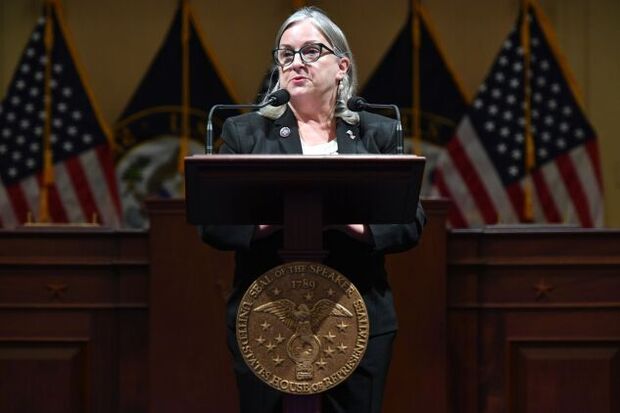 Rep. Elissa Slotkin (D-Mich.) said even doing a piece of the package, such as child care and universal pre-K, would be "transformative" for her constituents.
"I would like us to get very practical about passing at least pieces of our agenda," she said. "This zero-sum approach to Build Back Better I don't believe is practical."
Not everyone is ready to break up the comprehensive bill. Rep. Tom O'Halleran (D-Ariz.) said a larger bill was needed to address issues such as education, health care, and climate.
"Negotiation is about trying to find common ground and continuing to work at that process," he said. "As long as you're working at that process, you can take a little time out and you go back to it."
Waiting for Senate
Democratic leadership has said little about the bill since the House returned this week, but much of it is out of their hands. Majority Leader Steny Hoyer (D-Md.) said on the House floor Thursday that the chamber "stands ready to act on the Build Back Better Act" if the Senate makes changes and passes it.
Caucus Chair Hakeem Jeffries (D-N.Y.) said the Senate and White House are currently negotiating on the bill.
"We, of course, are supportive of that," he said at his weekly news conference. "And it's my expectation that we're going to be able to get something done."
The Senate has focused on voting rights since the start of the year. Sen. Gary Peters (D-Mich.) said while the debate on voting and elections was necessary, it was the issues in this bill that would ultimately resound with voters.
"Clearly we have to defend democracy, that's what we're trying to do right now," Peters said. "But talking about issues that impact people's lives directly are always the most salient ones."
Cutting Priorities
Democrats facing tough re-elections said they accept that some provisions will be cut from the current bill to lower the price tag. But there's no consensus on what will be on the chopping block.
Months of debate resulted in a delicate balance of compromises. A major change could re-start debates on drug pricing, immigration, and taxes.
If the larger bill were broken into smaller components, only two could pass via reconciliation, the process that allows budget-related legislation to be passed by a simple majority in the Senate. The others would need to gain the support of 10 Republican senators.
When asked about his priories for the bill, Rep. Tom Malinowski (D-N.J.) said lifting the state and local tax, or SALT, deduction cap was a top priority for his constituents in a high-income, high-tax state.
In a separate interview, Rep. Cindy Axne (D-Iowa), said language on the SALT cap could be removed, but the final bill needs to contain funding for expanding biofuels—a crucial item for Iowans.
"What I'm saying is, you know there are going to be contentious pieces that are going to be debated and figured out," Axne said when asked directly on whether changes to SALT should be cut. "We all knew going into this not everything is going to be there."
Axne said she was optimistic a bill would get done. But if it doesn't, she can point to plenty of legislative wins during her re-election in a redrawn, Republican-leaning district.
Malinowski, who also faces re-election in a more competitive district than the one he currently represents, called the process "complicated" but said he hopes Americans "see that there's one party in Congress trying to get these things done, and another that has no agenda rather than blocking everything and creating as much chaos as possible."
Republicans uniformly oppose the social spending and tax bill, warning that more federal spending will hurt the economy. Their concerns come as inflation climbed to its highest level in nearly 40 years in December.
House Minority Whip Steve Scalise (R-La.) said on the House floor that the approximately $2 trillion bill would only push prices higher.
"Clearly we have a difference on what the effects of spending trillions of dollars would have," Scalise said on the House floor noting the bill contained "higher taxes, additional spending, things that, by many accounts would increase inflation even higher."
With assistance from Zach C. Cohen
To contact the reporter on this story: Emily Wilkins in Washington at ewilkins@bgov.com
To contact the editors responsible for this story: Kyle Trygstad at ktrygstad@bloombergindustry.com; Heather Rothman at hrothman@bgov.com