Vulnerable Democrats Bet on Drought Money to Quench Parched West
Arizona's Mark Kelly, others lobbied for $4 billion in new law
More policy solutions to water woes needed as crisis deepens
Sen. Mark Kelly relied on numbers to persuade key Democrats this summer, including pivotal negotiator Sen. Joe Manchin, to squeeze $4 billion more into the tax, health, and climate bill to address severe drought in the West.
Kelly (D-Ariz.) and a handful of other Western senators knew they needed upwards of $5 billion in the package for drought, but the starting point in negotiations was $1 billion. The former astronaut and naval aviator had to explain to some of his colleagues that "the math just didn't work," he said in an interview last week.
"If you want to make some short-term and long-term deals with farmers to voluntarily cut back, and to do it in some cases for a longer period of time, I mean this becomes the arithmetic," Kelly said. "And the arithmetic, it doesn't add up to $1 billion."
Along with fellow Arizona Sen. Kyrsten Sinema, Colorado's Michael Bennet, and Catherine Cortez Masto of Nevada, Kelly ultimately secured $4 billion in the package (Public Law 117-169), which President Joe Biden signed earlier this week.
Kelly, Cortez Masto, and Bennet are running for re-election in some of the most contested November midterm races to a Senate that's now evenly divided. The law is poised to deliver some relief to their constituents, but it may not be enough to offset more painful cuts in western states' water consumption over the next few years.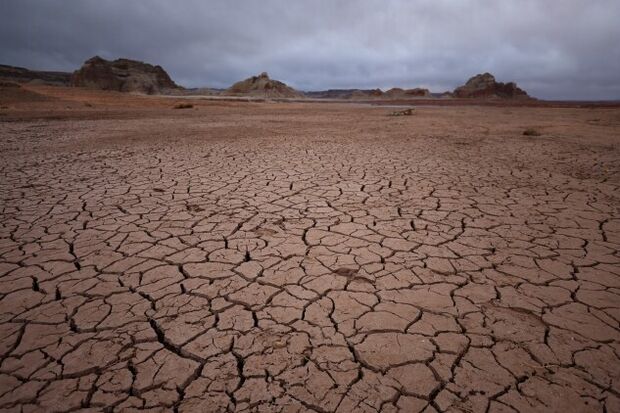 The Bureau of Reclamation in June told the Colorado River Basin states to conserve between 2 million and 4 million acre-feet of water in 2023. The basin states, which include Arizona, California, Colorado, New Mexico, Nevada, Wyoming, and Utah, collectively use about 10 million acre-feet of water each year from the river. Earlier this week, Reclamation predicted the Colorado River Basin would need to conserve as much as 4.2 million acre-feet of water each year through 2026.
While the American West and the 40 million residents who rely on the Colorado River feel the most immediate effects of drought, the growing lack of water, exacerbated by climate change, is a problem for the whole country's food supply.
Colorado River Water Cuts to Hammer US Winter-Lettuce Hub
Kelly regularly tracks the dwindling water levels in the Lower Colorado Basin, including in Lake Mead. That alarming data also featured prominently in the funding negotiations with non-Western senators, including Manchin.
"Mark Kelly was the one who put the big push on," for drought money, Manchin told reporters after Tuesday's bill signing at the White House. The West Virginia Democrat credited Kelly's science-based presentation for convincing him to agree to the additional funding.
"If we didn't have this funding in the legislation, there's a pretty high likelihood that Hoover Dam wouldn't be creating any electricity in about a year and a half," Kelly said.
No Guarantee
The $4 billion in the climate bill is designed to be flexible, taking the form of grants, other financial assistance, and contracts to help states and tribes conserve water. Kelly said lawmakers will look to boost regular appropriations and craft other legislation to design more durable, long-term solutions to drought.
"There's no guarantee this drought is going to end, and it's going to be raining, and we're going to get snowpack like we used to," he said.
The current Drought Contingency Plan, or DCP, that basin states agreed on and Congress passed in 2019 expires in 2026. That deadline offers an opportunity to reconfigure water allotments to each state and address the problem of water evaporation resulting from climate change. "The Upper and Lower Basin states have to figure out what's going to be workable," said Kelly. "What we have today clearly is not."
The federal government this week announced that Arizona and Nevada—two Lower Basin states—will see cuts of 21% and 8%, respectively, to their annual water allotments from the Colorado River in 2023. Mexico, also part of the US compact, must reduce its consumption by an extra 7% of its annual allotment next year. California, the third Lower Basin state, isn't required to make an additional cut.
Reclamation also will reduce downstream releases from Glen Canyon and Hoover Dams next year because of declining water levels in the basin's two largest reservoirs, Lake Powell and Lake Mead. Federal officials on Tuesday, including Reclamation Commissioner Camille Touton, reiterated their commitment to helping the states reach consensus on consumption, shying away at least for now from enforcing mandatory cuts across the board.
States such as Arizona and Nevada, however, say the pain has to be spread more equitably. Talk of "voluntary agreements" among the states doesn't work for Arizona because of its substantial rationing contributions to date, said Tom Buschatzke, director of the Arizona Department of Water Resources.
"If we're going to put water on the table, given all we've done under the guidelines, under the DCP, under additional conservation efforts since 2014, we want to see an outcome in which there is 100% certainty that whatever the numbers are that are put out there, those are the numbers that are actually going to happen," he told a reporters' briefing earlier this week.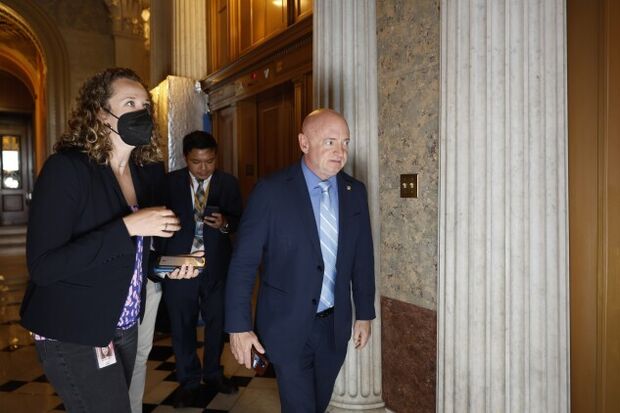 Long Game
The last-minute congressional deal on drought didn't materialize out of thin air, but rather was the result of lawmakers' sustained efforts to raise the alarm on the issue in Washington, several Democrats and their staff said.
"There were a number of senators who were working vociferously behind the scenes to make the case that this investment was necessary, and that this would be the perfect vehicle to include that investment," said Rep. Joe Neguse (D-Colo.), who shepherded a separate wildfire response and drought resiliency bill (H.R. 5118) through the House in late July.
Kelly, a member of the Energy and Natural Resources Committee that Manchin leads, said he's been working for the past two years on drought remedies.
Cortez Masto, also a member of the Energy and Natural Resources panel, provided technical expertise during negotiations, the senator's spokeswoman Lauren Wodarski said. Bennet, chairman of the Senate Agriculture Subcommittee on Conservation, Climate, Forestry, and Natural Resources, had legislative language on drought funding already drafted when an impasse between Manchin and Senate Majority Leader Chuck Schumer (D-N.Y.) over the broader package broke in July.
When robust drought mitigation funding wasn't included in a draft of the package Schumer's office released late last month, Bennet enlisted the other Western senators in lobbying for the money, according to a Democratic aide close to the negotiations. Sinema, with her leverage as one of two critical Democratic votes in the 50-50 Senate, helped carry it over the finish line, the aide said.
The climate bill's impact on combating wildfire, flooding, and drought in the West will be "significant," Kelly said. Still, it's not an "end all, be all" to reducing emissions and protecting the planet. "We're going to have to look for more opportunities to decarbonize our energy."
To contact the reporter on this story: Kellie Lunney in Washington at klunney@bloombergindustry.com
To contact the editors responsible for this story: Robin Meszoly at rmeszoly@bgov.com; Sarah Babbage at sbabbage@bgov.com