Voting Rights Rules Changes Floated to Overcome GOP Resistance
Nuclear option to scrap filibuster unlikely to win support
More modest changes to win Manchin support considered
Bloomberg Government subscribers get the stories like this first. Act now and gain unlimited access to everything you need to know. Learn more.
Senate Democrats are considering modest rules changes to advance voting rights legislation though are unlikely to abolish the super-majority threshold that has been the biggest obstacle to moving the election agenda.
The impetus for the proposed changes has been Republican opposition to the John Lewis Voting Rights Advancement Act (S. 4) and the Freedom to Vote Act (S.2747). Senate Majority Leader Chuck Schumer (D-N.Y.) said he wants to bring election legislation to the floor once again this week. To break the threatened filibuster and advance the measure, Schumer currently would need 60 votes in the closely split chamber.
"If Republicans refuse to join us in a bipartisan spirit, if they continue to hijack the rules of the Senate to turn this chamber into a deep freezer, we're going to consider the appropriate steps necessary to restore the Senate so we can pass these proposals and send them to the president's desk," Schumer said in a floor speech.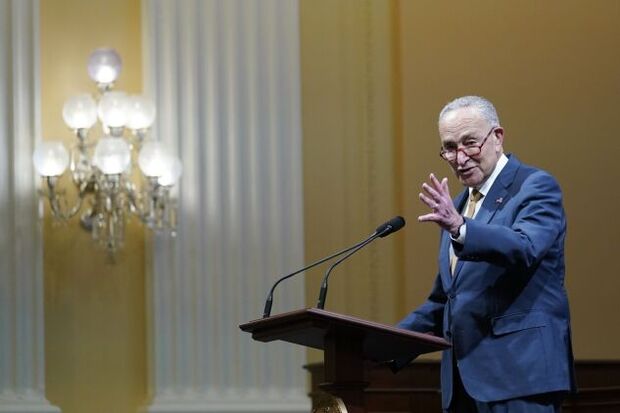 Democrats have identified Monday's Martin Luther King Jr. holiday as their goal for passing legislation that civil rights leaders say is necessary to counter restrictive voting laws that GOP-controlled state legislatures have passed around the country. The president will travel to Atlanta on Tuesday to promote the legislation in a state where lawmakers limited mail-in and early voting after Biden carried Georgia in 2020.
"Anything short of passing voting rights protections would be the most destructive act imaginable for democracy," Derrick Johnson, president and CEO of the NAACP, said in a statement Monday.
`Nuclear Option
There are two major ways to change Senate rules. Majority leaders of both parties in the last decade have used a simple majority to lower the 60-vote threshold to invoke cloture, or limit debate, on presidential nominees. That approach, referred to as the "nuclear option," calls for the majority to overturn the ruling of the chair, revise Senate rules, and create new precedent.
The problem for Democrats in going that route is Sen. Joe Manchin (D-W.Va.) has bucked successful efforts by Democrats and Republicans alike in the past decade to modify Senate rules with a simple majority and has said he'd like to see GOP support for any further changes.
Senators can also adopt a resolution changing the text of the chamber's rules. Biden joined fellow senators in 1975 to use that procedure to lower the threshold to end most filibusters from two-thirds of those present to three-fifths of the body, now pegged at 60 votes.
But that approach would require a two-thirds majority of those present to implement, thus requiring Republican buy-in.
"They don't have the votes," said Sarah Binder, a senior fellow at the Brookings Institution.
Many Senate Democrats have expressed interest in simply lowering the procedural threshold for election-related legislation from 60 to a simple majority. But Manchin and Sen. Kyrsten Sinema (D-Ariz.) have so far publicly opposed that carve-out.
Lawmakers are also looking at more limited options. Sen. Jeff Merkley (D-Ore.), a longtime proponent of revamping the filibuster, has advocated allowing 41 senators to halt consideration of legislation as long as they continuously hold the floor. Half of the current Democratic caucus, including Manchin, voted in favor of a similar proposal in 2011.
Talking Filibuster
That codification of the "talking filibuster," such as the one portrayed in the 1939 film "Mr. Smith Goes to Washington," would upend current practice whereby a single senator can simply place a "hold" on a bill. That forces the majority leader to file a cloture motion that takes the votes of 60 senators to move the bill forward.
"The basic idea was to restore extended debate," Merkley said in an interview. "We don't have a filibuster now, a filibuster being extended speech that creates leverage for those who are extending the debate to seek an amendment, to seek a compromise, to make the point heard, to enable a bill to be fully vetted."
Manchin also supports eliminating the 60-vote threshold on the motion to proceed, which would allow senators to begin debating and amending legislation with a simple majority.
"That's a rule change I would think Republicans—they've been for that before," Manchin told reporters. "I've been for that."
Lawmakers have considered pairing that proposal with a guarantee that each side would get votes on relevant amendments with limitations on the amount of debate allowed, according to both a current and former Senate staffer who asked for anonymity to discuss internal negotiations.
That is "where sort of the minority might be interested in a reform package," said Matt Glassman, a senior fellow at Georgetown University's Government Affairs Institute. "Because the other issue in the Senate right now is the logjam of amendments and the inability to offer them on the floor."
Manchin said he would also support changing the threshold needed to advance a bill from 60 votes to three-fifths of senators present. While 60 votes would be necessary if all 100 senators were present, the absence of senators from either party would correspondingly drop the number of votes needed to limit debate.
"That, to me, makes a lot of sense," Manchin said.
But the "north star" for advocates seeking to scrap the filibuster remains the ability to amend, debate, and ultimately pass a bill with a simple majority, said Eli Zupnick, a spokesperson for reform advocacy group Fix Our Senate.
"Steps that fall short of that, they may be perfectly fine steps," said Zupnick. "But they wouldn't be the kind of reforms that would actually fix the broken Senate and allow the majority to get things done."
To contact the reporter on this story: Zach Cohen at zcohen@bloombergindustry.com
To contact the editors responsible for this story: Bennett Roth at broth@bgov.com; Kyle Trygstad at ktrygstad@bloombergindustry.com
Stay informed with more news like this – from the largest team of reporters on Capitol Hill – subscribe to Bloomberg Government today. Learn more.