Voting Changes to Need Preapproval in Every State Under Bill (1)
(Adds 'Civil Rights Groups Support' section with news releases and 'Senate Prospects Doubtful' section with commentary from Senate leaders; updates 'Record Needed' section with news release and clarifies potentially immediate preclearance requirements.)
Every jurisdiction in the country would have to get the blessing of a court or the Justice Department before implementing certain changes to voting systems under a new bill (H.R. 4) from House Democrats.
The measure, introduced by Rep. Terri Sewell (D-Ala.) and more than 200 other Democrats, would require approval for changes that are presumed to have discriminatory effects, such as closing polling places in minority neighborhoods or cutting multilingual voting materials without a similar reduction in English-language materials.
States and localities could petition the U.S. District Court for the District of Columbia to greenlight proposed changes as nondiscriminatory, or seek the approval of the Justice Department. The process would be similar to the original 1965 Voting Rights Act's "preclearance" requirements for certain states.
Other state or local voting changes that would fall under what the bill terms "practice-based preclearance" include redistricting in areas that experienced a large increase in minority populations, making documentation or identification requirements more stringent, and creating positions elected on an at-large or multimember basis that dilutes the votes of minority populations.
"Since the Supreme Court's Shelby vs. Holder decision, many states have enacted more restrictive voting laws that have led us in the wrong direction," Sewell said. She was raised in Selma, Ala., the starting point of the famous 1965 civil rights march.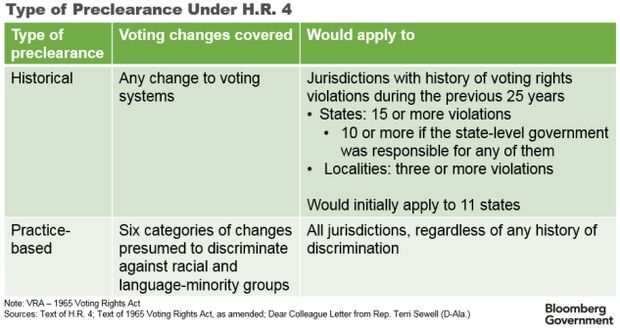 The bill, called the "Voting Rights Advancement Act," would also reinstate the historical preclearance requirements for all voting changes in states and localities with a history of voter discrimination. To do this, the bill would establish a new coverage formula to replace the one struck down by the Supreme Court in the 2013 Shelby County v. Holderdecision.
Writing for the court, Chief Justice John Roberts said the coverage formula was "based on decades-old data and eradicated practices."
"Our country has changed, and while any racial discrimination in voting is too much, Congress must ensure that the legislation it passes to remedy that problem speaks to current conditions," he wrote.
Jurisdictions would be subject to this type of preclearance based on the number of voting rights violations committed over a rolling 25-year period.
Read more: Democrats Push Approval of Voting Changes Where Violations Occur
The new formula could apply immediately to 11 states after the bill is enacted, according to a dear colleague letter sent by Sewell: Alabama, California, Florida, Georgia, Louisiana, Mississippi, New York, North Carolina, South Carolina, Texas, and Virginia.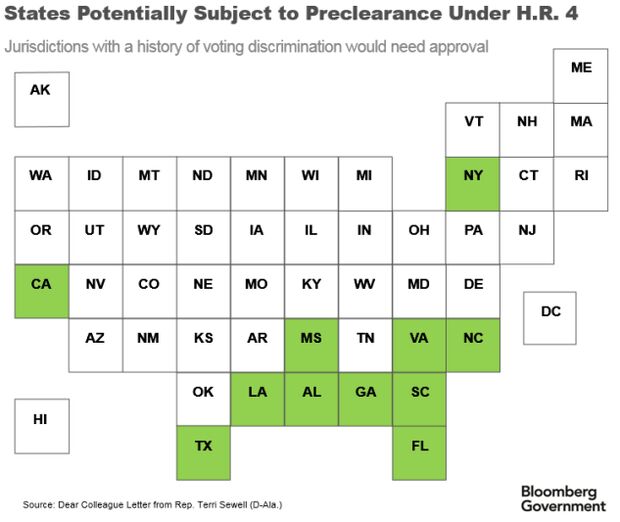 Civil Rights Group Support
The measure has the backing of the NAACP and Human Rights Campaign.
"From foreign interference in elections to voter purges, intimidation, and strict ID laws — the fragility of our electoral system has truly been exposed and the need for reforms never more pressing," Todd A. Cox, policy director of the NAACP's Legal Defense and Educational Fund said in a news release. "Evidence of widespread discrimination against Black voters is overwhelming and growing, and the need for legislative action is urgent."
Record Needed Before Consideration
Democrats have started holding field hearings to build a record demonstrating the need for strong federal oversight of elections. Because the Shelby County decision stopped preclearance under the Voting Rights Act's coverage formula, advocates have looked to another section of the law that requires harm to be demonstrated before a voting change can be blocked.
Related: Georgia Becomes Exhibit A in Push to Revive 'Preclearances'
The measure and field hearings are part of a voting rights push from House Democrats that also includes an elections and anti-corruption package (H.R. 1), which would state that Congress is committed to reversing Shelby County. That measure could get a floor vote as soon as next week, and a vote on H.R. 4 could follow later this year.
Several local and national organizations stated their support for undoing the 2013 decision and mobilized their supporters for the Georgia field hearing, according to an NAACP news release.
Senate Prospects Doubtful
Minority Leader Chuck Schumer (D-N.Y.) says he's trying to get Senate Republicans to support the measure. "We are going to do everything to persuade our Republican colleagues to pass it in the Senate," he told supporters.
Majority Leader Mitch McConnell (R-Ky.) says the bills, which he calls the "Democratic Politician Protection Act," are nonstarters in the Senate.
"Would a serious reform bill aim to take away states' abilities to impose meaningful ID or signature requirements for voters?" McConnell said in a news release. "Would someone concerned about 'restoring democracy' dismiss signature verification as an obstacle to be removed? I don't think so."
With assistance from Katherine Scott
To contact the author: Adam M. Taylor in Washington at ataylor@bgov.com
To contact the editors responsible: Adam Schank at aschank@bgov.com; Cheryl Saenzat csaenz@bloombergtax.com