Voters Weigh Erasing Jim Crow Where Symbols, Even Slavery, Legal
New design for state flag on Mississippi ballot
Utah, Nebraska could remove slavery exceptions
Bloomberg Government subscribers get the stories like this first. Act now and gain unlimited access to everything you need to know. Learn more.
One of the most glaring reminders of slavery and Jim Crow oppression fell in Mississippi this summer, and now the state's voters must decide whether to embrace a flag bearing a magnolia blossom instead of a Confederate battle emblem.
Mississippi's push to change the state flag came amid national conversations about race and racial justice. Its voters won't be alone Nov. 3 in contemplating whether policies written by White men afraid of losing power in past centuries reflect their communities today.
Ballot initiatives in Rhode Island, Utah, and Nebraska are a reminder that the conversation about racial justice in the U.S. extends beyond the Deep South, the practices of slavery, and the 20th century's Civil Rights Movement, said Rebecca Toy, a researcher at the College of William & Mary.
"We've become more attuned to the way race has been constructed in the U.S., and we're paying closer attention to language and the less-obvious laws that contributed to the construction of racial difference," Toy said in a telephone interview.
Mississippi voters will decide whether a flag bearing the motto "In God We Trust" under a white magnolia flower should fly over the state, replacing one that had been the last remaining in the country to incorporate the "stars and bars" Confederate battle emblem.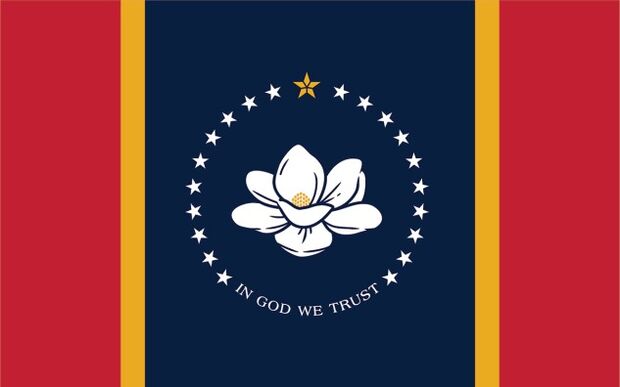 A state commission chose the proposed design in early September. Previous efforts to change Mississippi's state flag typically died quietly in the state Legislature. But this year lawmakers acted quickly in the wake of George Floyd's death May 25 while in the custody of Minneapolis police. A White police officer knelt on Floyd's neck for nearly nine minutes, and his death sparked massive protests in Mississippi and nationwide.
Reuben Anderson, the first Black justice to serve on the Mississippi Supreme Court, chaired the flag design commission. The flag appearing on the Nov. 3 ballot sends "a message that we live in the future and not in the past," Anderson said.
The former flag was selected in 1894 by White state lawmakers angered by the power gained by Black citizens during Reconstruction.
If voters reject the new design, the commission must start over.
Rule Change
Mississippi voters also will consider changing an elections rule enacted in the 1890s as a hurdle for black candidates seeking office.
Currently, candidates for governor or other statewide offices must win a majority of Mississippi's 122 state House districts, along with the most popular votes. Without both, the state House of Representatives steps in to decide the winner. The provision has come into play just a few times in Mississippi history, most recently in 1999 when the House chose between two White candidates for governor.
A proposed constitutional amendment would require candidates seeking statewide office to win just a majority of votes in a general election. If no candidate wins a majority, a runoff election would occur, rather than a process that acts like a junior electoral college.
State lawmakers approved the amendment after a federal judge said legislators should handle the issue. A lawsuit challenged the 1890s-era election rules amid Mississippi's tight 2019 governor's race.
Slavery Amendments
In Nebraska and Utah, voters will consider amendments to remove provisions in each state's constitution allowing slavery and involuntary servitude as punishments for people convicted of crimes.
The language has been part of Utah's state constitution since before its statehood in 1895, and in Nebraska's since 1875.
This year's initiatives addressing vestiges of slavery show that states are willing to address issues where the federal government has fallen short, such as in gutting the Voting Rights Act of 1965, said Anne Bailey, a professor of history at the State University of New York at Binghamton.
Should they succeed, that could indicate voter appetite for other changes to address institutionalized racism in states' education, criminal justice, and health-care systems, Bailey said.
More people could be inspired to reevaluate their beliefs and their policies if they see, for example, Mississippi make an effort to change its voting system and its state flag this year, she said.
"Having the knowledge that voters voted enthusiastically for the changing of the flag, that means you'd not be going out on a limb to make those other changes," Bailey said.
Deleting 'Plantations'
Rhode Island is asking voters to trim the state's official name, "State of Rhode Island and Providence Plantations," which dates to its founding in 1643, when slavery was legal and accepted in the colonies. The initiative would shorten the name to just the "State of Rhode Island."
The Mississippi and Rhode Island measures had been proposed before—and were overwhelmingly defeated by voters in the early 2000s.
While public demand has surged for the removal of Confederate monuments and other symbols of slavery and racism, it's also important to change laws that remain on the books though they're outdated or have fallen out of practice, Toy said.
"The deeper that we dig in places out West, places that became states after Reconstruction, places in the North—we'll realize these problems exist everywhere," Toy said.
To contact the reporter on this story: Jennifer Kay in Miami at jkay@bloomberglaw.com
To contact the editor responsible for this story: Tina May at tmay@bloomberglaw.com
Stay informed with more news like this – from the largest team of reporters on Capitol Hill – subscribe to Bloomberg Government today. Learn more.