Voters Back More Police Oversight After George Floyd's Death (1)
Columbus, Ohio, voters approved civilian review board
Over a dozen cities, counties voted on police measures
(Updates 11/4 story to add election results.)
Bloomberg Government subscribers get the stories like this first. Act now and gain unlimited access to everything you need to know. Learn more.
Voters in communities across the country opted for measures to increase oversight of their police departments in the wake of the George Floyd killing, including a plan in Columbus, Ohio, to create a civilian review board to investigate allegations against officers.
"There's a sense of urgency," said Paul Butler, a professor at Georgetown University Law Center, and author of "Chokehold: Policing Black Men."
Voters in over a dozen cities and counties weighed measures in Tuesday's election to overhaul law enforcement practices in their jurisdictions, including mandating the release of body-cam footage after use-of-force incidents, directing police funding to community programs, and giving new powers to police review boards.
Many of the measures passed, while votes were still being counted in some cities and counties Thursday afternoon.
"These measures set up mechanisms for more structural and systemic accountability," said Maria Ponomarenko, co-founder and counsel of The Policing Project and associate professor at the University of Minnesota Law School, "and can help identify problems before they happen."
The Columbus measure (Issue 2) creates a review board to investigate alleged police misconduct and to manage a new inspector general for the force. The provision passed by about 74% to 26%.
Columbus was the largest city in the U.S. without a civilian review board, according to City Council President Shannon Hardin. "A large part of our Columbus community wants this. This is the will of the people," Hardin said.
Butler called voter initiatives "a direct form of democracy where citizens can usurp lawmakers and take matters into their own hands."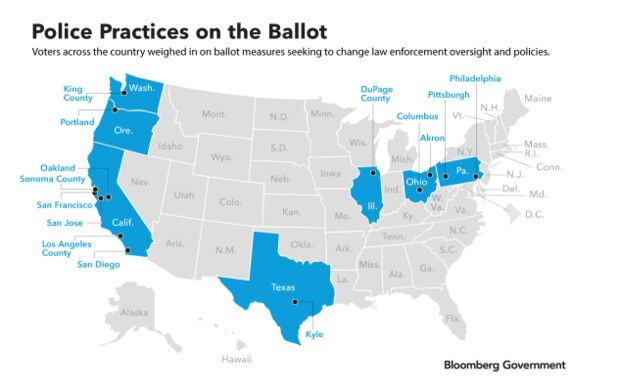 Tougher Oversight
The May 25 death of George Floyd while in the custody of Minneapolis police, and the deaths of other Black men and women in police incidents, sparked protests demanding changes in how officers interact with suspects. Voters across the country considered proposals to beef up oversight of law enforcement:
Supporters of approved measures said they would bring more accountability to police departments.
"The Oakland Police Department has had a problem," said Regina Jackson, chair of the Oakland Police Department Commission. "Black people specifically get abused sometimes for no reason and have certainly been dying for no reason."
"This is a movement about justice for Black and Indigenous people of color and that means rooting out institutional racism in law enforcement and making sure people are safe," said King County Council member Dave Upthegrove (D).
Budget Changes
Counties also considered changes to law enforcement funding.
A proposal in Los Angeles County, Calif., (Measure J) to mandate that a portion of tax revenues go to "community investment and alternatives to incarceration" passed by about 57% to 43%. It could provide as much as $490 million annually for programs, including pre-trial non-custody services, and mental health services.
DuPage County, Ill., voters approved a measure for the county to continue treating law enforcement and public safety as the top budget priority (Referendum Question 1) by about 74% to 26%. A measure to continue funding for training practices that reduce the risk of injury to officers and potential suspects (Referendum Question 3) passed with about 90% to 10%.
Police Priorities
Other proposals addressed police policies and staffing.
Norman Yee, San Francisco Board of Supervisors president and the provision's author, said the city needed more flexibility to determine police staffing. Yee said he worked with police "to come up with a matrix that's based on best practices to see how many police officers we really needed."
A Philadelphia initiative (Question 2) that proposed creating an office to advocate for victims of crimes was passing by 86% to 14% with 98% of election divisions reporting as of Thursday.
"We want to make sure victims and co-victims of violence have a seat at the table and that they are a priority as it relates to public policy in the city of Philadelphia," said City Council member Kenyatta Johnson, a supporter.
To contact the reporter on this story: Ayanna Alexander in Washington at aalexander@bloomberglaw.com
To contact the editors responsible for this story: Meghashyam Mali at mmali@bloombergindustry.com; Tina May at tmay@bloomberglaw.com; Gregory Henderson at ghenderson@bloombergindustry.com
Stay informed with more news like this – from the largest team of reporters on Capitol Hill – subscribe to Bloomberg Government today. Learn more.