Virus Threatens Latino Turnout in Top California House Race
Bloomberg Government subscribers get the stories like this first. Act now and gain unlimited access to everything you need to know. Learn more.
Democrats are working to ensure Latinos cast a ballot this fall in one of California's most competitive House districts, as the coronavirus pandemic and corresponding complications threaten turnout, voting advocates and strategists in the state said.
The rural 21st District, where Cesar Chavez organized farmworker strikes in the 1960s, is likely to vote for former Vice President Joe Biden in the general election. But the congressional race will turn on the mobilization of Latinos, who account for three-quarters of the population.
Despite giving Democratic presidential nominees double-digit wins in the last two elections, the Central Valley district voted for Republican David Valadao in three straight congressional races after it was drawn following the 2010 census. A low Latino turnout could hand the district back to Valadao, a dairy farmer who was unseated in 2018 by Rep. TJ Cox (D) in one of the tightest House races of the midterms.
"Latinos will vote overwhelmingly for Democrats, if they can just get them to the polls," said Mike Madrid, a veteran Republican strategist who specializes in analyzing the Latino vote.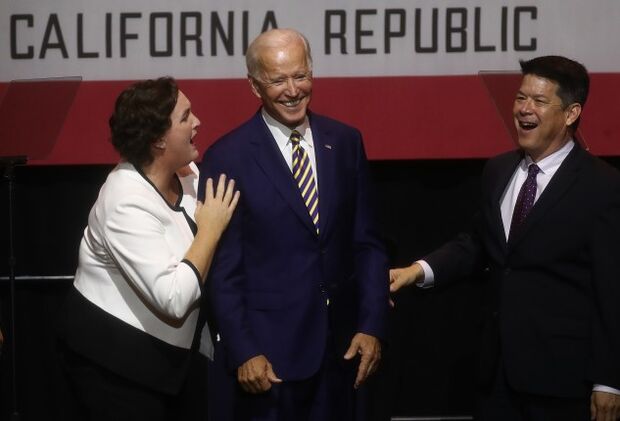 Turnout surged in 2018 as Latinos cast their vote in protest of President Donald Trump and his immigration policies. But the health and economic troubles from the coronavirus create an additional roadblock for Latino voters who lag behind whites, Asian Americans, and African Americans in turnout, according to the Public Policy Institute of California.
"Any barrier that is thrown up, whatever it is, is going to make that habit more likely to reflexively move back to its prior history," said Madrid.
Cox's campaign, the state Democratic party, and Latino civic engagement groups are replacing the long tradition of door-to-door outreach with what they say is an unprecedented digital and phone campaign.
"We're all learning a new way of campaigning and connecting to voters," said Yvette Martinez, executive director of the California Democratic Party. "There is so much at stake, I know we will be doing everything we can to harness that energy and inspire them to get to the polls."
The party opened 14 new offices across the state earlier this year to expand its ground operation. Cox's campaign has set up a phonebanking operation with dozens of volunteers to talk to residents about the effects of the coronavirus, campaign manager Amanda Sands said.
"Broad outreach is more important than ever, because when we reach out to voters, we let them know their congressman is fighting for them and is a resource," Sands said in an email.
'We're Going to Lose Voters'
Latino turnout could suffer from the coronavirus more than other groups, especially if there is a fresh wave of Covid-19 infections this fall.
Recent elections and research indicate Latinos were less likely to vote by mail, which municipalities are promoting in an effort to reduce the virus's spread at polling stations. About 47% of California Latinos voted with absentee ballots in the 2016 election, compared to 58% of all voters. Of those polled who don't typically vote by mail, 29% said it's because they don't trust the U.S. Postal Service to deliver the ballot on time, according to research by the California Civic Engagement Project at the University of Southern California.
"Going 100 percent vote-by-mail, we're going to lose voters along the way," said Mindy Romero, founder and director of the project.
The Coalition for Humane Immigrant Rights, a Latino advocacy group that works throughout California, is pushing municipalities to keep at least one in-person voting option for those who prefer to go to a polling station, according to the group's executive director Angelica Salas.
The state Democratic Party has a similar goal. Martinez said she wants to increase the number of voting centers where mailed ballots can be dropped off.
The virus also disproportionately affects racial and ethnic minorities, the state's public health agency has found Latinos make up almost 40% of California's population, but constitute 45% of Covid-19 cases and one-third of deaths. More than two-thirds of Californians between 18 and 49 years old who died from the coronavirus were Latino.
They also tend to hold hourly-rate jobs, the kind of work that can dry up and potentially force people to move away from where they've registered to vote, Madrid said. And in the Central Valley, tens of thousands of Latinos work as farmworkers, an essential job that leaves them vulnerable to contracting the virus, Sands said.
Conservative Latinos
California's Central Valley is home to hundreds of thousands of immigrants, as well as the children and grandchildren of those who came from Mexico decades ago.
The 21st District, and the neighboring 10th, were two of seven California House seats that Democrats flipped in 2018, all of which voted for Hillary Clinton in 2016. Democrats had set their eyes on those districts as potential pickups all decade, and Trump's election gave the party a rallying cry to energize voters, Madrid said.
But on other issues, Latinos in the region tend to be more conservative than those who live in and around major cities, said Dean Florez, a former Democratic state senator in the region.
"These Latinos care about job security, economic development, and they want to see jobs come in," he said. But they also support Democratic priorities such as clean air and worker protections.
Valadao's campaign said it hopes the district — which Clinton carried by 15 percentage points in 2016 — will recognize the former congressman's track record of opposing Trump's immigration policies. In Congress, Valadao voted against Republican efforts to undo the Deferred Action for Childhood Arrivals (DACA) program and criticized the policy of separating children from their parents at the border.
"There's lots of people potentially who are going to be Biden-Valadao voters," Valadao campaign adviser Robert Jones said. "That's what happened in 2016, and I expect there will be a lot of them in 2020."
Cox had raised nearly $2.3 million by March 31. Valadao brought in more than $1.7 million. And both ended the first quarter of the election year with nearly $1.3 million in cash on hand.
The first turnout test in the state is next month's special election in the 25th District, less than 20 miles down Interstate 5 from the 21st.
California Assemblywoman Christy Smith (D) faces U.S. Navy pilot Mike Garcia (R) in the May 12 contest to serve the remainder of the 116th Congress. They'll face off again in November for the seat's full two-year term.
To contact the reporter on this story: Tiffany Stecker in Sacramento, Calif. at tstecker@bgov.com
To contact the editors responsible for this story: Kyle Trygstad at ktrygstad@bgov.com; Bennett Roth at broth@bgov.com
Stay informed with more news like this – from the largest team of reporters on Capitol Hill – subscribe to Bloomberg Government today. Learn more.