Virus Fears Creep Into Campaign Ad War Dominated by Health Care
The coronavirus pandemic is beginning to appear in campaign ads, as candidates and allied groups debate whether using the crisis as fodder for 30-second TV spots will help or hurt their election bids.
Democratic strategists say the virus will make voters more attuned to calls to safeguard the insurance guarantees of the Obama-era health care law, while some Republicans warn that attempts to exploit the pandemic crisis for political gain would backfire.
Casey Phillips, co-founder of Republican consulting firm RedPrint Strategy, said in an email that "it's far too early to tell how this virus is going to shake out politically," though it likely will be, along with health care in general, a topic discussed in the fall campaign. More immediately, he said, are economic disruptions caused by the pandemic.
"The biggest issue now will be the economy, how far we've fallen and how robust the recovery is," he said.
The virus has been the focus of a number of ads by candidates of both parties. Democratic presidential contender Joe Biden aired a Spanish language ad in Florida, which held its primary March 17, that called him a "firm hand" in handling the coronavirus crisis, according to the ad tracking firm Advertising Analytics. Sen. Susan Collins (R-Maine) , who faces a tough re-election race, aired two spots this week, one in which she tells voters she will be devoting all her time addressing the virus and another in which she urges Mainers not to panic, to call their neighbors, and to find safe ways to support local businesses.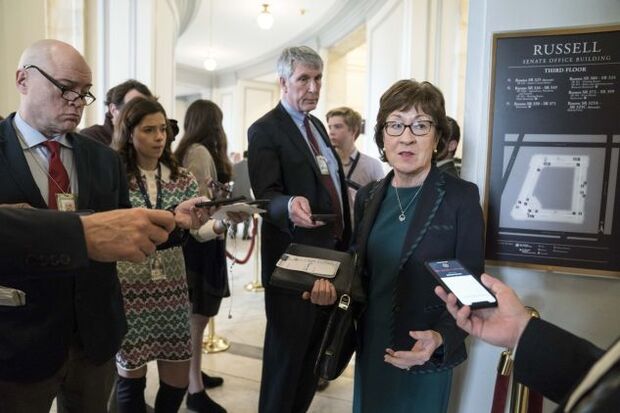 In a Senate race in Montana, the pro-Democratic group Protect Our Care mentioned "the fear of coronavirus" in a 30-second spot that aired earlier this month. The ad criticized Sen. Steve Daines(R-Mont.) for voting to roll back health insurance guarantees and Medicaid coverage.
The group reversed course and didn't mention the virus in a subsequent ad targeting Daines, who faces a challenge from Gov. Steve Bullock (D).
A spokesman for Protect Our Care, Michael Feldman, dismissed a question of why the mention of coronavirus was dropped from the latest ad, saying it was simply the second ad in a planned series highlighting Daines' record opposing the health care law. Feldman also denied the group's ads are campaign ads. Protect Our Care, like several other groups on both sides of the aisle that critics call "dark money" groups, avoids campaign finance disclosure rules by skirting messages that directly call for votes for or against candidates.
Health care dominated congressional campaign messaging, even before the pandemic struck. More than $10 million had been spent through mid-March in this year's Senate races on political ads mentioning health care, according to Advertising Analytics, making it by far the most mentioned issue in Senate races.
The current crisis highlights the Democratic message on health care, even if ads don't explicitly mention the pandemic, because people face possible loss of jobs and health insurance coverage at the same time they see the potential threat and cost of dealing with the virus, said Democratic consultant Martha McKenna, the former political director at the Democratic Senatorial Campaign Committee. Trump's handling of the pandemic is widely viewed as inept, she said, but Republicans in Congress remain reluctant to criticize the president.
Political Risk
Republican consultant Fred Davis said Democrats run a risk by talking about the politics of health care during a crisis.
"I think anything smacking of using this huge pandemic for political gain will backfire a thousand fold," he said in an email. Voters are smart enough to know that no one, Democrat or Republican could have seen the coming, he said, calling it an "act of God." Davis' firm, Strategic Perception, created ads for presidential candidates, including George W. Bush and John McCain, as well as numerous congressional candidates.
A TV ad in the Senate race in Michigan sponsored by Republican candidate John James argued that Democrats are exploiting concern about the coronavirus for political gain. James accused Sen. Gary Peters (D-Mich.) of "a lie about health care during America's worst health crisis in decades" and said he would work to protect health coverage for seniors and those with pre-existing conditions. Peters is one of two top targets of national Republicans.
James was responding to a TV ad sponsored by a Democratic super PAC, which showed a video from 2017 of James railing against the Obama-era health care law and saying, if elected to the Senate, he would work to "remove this monstrosity."
Senate Majority PAC, a super PAC allied with Senate Minority Leader Charles Schumer (D-N.Y.), defended its ad, saying the video of James criticizing the health care law originally was circulated by James but recently taken down by his campaign.
Brad Todd, another Republican media strategist, said he believed the pandemic "will end up as a foreign policy component to the elections more than as a health care component" because of the coronavirus' connection to communist China.
"But it is still early to tell where these races will go," Todd said.
(Michael Bloomberg, the majority owner of Bloomberg Government's parent company, also sought the Democratic presidential nomination. He endorsed Joe Biden on March 4.)
To contact the reporter on this story: Kenneth P. Doyle in Washington at kdoyle@bgov.com
To contact the editors responsible for this story: Bennett Roth at broth@bgov.com; Kyle Trygstad at ktrygstad@bgov.com