Virus-Driven Vote-by-Mail Efforts Run Up Against Cash Shortfalls
The coronavirus pandemic is giving voting advocates new urgency to expand mail or absentee access to the ballot. At the same time, states wanting to carry out the politically contentious changes may need as much as $1.6 billion in federal help this election year.
Election authorities are scrambling to reschedule and roll out vote-by-mail or expand absentee voting for primaries. The November general election will create new costs as states and localities face revenue shortfalls from delayed and decreased property and income taxes stemming from the virus's hit to the economy, Marian Schneider, president of Verified Voting, which backs paper ballots, said in a telephone interview.
"They're definitely going to need cash," Schneider said. "The federal government should really be doing something to replace those revenues in the short term."
Proponents of expanded voting will be looking for Congress and President Donald Trump to agree on a fourth coronavirus relief bill.
Democrats included in their "Take Responsibility for Workers and Families Act" (H.R. 6379) last month $4 billion in grants for states to respond to Covid-19 and expand ballot access, but the third virus response act (Public Law 116-136) that Trump signed into law March 27 included just $400 million in grants.
Voting rights groups are pushing for more funds in the fourth coronavirus bill when Congress is scheduled, for now, to return April 20, Trump wants voters at the polls in person Nov. 3, saying he doubts mail-in ballots are secure and that "doesn't work out well for Republicans."
"It is completely mind-blowing, given the public health emergency, that there are politicians and legislators that would force voters to risk their health and potentially their lives just to be able to vote," Sonia Gill, senior legislative counsel at the American Civil Liberties Union, said in a phone interview.
Wisconsin on Tuesday previewed the clash ahead when it held in-person voting and after U.S. Supreme Court upheld a state Supreme Court decision not to extend the absentee ballot deadline in the state. GOP legislators thwarted Democratic Gov. Tony Evers's last-minute attempts to delay the election or extend absentee voting.
Wisconsin Voters Defy Stay-At-Home Orders With Polls Open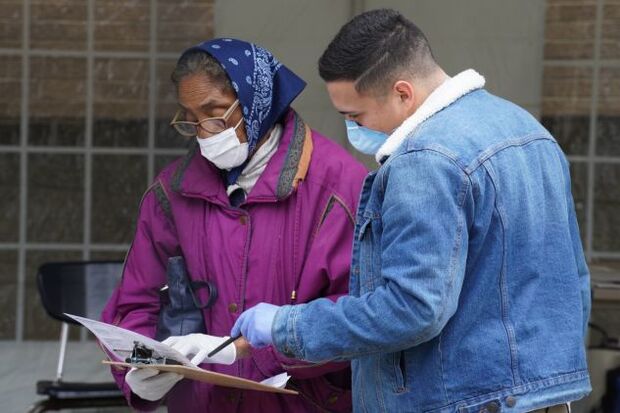 Costs and Covid
Many states have already tapped funds from the Help America Vote Act (Public Law 107-252) distributions as well as Election Assistance Commission grants to respond to Covid-19, the National Association of Secretaries of States wrote to House lawmakers and the White House in a recent letter. Forty NASS members serve as their state chief election officials.
States Face Obstacles Tapping Federal Election Grants for Virus
"Election officials have worked in an expedient manner to pay for an extraordinary amount of absentee or all-mail ballot printing, mailing, postage, equipment, voter education, and additional staff to implement policy changes and process these ballots," wrote Paul Pate, NASS president and Iowa secretary of state.
Costs to carry out online registration, mail-in voting, and other measures such as early voting and same-day registration to give voters more options to cast ballots this November will run around $1.6 billion, the heads of Common Cause, Leadership Conference on Civil Rights, and Stand-up America estimate said in a press briefing April 2.
"It is a task of enormous magnitude and they need money to be able to carry this out with respect to staffing, supplies, ballot scanners, envelope openers, we need to think very nitty-gritty about this," the ACLU's Gill said.
The secretaries of states group wants tweaks to the way states can use the $400 million in coronavirus funds Congress has given them already. They asked for a waiver of any state matching requirements as well as a longer time period for expending and reporting expenditures. They also cautioned against a one-size-fits-all approach to the U.S.'s decentralized elections.
Securing the Vote
Trump called for Americans to vote in person at the booths this November. "A lot of people cheat with mail-in voting," he told a White House press conference.
Security experts disagree.
All voters in Oregon vote by mail, but there has been no proven massive voter fraud, Steve Grobman, chief technology officer for cyber security company McAfee Inc., said in a phone interview. Paper ballots are much less prone to widespread tampering than digital voting, for instance, Grobman said.
"We're not inventing a voting-by-mail process, but rather extending it such that it's available to broader segments of the general public to make sure that every American can cast a vote and that everyone's vote is counted," Grobman said.
"We are dealing with an unprecedented situation, this Covid event. Really on the scale of the Great Depression, the Second World War, ensuring that our elections work well is an absolute priority. There's a great benefit to using tried and trued measures to ensure accuracy, so putting a focus on that to get us through this election cycle is absolutely essential," Tom Gann, the chief public policy officer at McAfee, said in the same phone interview.
Verified Voting's Schneider worried that the Election Assistance Commission's recent notice to states that they could repurpose previous security grants toward Covid responses could leave elections more vulnerable to hacking or manipulation.
"The federal government needs to step up and cover it separately," she said about Covid-era elections. "All the issues around security are still out there. They didn't go away."
Wisconsin Defiance
The Democratic bill from March contained the $4 billion for the Election Assistance Commission, a national requirement for 15 days of early voting, no-excuse absentee vote-by-mail, including mailing a ballot to all registered voters in an emergency. Those policy changes weren't included in the third bill.
Trump criticized the Democrats election policy proposals.
"They had things, levels of voting that if you ever agree to it, you'd never have a Republican elected in this country again," he said during a telephone interview March 30 on Fox & Friends.
Trump, the morning after the Wisconsin primary, urged Republicans to "fight very hard" against efforts to expand mail-in voting. "Tremendous potential for voter fraud and, for whatever reason, doesn't work out well for Republicans," he said in a tweet.
In Wisconsin, thousands defied stay-at-home orders to turn out for the first in-person balloting since the coronavirus outbreak. Milwaukee voters who hadn't already cast absentee ballots wore masks and waited in line for hours at the five open polling sites for a city that usually has 180 in-person locations.
"Thousands of voters will now be locked out from participating if they choose to heed the government's guidance and protect their own lives and safety or the health of others in their communities," House Majority Leader Steny Hoyer (D-Md.) said in a statement about the Wisconsin primary. "This is a perfect example of why Congress must take action to protect ballot access in November.
With assistance from James Rowley
To contact the reporter on this story: Shaun Courtney in Washington at scourtney@bgov.com
To contact the editors responsible for this story: Paul Hendrie at phendrie@bgov.com; Robin Meszoly at rmeszoly@bgov.com