Virginia Map Puts Democrats Spanberger, Luria in Swing Races (1)
Spanberger announces re-election bid under new lines
State Supreme Court approves plan after commission fails
(Updates with Spanberger announcement in the sixth paragraph.)
Two congressional Democrats in Virginia probably will face highly competitive re-election campaigns after the state Supreme Court adopted a new congressional map.
The new lines, approved unanimously by the court Tuesday, establish swing seats in the areas represented by two-term Reps. Elaine Luria and Abigail Spanberger, who were narrowly re-elected in 2020. Their 2022 contests will help determine whether Democrats can keep their majority.
The southeastern 2nd District now held by Luria will remain anchored in Virginia Beach, with changes that give it a slightly more Republican orientation. President Joe Biden would have defeated Donald Trump under the new district lines by 50%-48% in the 2020 election, compared with Biden's 51%-47% win in the current 2nd, according to data compiled by Bloomberg Government.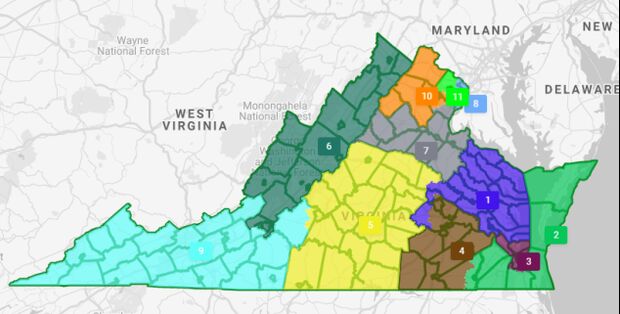 State Sen. Jen Kiggans is the likely Republican nominee against Luria, who was re-elected 52%-46% in 2020.
Spanberger will face voters in a reconfigured 7th District between Richmond and Washington in which just 25% of residents are her current constituents.
"Nearly 200,000 Virginians in the new Seventh District have already been my constituents under the current district lines, and I look forward to continuing my service representing them as well as my future constituents," Spanberger said in a statement Wednesday.
(To follow what states are doing to reconfigure districts, subscribe to our free newsletter, BALLOTS & BOUNDARIES )
The new 7th doesn't include Richmond suburbs she presently represents, including Chesterfield County and Spanberger's hometown in populous Henrico County. Members of Congress aren't required to live in their districts, though almost all of them do.
Spanberger was re-elected 51%-49% in 2020, comparable to Biden's 50%-49% win over Trump. Biden would have carried the new 7th by 52%-46%. Republicans seeking the seat include state Sen. Bryce Reeves.
The map was drawn by Bernard Grofman, a political scientist at the University of California at Irvine who was nominated by Democrats to assist the court in redistricting, and by Sean Trende, a senior elections analyst for RealClearPolitics who was the preference of Republicans.
"In a very good Republican year, Republicans could win a majority of the seats in Virginia's delegation. Generally, however, we would expect to see a 6-5 Democratic edge in Virginia's delegation," Grofman and Trende wrote in a memorandum to the court.
Democrats will be strongly favored in 2022 in five of the 11 revised districts, including three in the northern Virginia suburbs of Washington and two others where the Black population exceeds 40% of residents. Republicans have a decided edge in four districts, including two where Trump defeated Biden by fewer than 10 percentage points.
The Virginia Supreme Court assumed responsibility for redrawing lines after the state's new redistricting commission couldn't agree on a new map.
The new lines "are fully compliant with constitutional and statutory law applied, as the Court directed, in an apolitical and nonpartisan manner," the court said in its order.
To contact the reporter on this story: Greg Giroux in Washington at ggiroux@bgov.com
To contact the editors responsible for this story: Bennett Roth at broth@bgov.com; Katherine Rizzo at krizzo@bgov.com