Vets Tormented by Hearing Loss Face 3M in Earplug Mass Lawsuit
Bloomberg Government subscribers get the stories like this first. Act now and gain unlimited access to everything you need to know. Learn more.
Guy Storm Litzler tries to avoid quiet, dark rooms. The incessant ringing in his ears takes over in the dead of night, so the retired Army sniper and his partner have agreed to sleep with the TV on.
At age 35, he has to wear hearing and noise-canceling aids. He has so much difficulty picking up female voices that his partner's 6-year-old daughter keeps repeating herself and asks, "Why doesn't Daddy listen?"
Farid Hotaki said he hasn't shared the marital bedroom in more than a year. He sleeps in the basement because the ringing in his ears makes him jump. Often, he said, he avoids or gets frustrated with his three boys, one still a baby, because to him they are too loud.
"I feel like I am not part of the family," the retired Marine said in a recent call. "I should be able to tolerate a baby crying."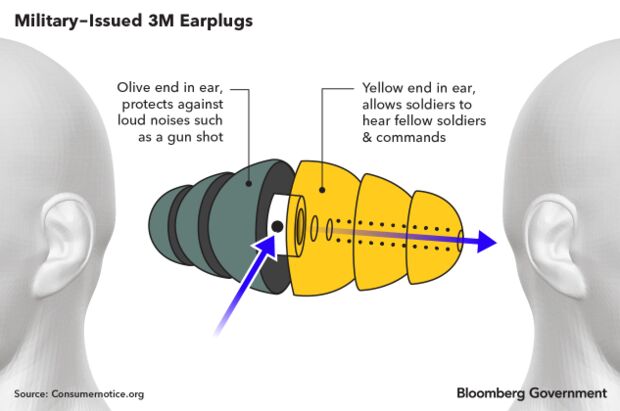 Litzler and Hotaki blame the same thing for their hearing problems: earplugs, made by a unit of 3M Co., that they were required to wear during training and combat duty in Iraq and Afghanistan after the Sept. 11, 2001, terrorist attacks.
The two veterans have joined what is likely to become one of the largest mass tort litigation cases in the U.S., with at least 139,000 claims filed against 3M or in the process of being filed, according to the U.S. Judicial Panel on Multidistrict Litigation.
All the individual cases in progress were consolidated into the mass action last April. At that time, there were about 11,000 individual plaintiffs, according to a summary in 3M's third-quarter financial statement.
Trial is expected to begin in early 2021 before Judge M. Casey Rodgers of the U.S. District Court for the Northern District of Florida.
Dual-Ended Earplugs
Earplugs are as essential as helmets, eye protection and flak jackets to the soldier in the field, given that automatic gunfire, artillery and explosions can generate noise at at least twice the decibel level that can cause hearing loss. Service members refer to them as an "inspectable item," like military IDs and dog tags.
"We are supposed to take our hearing protection seriously in the military," Litzler said in a phone interview.
For hundreds of thousands of service members deployed overseas, that protection was dual-ended earplugs made by Aearo Technologies Inc. which St. Paul, Minnesota-based 3M acquired for $1.2 billion in 2007.
The Combat Arms Earplug Version 2 was issued between 2003 and 2015. As the name suggests, the plugs had different ends to protect users in different circumstances. The green end of the earplug, when inserted, was designed to block all sound, while the yellow end was meant to block out most noise while still allowing the wearer to hear commands and fellow troops.
The plaintiffs in the lawsuit say that that the earplugs were too short for some ears and didn't provide a protective seal, and were faulty even as the company was marketing them.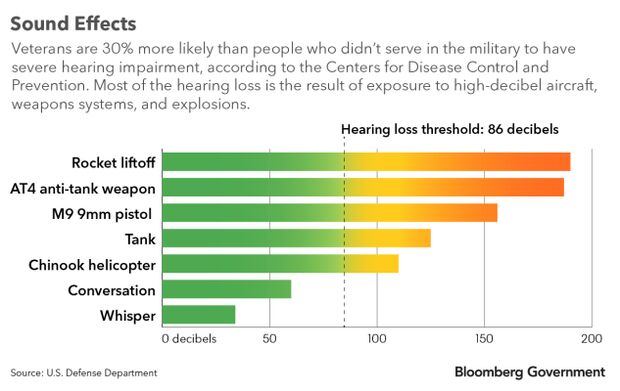 Protective Seal
3M denies that the earplugs were defective or caused any injuries. Bryan Aylstock, of Aylstock, Witkin, Kreis & Overholtz, PLLC is the lead counsel for the plaintiffs, with co-leads Shelley Hutson of Clark, Love & Hutson, GP, and Christopher Seeger, of Seeger Weiss LLP.
The company has settled with the federal government, agreeing in July 2018 to pay $9.1 million to resolve allegations that it knowingly sold the earplugs to the military without disclosing defects that hampered their protection.
"3M has great respect for the brave men and women who protect us around the world, and their safety is our priority," Fanna Haile-Selassie, 3M communications manager, said in a statement. "We have a long history of partnering with the U.S. military, and we continue to make products to help protect our troops and support their missions."
The company worked in close coordination with the U.S. military on the Combat Arms Earplugs Version 2, Haile-Selassie said, and "its design reflected the direction and feedback of individuals acting on the military's behalf."
It's unclear what 3M's liability would be in this case, in which the plaintiffs will be asking for punitive damages. In a mass tort lawsuit each plaintiff has to prove that a specific product cause the individual's injuries. Rewards can vary from plaintiff to plaintiff. Because of the large number of plaintiffs in such mass tort litigation, the payout could be high for 3M.
The company declined to comment on its projections for liability. It made its previous statements that it didn't foresee a material impact on its finances when the number of plaintiffs was considerably smaller.
Congress has kept an eye on development of earplugs and the repercussions of them not working as well as expected. The House Armed Services Committee wrote in its version of the 2020 defense authorization measure, H.R. 2500, that the panel is "concerned that combat earplugs have had significant issues related to performance and quality control in the past that likely resulted in hearing loss to military personnel." The language didn't make the final version (Public Law 116-92) .
Public Health Problem
More than 1.7 million veterans receive compensation for tinnitus and more than 1.1 million veterans get it for hearing loss. Most of the hearing loss is the result of noise from gunfire, aircraft, tanks, and bombs, according to the Department of Veterans Affairs. Those who served after Sept. 11, 2001, are four times more likely to develop hearing problems, according to the VA.
In addition, veterans are 30 percent more likely than people who didn't serve in the military to have severe hearing impairment, according to the Centers for Disease Control and Prevention.
The result is a public health problem of "the highest order," that will increase as hearing worsens with age, according to material posted by the Salem audiology clinic in Oregon. Constant ringing in the ears is known to lead to headaches, mood changes, anxiety, insomnia, vision changes and depression.
Hotaki, who immigrated from Afghanistan as a child, deployed there in 2008 as a military linguist. Over 15 months he was exposed to constant helicopter and diesel-engine vehicle noise as well as firefights.
He said he learned about his hearing decline during a regular post-deployment audiogram. The ringing in his ears, though, is what's taking a toll on his emotional well-being, he said in the recent interview.
"I feel like I am being a burden on the family. I feel like I am being the bad guy," he said. "They don't understand, it's not their fault."
Like Litzler, he's now retired from the military. His job now, he said, is full-time father. In any other job, he said, "I would probably be fired."
Litzler too says he has both hearing loss, especially in his left ear, and tinnitus, any time he's surrounded by sound louder than a whisper. When he talks on the phone, it's always on speaker mode.
He said he's not expecting any financial compensation from the lawsuit, hoping only for accountability.
Hotaki said he had "100% belief in these earplugs."
"Whoever tested them out—they have to understand that it was wrong," Hotaki said. "I want some type of justice for it."
With assistance from Martina Barash
To contact the reporter on this story: Roxana Tiron in Washington at rtiron@bgov.com
To contact the editors responsible for this story: Bernie Kohn at bkohn@bloomberglaw.com; Robin Meszoly at rmeszoly@bgov.com
Stay informed with more news like this – from the largest team of reporters on Capitol Hill – subscribe to Bloomberg Government today. Learn more.