USDA, FDA to Advance Plan to Regulate Lab-Grown Meat Together
USDA, FDA ready to sign regulation agreement, Perdue says
Audience of farmers, ranchers cheer USDA keeping inspections
A one-stop shop for food safety within his department would still be ideal, Agriculture Secretary Sonny Perdue told ranchers and farmers, even as the agency and the Food and Drug Administration are close to a key pact on regulating lab-grown meat.
The USDA and FDA are ready to finalize an agreement for joint oversight of meat grown in a petri dish, Perdue said Friday, during a speech at the National Cattlemen's Beef Association convention. The memorandum of understanding "is ready to be signed," he said.
FDA Commissioner Scott Gottlieb and Perdue announced in November 2018 a deal to share jurisdiction, with the FDA overseeing the process of growing cells in the laboratory and the USDA supervising production and labeling.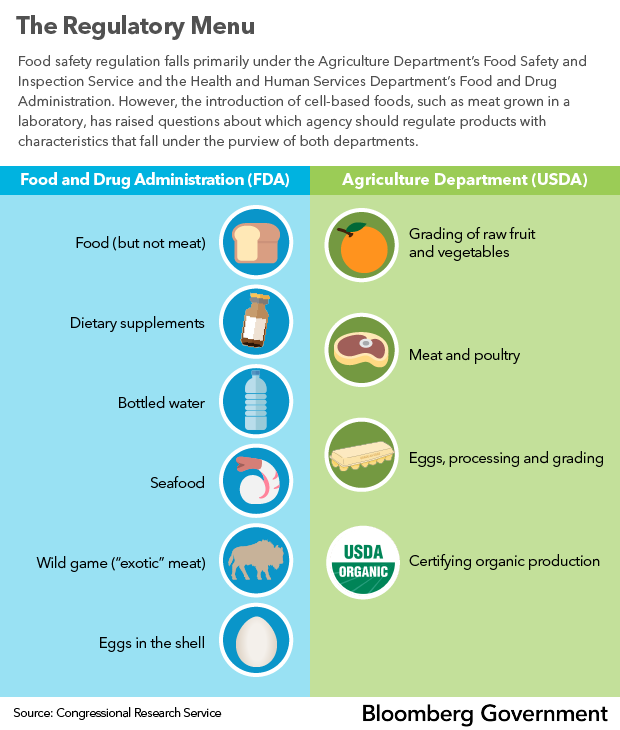 Perdue said he would prefer a single food safety agency within the USDA, as proposed by the White House last June, but "until Congress directs that, we have to get along with the other agencies."
'USDA Prime Rib'
Ranchers and meatpackers subject to USDA regulation have expressed satisfaction with joint USDA-FDA regulation, as long as USDA handles the inspection and labeling rules.
FDA will oversee stem cell collection and "USDA is guarding safety and labeling of that product," said Perdue, a line that got a big applause from the audience.
"Regardless of technology and consumers, for Sonny Perdue, I don't think anything will compare to that USDA prime rib," he said.
To contact the reporter on this story: Teaganne Finn in Washington, D.C. at tfinn@bgov.com
To contact the editors responsible for this story: Paul Hendrie at phendrie@bgov.com; Jonathan Nicholson at jnicholson@bgov.com