US Cheese Fears Rebrand as EU Claims Rights to Names Like Asiago
Europe sets sights on geographic indicators for food names
Companies such as Kraft risk relabeling costs, sales losses
Bloomberg Government subscribers get the stories like this first. Act now and gain unlimited access to everything you need to know. Learn more.
Lasagna topped with freshly grated "hard white cheese" doesn't sound quite as appetizing, US cheesemakers say.
Cheese companies in the US are scared they'll lose the ability to brand their products with terms like "parmesan," "asiago," and "havarti" as the European Union increasingly pushes for geographical indications. These trademark-type tools limit the use of regional descriptors when foods aren't actually made in a given region. The effect would be similar to champagne: while the alcoholic beverage from the Champagne region of France can bear that name, if produced in the US, it's just sparkling wine.
Most US producers agree such restrictive labels make sense for terms such as Bleu d'Auvergne, a blue cheese named for France's Auvergne region. But when it comes to the EU and other foreign markets grabbing more common names, they're concerned about being forced to re-label their cheeses and lose sales.
Trade groups came to Capitol Hill last week—fromage in tow—to press the Biden administration and Congress to do more to protect common names in trade agreements. They've already garnered some support from top lawmakers from key agricultural states, and are pushing to address the issue through the five-year farm bill reauthorization this year.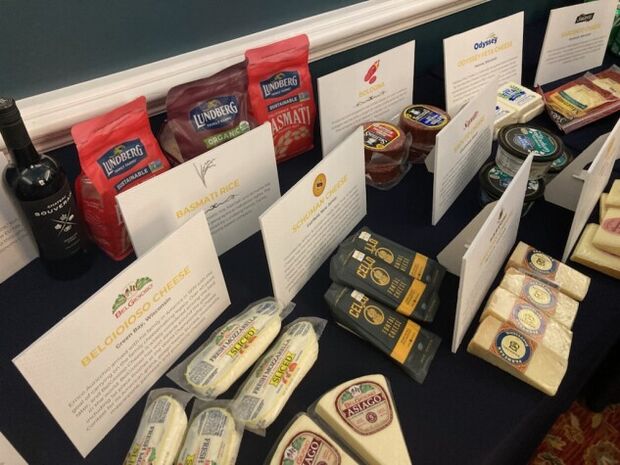 US cheesemakers got a victory last week when a federal appeals court ruled they can still use the term "gruyere," even if their cheese doesn't come from that region of Switzerland and France. Still, as the EU continues eyeing free trade agreements with countries such as India, American producers say it's important for the administration to step in more proactively to safeguard common food names.
Read More: US Cheesemakers Can Keep Using 'Gruyère' Name, 4th Cir. Says
"When you look at the Italian-style cheeses that we make—the names that are there—60% of the world's market is not available to us, even though they're common names," said Jeff Schwager, chair of the Consortium for Common Food Names, an alliance formed to advocate against foreign markets restricting broadly used terms. The figure referred to foreign markets, such as the EU, where US cheesemakers can't sell their products under names protected by geographic indications.
And it's not just cheese: Wine groups fear they'll lose such descriptive terms as "chateau" and "classic," meat processors are fighting for "bologna" and "salami," and rice producers are antsy about the Indian government restricting "basmati."
"This is not the question, like it was with champagne or port, where it could infringe on the region," said Michael Kaiser, executive vice president and director of government affairs at WineAmerica. "These are just terms that have been used in the wine industry for years."
Geographic Protection
Europe and the US enforce geographic indications differently. In the US, they're treated like trademarks, but in Europe, they're covered under legislation. Protected products in Europe are given some sort of seal or logo to certify they're from the proper region.
Many food names have geographic indications under EU policy but not under US trademark laws. Greece's feta cheese, for example, is protected in Europe—meaning that US-produced feta isn't government-certified and can't be sold in the EU.
The EU adopted broad geographic indication legislation for food products in the early 1990s, and revised it in 2006 after the World Trade Organization found certain aspects went against international rules.
An EU official in an interview noted geographic indications have long been used, with some dating back longer than a century. European officials maintain that such indications are important to guarantee quality to consumers and protect intellectual property in certain regions. The official spoke on background in order to discuss sensitive matters.
"GI status gives consumers a guarantee of authenticity, quality and distinctiveness linked to origin, while protecting producers from competitors trying to exploit their reputation and know-how developed to produce genuine high-quality products," the European Commission says on its official website.
And, the official said, it's a two-way street—as the EU signs free trade agreements with other foreign markets, both sides can push to protect their own geographic indications.
See also: EU Seeks Trade Deal With US Next Week to Unlock EV Benefits (1)
What's in a Food Name?
The spread of such practices is precisely what worries US companies: It's one thing to not be able to export feta to Europe, but another to strike a slew of other foreign markets off the list. In free trade agreements with countries like South Korea and Canada, the EU has included language protecting its geographic indications and keeping the US from exporting certain products to those foreign markets, as well.
US food companies say it's unfair of Europe to try to claw back terms such as parmesan that they brought to international fame. Kraft-Heinz Co.—the American food giant—boosted the cheese's profile on the national stage with its dark green parmesan shakers.
"Trying to re-label all of those bottles as 'white, Italian-style cheese' or whatever name you can think of, it would just mislead consumers," said Tony Rice, trade policy manager for the National Milk Producers Federation. "And it would be really costly to do all that relabeling to begin with, and then you have the market share loss, of course, too."
Relabeling products for sale requires renaming. And producers that might first want to try naming them something like "feta-style" would find some of the EU's trade agreements also prohibit that.
Instead, US companies often end up renaming their products with descriptive characteristics like "hard, grated cheese" for parmesan and "white Italian-style cheese" for mozzarella.
Now, India is trying to own the terms "basmati" and "jasmine" rice, two long-grain varieties produced by US farmers.
"They tried to trademark basmati and jasmine rice, but they've learned from the Europeans that this strategy works," Rice said. "It's concerning that now India is trying to lean into the strategy, and a few other markets are looking at it as well."
Farm Bill Push?
Supporting common names has bipartisan support, with Sens. Tammy Baldwin (D-Wis.) and Roger Marshall (R-Kan.), and Reps. Adrian Smith (R-Neb.) and Jim Costa (D-Calif.), speaking at the wine and cheese meeting last week.
"Our cheese and our dairy producers are second to none, and the ability to export these products is absolutely critical," said Baldwin, who represents the top cheese-producing state in the US, accounting for about a quarter of national production, according to the Agricultural Marketing Resource Center.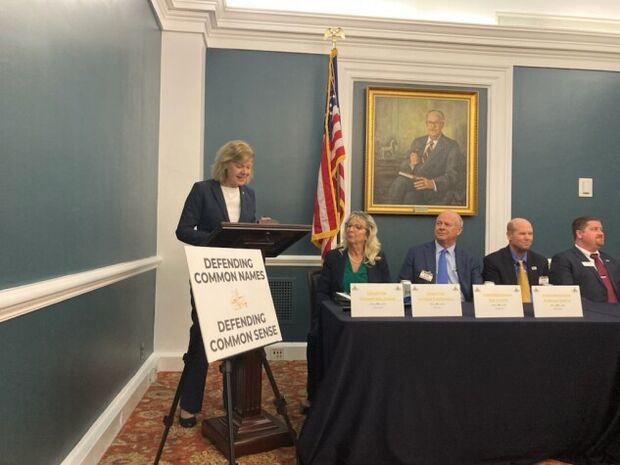 Marshall, whose state has seen its dairy cow population double in the past two decades, dinged the Biden administration for not engaging more on agricultural trade. But he acknowledged President Joe Biden's new chief agricultural negotiator, Doug McKalip, is now in a permanent role after an extended delay.
Foreign markets' common name protectionism "is just one more obstacle for us getting into that market," Marshall said, adding that USTR needs to engage "to protect Kansas agriculture."
Advocates also want to get the Biden administration's attention. If the USTR makes common food names a priority when negotiating trade agreements, they said the US could avoid going down the same rabbit hole as other foreign countries. The USTR didn't respond to a request for comment.
It remains to be seen what a farm bill that addresses common names would look like. Schwager said he could see a "creative way" to inhibit European products coming into the US market if the EU is doing the same.
"All too often, what we've seen is other countries being willing to trade away their market and a level playing field" for the sake of free-trade agreements, Shawna Morris, senior vice president for trade policy at the National Milk Producers Federation and US Dairy Export Council, said at the March 1 event.
"As the farm bill process begins to move forward further, those are ideas we're still exploring with a number of those offices," she said.
To contact the reporter on this story: Maeve Sheehey in Washington at msheehey@bloombergindustry.com
To contact the editors responsible for this story: Anna Yukhananov at ayukhananov@bloombergindustry.com; Andrew Small at asmall@bgov.com; Robin Meszoly at rmeszoly@bgov.com
Stay informed with more news like this – from the largest team of reporters on Capitol Hill – subscribe to Bloomberg Government today. Learn more.