US Army Is Facing 'War for Talent,' Courting Gen Z With Benefits
'Know Your Army' marketing aimed at avoiding crisis in ranks
Touts bonuses, parental leave, home-buying loans, pensions
Bloomberg Government subscribers get the stories like this first. Act now and gain unlimited access to everything you need to know. Learn more.
The US Army—facing a potential recruiting crisis not seen since the all-volunteer force was created almost five decades ago—is stepping up its efforts to get Generation Z to sign up.
The "Know Your Army" campaign, set to ramp up Wednesday, will court recruits aged 17 to 25 by highlighting the benefits and quality of life that the service can offer to a shrinking number of eligible candidates.
The US military's largest service must compete in a tight labor market against private companies that often offer more alluring benefits. For years, the Army has tailored its advertising in a bid to attract the best people, even as criminal records, or educational, physical, or mental shortcomings have narrowed the potential pool of recruits.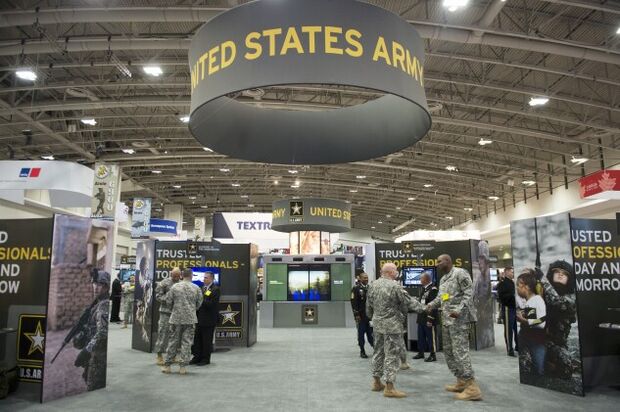 "I'm very concerned about it because right now they do not have the capacity potential of meeting the requirements that are demanded of them, so it is a very difficult thing. Nobody has the answer right now," Sen. Jim Inhofe(R-Okla.), said in an interview. "It's approaching a crisis level."
Pentagon statistics that cover the period through the end of March showed the number of active duty military forces had been falling for the prior six months; for the Army specifically, it was down 3.1% compared to a year ago, while Pentagon active duty forces as a whole dropped 1.9%.
The Army's new campaign, shared exclusively with Bloomberg Government, will tout benefits such as 30 days of paid annual vacation, home-buying through Veterans Affairs loans, pensions after 20 years of service, paid parental leave, and a diverse mix of soldiers from every state in the US and beyond. The Army has already been allowing recruits to pick the station where they will serve, and offering sign-up bonuses of up to $50,000, student loan repayment relief, and shorter enlistment periods.
Social Media Reach
Five 15-second videos headline the new campaign and draw a connection between what young people want and the Army benefits that signal quality of life and well-being. It's designed to reach nationwide audiences on television, online, and via podcasts, as well as on social media platforms including Reddit, Alphabet Inc.'s Google Discovery, YouTube, Snapchat, Instagram, Meta Platforms Inc.'s Facebook, Twitter, and LinkedIn. GoArmy social channels and GoArmy.com also are promoting the campaign.
"People from the Department of Defense have told us that they are concerned about both the number of people who do not meet the standards for joining the military, and the smaller number of people who even try," Sen. Elizabeth Warren (D-Mass) said in an interview. "That is a problem for our nation."
Of 34 million people born after 1997, 4 out of 5 can't qualify to serve in the Army, the service's data show.
"You can't lower the standards," said Inhofe, the top Republican on the Senate Armed Services Committee. "If you lower the standards, you are inflicting not just hardship, but danger."
Earlier: Army Sweetens Recruiting With Almost 80% of Gen Z Unfit to Serve
National Security Handicap
The US depends on strong, all-volunteer forces to carry out its foreign policy and defend strategic interests. Military leaders often say their services are only as good as their people. With operations shifting to the realms of cyber, artificial intelligence, and hypersonic weapons, and China and Russia challenging U.S. leadership globally, the lack of qualified recruits could become a fundamental national security handicap.
Recognizing the challenges, the Army is proposing to dip below 1 million soldiers for the first time in two decades, according to its budget proposal for the year starting Oct. 1. Leaders said they don't want to lower standards, and are also facing a tight labor market in the aftermath of the coronavirus pandemic.
U.S. Army Proposes to Cut Its Troop Numbers Below 1 Million
While the Army may feel the most heat, officials from the five military services characterized this year as "arguably the most challenging" for recruiting when they testified before the Senate Armed Services Committee in April.
Gil Cisneros Jr., under secretary of defense for personnel and readiness, told senators that in the wake of the Covid-19 pandemic, private companies are competing for a smaller pool of job candidates, presenting the biggest challenge for military recruiting and retention.
"We are in a war for talent," Gen. James McConville, the Army chief of staff, told the Senate Armed Services panel in May.
Other more lucrative opportunities are available, said Thomas Spoehr, director of the Heritage Foundation's Center for National Defense. Companies such as Amazon.com Inc. and Starbucks Corp. are offering jobs that start at $15 an hour, with college benefits, he said. At the same time, 5 million Americans turn 18 each year, and "we only need a tiny fraction of that" for the military, he said.
"The Army is at least as competitive, and in many cases significantly better than what you might find in the private sector," Maj. Gen. Alex Fink, the service's chief of marketing enterprise, said in an interview. He said the Army exceeds in several categories such as pensions, parental leave, and vacation.
National Survey
The Army is basing its new marketing campaign on a national survey of 3,000 US adults aged 18-76, conducted March 7-15. The survey found that 73% of Gen Z claimed to be familiar with the Army—the highest of any generation—but the data showed they had a limited understanding of the service and its ability to deliver on their needs.
The survey showed only 51% of Gen Zers think the Army allows time for recreation and hobbies, according to the data shared with Bloomberg Government. Gen Z is also the least likely cohort to think soldiers have work-life balance, the Army found. Many Gen Zers surveyed said they were "surprised" to learn about the job benefits the Army provides, and were more likely to see service as a good career option as a result, an Army executive summary said.
"We're a very large employer in fact and the gap was on these basic, what I call meat-and-potatoes type benefits, was a little bit surprising for us," Fink said in the interview. The Army has been putting together a strategy for this campaign since August in recognition of challenges in fiscal 2022, and is focusing on young people open to serving who "haven't rejected us," he said.
"We need to find an audience that is already kind of thinking about the Army that can move quickly —we don't have time to nurture someone for two or three years because this is going to be a campaign where we get young people who are already thinking about the Army to convert," Fink said.
The campaign has had a soft rolling launch for a few weeks, and will go full bore into the fall, Fink said. Data so far shows it could bring as many as 5,000 recruiting contracts, he said.
'Rodents' and 'Mold'
The Army is "headed in the right direction," with a campaign highlighting benefits and quality of life, Warren said. But the Army, and the military in general, have more work to do to provide "better pay, better housing and better service conditions overall."
"Housing for our military personnel has been terrible," the Massachusetts Democrat said in the interview. "Government contractors have supplied housing that is infested with rodents, has unsafe wiring and mold growing. That is not the way to recruit and retain the talent we need."
Earlier: Lawmakers Allege Contractor Mistreatment of Military Families
For Sen. Thom Tillis(R-N.C.), the ranking member of the Senate Armed Services Personnel subcommittee, solving the recruiting challenge needs attention from the highest levels of the Pentagon. The military faces cultural challenges and a "shrinking base," he said, as many of the recruits come from military families, which are themselves dwindling.
Increasing ROTC programs in colleges, as well as marketing the military's benefits and spousal support programs could help: "If you do all that, and you do it spectacularly well, you may get to 30 to 40% of the underlying problem in the out years," he said in an interview, referring to potential problems arising in the next five years.
The Army has stood up a so-called Tiger team—a group of experts seeking to solve tough problems—to look at how it recruits, Army Secretary Christine Wormuth told the Senate Appropriations Defense subcommittee in May.
"We need to look at some more substantial changes to how we recruit," she said. "We are going to try to be really creative and aggressive in terms of exploring ideas."
To contact the reporter on this story: Roxana Tiron in Washington at rtiron@bgov.com
To contact the editor responsible for this story: Robin Meszoly at rmeszoly@bgov.com
Stay informed with more news like this – from the largest team of reporters on Capitol Hill – subscribe to Bloomberg Government today. Learn more.