Ukraine's At-Risk Farmers to Get Seed Capital From Crops in US
Grassroots effort aims to to preserve crop biodiversity
Ukraine's globally important harvest down 40% due to the war
Bloomberg Government subscribers get the stories like this first. Act now and gain unlimited access to everything you need to know. Learn more.
Nate Kleinman gathered seeds for Ukrainian crops including winter squash, sunflower, and medicinal herbs, with plans to cultivate them this spring on his New Jersey farm. Then Russia attacked his ancestral homeland.
"I realized that it was going to be particularly important to preserve these seeds, to grow them out as quickly as possible, and get more seed to share that around with Ukrainian refugees," said Kleinman, who sought out more Ukrainian seed varieties and dispersed them to growers in his US networks. "Ideally to get those seeds back to folks in Ukraine, one of these days."
American farmers in a loose affiliation across several states such as New Jersey and Illinois are growing Ukrainian food crops this summer, including its all-important strains of wheat, with plans to ultimately donate the resulting seeds back to Ukraine. It's an insurance policy of sorts against the risk—however small—that Russia's invasion poses to the long-term health of some of the most important plants in the global food supply.
"The thing about crops is, you use it or you lose it if you're not safe," said Ryan Nebeker, a research and policy analyst at sustainable food advocacy organization FoodPrint. "Hundreds and hundreds of crop varieties have gone extinct simply because people have stopped growing them. And unless somebody else makes a conscious effort to preserve seeds or to keep those in cultivation somewhere, you run the risk of losing those varieties."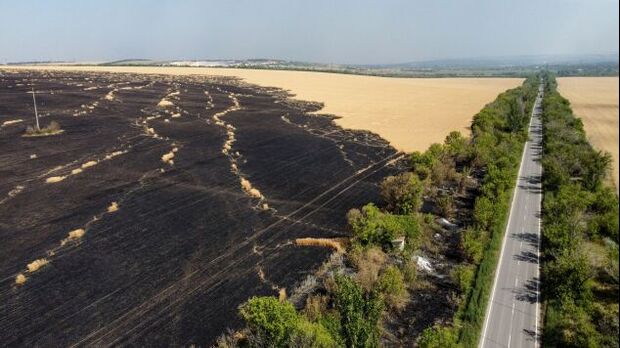 Threats to Ukraine's grain supply have been a major concern amid the invasion, which began Feb. 24. The Eastern European country, the world's fifth-largest wheat exporter, is known as the "breadbasket" of Europe, and a key exporter of products like corn and sunflower oil. But due to the war, which includes reports of Russian forces stealing farm equipment and destroying crops, many Ukrainian farmers can't harvest—let alone export—their food.
Ukraine's government said it expects the country's grain harvest to fall about 40% from a year ago. And the price of oilseeds—another major export, with more than half of the world's sunflower seed and oil coming from Ukraine in 2020, according to Brookings—has spiked even more than grain, nearly doubling from two years ago because of Russia's invasion.
House lawmakers in an annual government funding bill last month proposed appropriating hundreds of millions of dollars to various global food security initiatives in response to the war in Ukraine. That included $1.2 billion to the Feed the Future Initiative, an increase of $189.4 million over fiscal 2022, and a new contribution to the the multilateral Global Agriculture and Food Security Program. The spending bill was approved in committee but must still make it through the full House and Senate votes and is likely to get changed.
Read More: Foreign Aid Would Get Increase in House Democrats' Spending Bill
Cultural Significance
Not waiting for any federal support, American growers hope to one day return their seeds to a Ukraine at peace, from melons and squash to Ukraine's national flower—the sunflower.
Seeds can be preserved in banks, but a disaster like a power outage, fire, or military attack is always a risk for seed libraries, Nebeker said. He said it was vitally important to have living backups—through on-the-farm seed use and crop production, which creates the next generation of seed.
"It's a very noble cause, and I think it draws attention to preservation and conservation of seeds," Janny van Beem, a genebank partnership coordinator with nonprofit Crop Trust, said of the seed-saving efforts. Genebanks are repositories that save samples of material like seeds, usually by freezing them in a secure environment. The US Department of Agriculture stores seeds through its National Laboratory for Genetic Resources Preservation, a seed bank and animal genetic resource repository.
Tomia MacQueen, a grower in New Jersey, got involved through her work with the Ujamaa Seed Collective, dedicated to preserving culturally significant seeds and supporting diversity in farming. She's growing a variety of sunflower, one of Ukraine's top crops.
The growers split up the seed across their farms, MacQueen said, so a loss at one location wouldn't affect the entire batch. She's motivated by the idea of donating the seeds back to Ukrainian growers when the war is over.
"There's no point taking it if you're not gonna give it back," MacQueen said.
Nagisa Manabe, also in New Jersey, started with a Ukrainian squash, hoping to begin with an easy plant to grow, since she's relatively new to seed saving. She said the practice helps support sustainable agriculture and preserve indigenous seeds.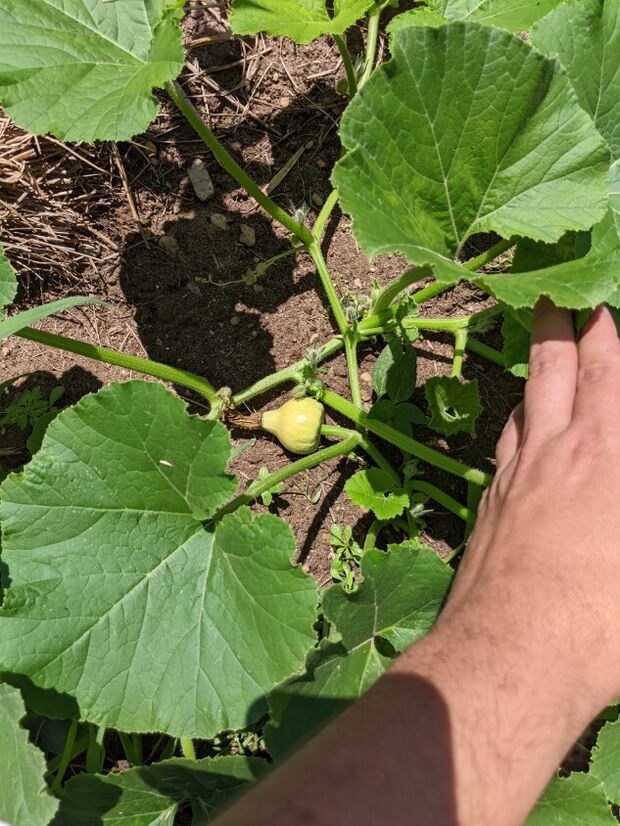 Biodiversity at Risk
On Janie's Mill in Illinois, farmers have sought to respond locally to the crisis in Europe by growing Turkey Red wheat—a grain variety with ties to Ukraine—and donating proceeds from online retail sales to World Central Kitchen, which cooks meals for communities in the wake of natural disasters.
Turkey Red came to the US from farmers fleeing Ukraine about 150 years ago, and was the predominant strain grown in America until higher-yield, modern wheat took over. Now, it's known as an heirloom, a culturally significant variety kept up by growers.
"It produces a flour that's sort of a nutty flavor, real nice protein levels," head miller Jill Brockman-Cummings said. "It's a versatile flour—bakers use it for breads, but the protein is in a mid-range, so you also can use it almost as a whole wheat or whole-grain all-purpose flour, so you can use it in your muffins and your cookies and your pancakes. It's just delicious. Everybody loves it."
The wheat was almost obliterated when mass-produced modern varieties became ubiquitous, Brockman-Cummings said, highlighting the need to keep heirloom varieties both in farmers' fields and seed banks.
Van Beem is urging governments to further fund genebanks to keep conserving seeds and collect more varieties. Climate change and its associated rising natural disasters pose risks for global crop biodiversity, even outside war-torn areas, she said.

In New Jersey, Manabe said she couldn't pronounce the name of the Ukrainian squash growing in her fields, but she's determined to save the seeds.
"My Ukrainian leaves something to be desired, as in, I don't speak any," she said. "But plants and food are common amongst the world's people."
For Kleinman, who founded the plant breeding Experimental Farm Network Cooperative, the inspiration came from his ancestors, Jewish Ukrainians who emigrated in the early 1900s due to antisemitic violence. He requested the initial seeds from a US government seed bank last winter, before Vladimir Putin's invasion, as a way of exploring his Ukrainian ancestry.
"There's still so many holes in the story," he said. "But this definitely strengthens the connection that I feel to Odesa, in particular, and to Ukraine in general."
To contact the reporter on this story: Maeve Sheehey in Washington at msheehey@bloombergindustry.com
To contact the editors responsible for this story: Gregory Henderson at ghenderson@bloombergindustry.com; Anna Yukhananov at ayukhananov@bloombergindustry.com
Stay informed with more news like this – from the largest team of reporters on Capitol Hill – subscribe to Bloomberg Government today. Learn more.