U.S. Probes Whether Teen Migrants Sent to Labor Traffickers (1)
DOJ investigates alleged widespread labor trafficking
Comes amid increase of unaccompanied minors at border
(Updates with Congressional reaction starting in seventh paragraph.)
Bloomberg Government subscribers get the stories like this first. Act now and gain unlimited access to everything you need to know. Learn more.
Federal law enforcement officials are investigating whether unaccompanied migrant teenagers have been released from government custody to labor traffickers who sent them to work in agricultural processing facilities in numerous cities, according to an internal email and two sources briefed on the situation.
"Since we spoke last month about indicators of labor exploitation and/or potential labor trafficking of unaccompanied minors in Alabama, HTPU [the U.S. Justice Department's Human Trafficking Prosecution Unit] has become aware of similar concerns in multiple other jurisdictions," wrote HTPU Director Hilary Axam on July 21 to personnel at four other agencies, in an email obtained by Bloomberg Law.
"Some of these situations appear to involve dozens of unaccompanied minors all being released to the same sponsor and then exploited for labor in poultry processing or similar industries without access to education," Axam's message continued.
The probes by DOJ and other agencies coincide with record-breaking levels this year of undocumented children who've been apprehended at the border with Mexico and housed temporarily in often-overcrowded facilities run by the U.S. Department of Health and Human Services or nonprofit partners. U.S. authorities reported more than 90,000 encounters in the first nine months of fiscal 2021, already exceeding the fiscal 2019 record of 76,000.
The federal government has struggled for years to quickly move unaccompanied migrant children out of shelters while ensuring their safe placement with relatives, foster programs, or other sponsors in the U.S. The challenge has intensified this summer as more unaccompanied children cross the border.
DOJ declined to comment. The U.S. Labor Department's Wage and Hour Division, which enforces child labor laws, "is aware of these concerns and is cooperating with the appropriate law enforcement agencies," a department spokesman said in a statement.
Members of Congress from both parties on Thursday called reports about the investigation "horrendous" and "intolerable,' demanding explanations from the Biden administration.
"I'm thankful that federal law enforcement officials are investigating the matter, and I hope any individuals committing this heinous crime are prosecuted to the fullest extent of the law," Rep. Barry Moore (R-Ala.), whose district includes one of the cities where the probe is focused, said in a statement.
Rep. Clay Higgins (R-La.) called for his colleagues in Congress to launch an investigation.
"These reports demand a congressional response, and Democrat-controlled committees cannot continue shielding the Biden administration from necessary oversight action," he said in a statement to Bloomberg Law. "The border crisis has significant national security and humanitarian impacts. The Biden administration needs to be held to account."
'Spot Red Flags'
On a single day in early August, HHS reported more than 15,000 children in the agency's care, plus another 1,700 with U.S. Customs and Border Protection—which holds unaccompanied children briefly before turning them over to HHS. The agency released 578 children to sponsors that day.
HHS—charged with providing temporary shelter for the children while identifying suitable adults in the U.S. who can take them in—recently halted sending children to at least two agriculture-dense areas that are under federal investigation for trafficking, according to the sources, who spoke on condition of anonymity to discuss sensitive ongoing cases.
The sources identified Enterprise, Ala., and Woodburn, Ore., as two of the areas under investigation, although it's unclear how many additional jurisdictions Axam's email referred to by "multiple" or how many total children—all aged 13 to 17—have potentially been exploited by traffickers. Those cities were flagged as suspicious because HHS had released dozens of children to sponsors in each location, in some cases to the same individual, said the sources.
Enterprise is a small city in southeastern Alabama that's home to a handful of chicken slaughterhouses. Woodburn sits along Interstate 5 between Portland and Salem, Ore., and is surrounded by agricultural land.
The DOJ lawyer described "significant numbers of minors and sponsors involved." She asked other agencies for aid in analyzing data "to spot red flags that'll help focus our investigative efforts."
The email was sent to officials with HHS, the FBI, the Labor Department, and the Department of Homeland Security.
Representatives for DHS and the HHS agency that transfers the detained children to sponsors didn't provide a comment.
"The safety of children in HHS custody is of utmost priority for our agency," Tesia Williams, a spokeswoman for the HHS Office of Inspector General, said in an email. "If we become aware of allegations that unaccompanied children are being trafficked we will notify the proper state and federal authorities."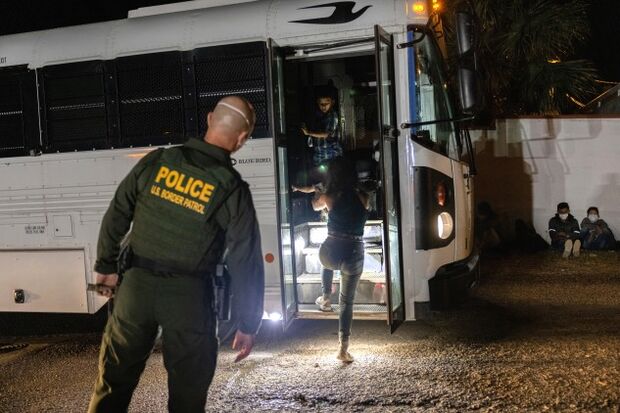 Off-Limits Areas
Labor trafficking of vulnerable child migrants is a decades-old problem, frequently involving brokers who coerce teenagers to leave dangerous native countries for better opportunities in the U.S., only to trap them into paying off debts in hazardous working conditions.
The HHS Office of Refugee Resettlement, which cares for unaccompanied children after their apprehension by DHS, spends tremendous time and resources on the vetting of sponsors, said Bob Carey, who ran the agency from 2015 to 2017 under former President Barack Obama.
"It's a very thorough process. It is detailed. But any process is imperfect; there's always more you can do," said Carey. "It is to some extent a balancing between keeping the children in custody indefinitely and having some minimal degree of risk."
HHS stopped placements of unaccompanied minors to the Alabama ZIP code that includes Enterprise in early June, according to one representative for a nonprofit that works with migrants. The office has since allowed some placements with biological parents to move forward, subject to extra safeguards, the nonprofit worker said.
The stop-placement order was "highly unusual," she said, adding that she couldn't recall other instances of an entire ZIP code being placed off-limits. The agency also issued a similar order for Woodburn, the nonprofit worker said. The orders regarding both cities were confirmed by another source briefed on the process.
Time Pressures
HHS is motivated to release children quickly, to minimize their time in large shelters and comply with a landmark 1997 legal settlement favoring release. But pressure to move swiftly can undermine efforts to ensure children are ending up in safe homes.
A 2015 federal indictment revealed that HHS during the Obama administration—prior to Carey's tenure—released several children to traffickers who forced them to live in trailers and work at egg farms in Ohio by promising the children good jobs and a chance to attend U.S. schools.
The case, which resulted in prison sentences for the defendants, spurred a bipartisan Senate investigation that identified flaws in HHS's system for vetting people who come forward as sponsors of unaccompanied children. The department's Office of Refugee Resettlement didn't conduct adequate background checks or home studies for sponsors, the 2016 report said.
Two follow-up Senate investigations in 2018 and 2020 assessed "modest steps in the right direction" but major remaining deficiencies. Sens. Rob Portman (R-Ohio) and Tom Carper (D-Del.) in March pressed the Biden administration to implement a series of safeguards for the placement of unaccompanied children.
Biden officials have had "very thoughtful conversations" about expediting the release to sponsors while also following up with the teenagers to ensure they're safe, said Jennifer Podkul, vice president of policy and advocacy at Kids in Need of Defense, a nonprofit that protects unaccompanied children coming into the U.S.
But the Biden administration has "been drinking out of a fire hose since they came in," Podkul said. "We haven't seen it happen yet."
"I think they've been so focused on how do you manage the flow of kids needing protection that they have not been able to turn to ramping up their post-release services," she added. "But I really think that's something that needs to be done immediately. It can't be an afterthought."
To contact the reporters on this story: Ben Penn in Washington at bpenn@bloomberglaw.com; Ellen M. Gilmer in Washington at egilmer@bloombergindustry.com
To contact the editor responsible for this story: Martha Mueller Neff at mmuellerneff@bloomberglaw.com
Stay informed with more news like this – from the largest team of reporters on Capitol Hill – subscribe to Bloomberg Government today. Learn more.