U.S. Prep for Wave of Migrant Arrivals Seen as Falling Short
Migrant encounters at southern border could more than double
Administration's plans are flimsy, lack detail, critics say
Bloomberg Government subscribers get the stories like this first. Act now and gain unlimited access to everything you need to know. Learn more.
Concern that the White House lacks adequate plans to manage an uptick in migrant arrivals when pandemic-related border restrictions end has emerged as both a political cudgel and a source of anxiety for some on the ground.
The public health authority known as Title 42 has allowed for the quick expulsion of border-crossers since Covid-19 first swept through the U.S. in 2020. Its impending termination on May 23 is likely to spur an increase in asylum-seekers and other migrants trying to enter the U.S.
"We're going to need to have the preparations in place," said Anthony Granado, vice president of government relations for Catholic Charities USA. "Who are the local contacts? How many resources — whether it's food, diapers — how much is that going to be needed?"
The concerns raised by some humanitarian groups add fuel to a broader debate over the Biden administration's decision to end Title 42. Republican lawmakers and a growing contingent of Democrats are sounding similar alarms and pushing to keep the public health authority in place.
BGOV OnPoint: Biden Moves to Lift Pandemic Border Restrictions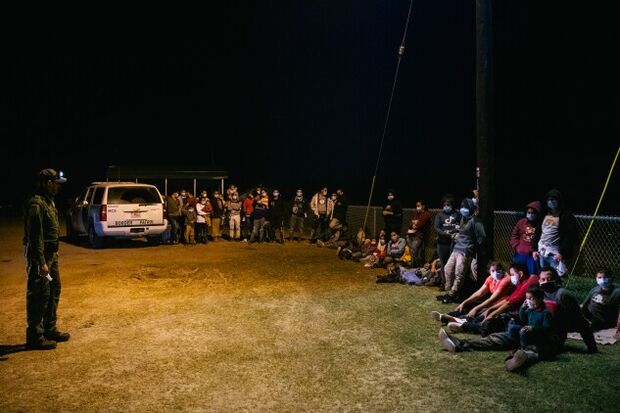 The federal government relies on scores of faith-based groups and humanitarian organizations to do relief work at the border. Catholic Charities and many others support ending Title 42 but say they need the Biden administration to provide more information on logistics to ensure their teams are up to the task.
"It's not wait-and-see because we know that the planning, the building capacity needs to happen now," Lutheran Immigration and Refugee Service President and CEO Krish O'Mara Vignarajah said.
Border encounters already reached record levels during the past year, though Title 42 has skewed the data by driving more repeat crossings.
Homeland Security Secretary Alejandro Mayorkas will have to defend the administration's border plans, which his department admits lack adequate funding, at hearings later this week before the House Appropriations, Homeland Security, and Judiciary committees.
Strain on System
The Department of Homeland Security and other agencies have tried to assure the public they're still well equipped for an increase in arrivals, despite the funding squeeze. DHS officials have modeled multiple potential border scenarios and crafted response plans that feature quick build-outs of temporary facilities, staff, and processing capacity.
Preparations are set for as many as 18,000 migrants per day, based on the highest models. DHS encountered about 7,000 migrants per day at the southern border last month.
Biden Administration to End Trump-Era Pandemic Immigration Restriction
DHS has also launched a new border coordination center helmed by a Federal Emergency Management Agency official and outlined plans for surge staff and a team of agency volunteers to respond to busy border corridors as needed.
A new asylum rule will help speed up processing by letting DHS officials make quick decisions on whether migrants should be allowed to pursue claims. DHS has also pledged to double down on the White House's strategy to address root causes of migration.
"DHS has been in regular contact with elected officials, local leaders, and non-governmental organizations as part of a whole-of-government effort to manage and plan for any increase of encounters along our Southwest border," agency spokesperson Eduardo Maia Silva said in a statement.
Bipartisan Criticism
DHS's strategy has fallen flat among many lawmakers on both sides of the aisle.
Moderate or politically vulnerable Democrats joined legislation to keep Title 42 in place while the Covid-19 national emergency declaration remains in effect. Sens. Kyrsten Sinema and Mark Kelly, both Arizona Democrats, say local governments, law enforcement, and nonprofits haven't been sufficiently involved to ensure a comprehensive plan.
Republican lawmakers, who've made border security a top campaign issue ahead of midterm elections, likely would have slammed the administration no matter what preparations it had in place. But they've zeroed in on what they view as specific planning gaps. Sen. Jerry Moran (R-Kan.) led colleagues in demanding answers on DHS's arrival estimates and how many people will be released into the U.S. while they have cases pending.
Biden Border Move Sows Congress Divide as Democrats Splinter
Former Border Patrol chiefs Mark Morgan and Rodney Scott, regular critics of Biden, said DHS should focus more on deterring border crossings by expanding enrollments in the Trump-era "Remain in Mexico" program.
DHS officials will quickly run into obstacles if they focus primarily on speeding up processing at the border, Scott said: "You literally can't even plug in more computers."
DHS acknowledges its fiscal 2022 appropriation from Congress isn't enough to cover the increase in migrant arrivals. It'll have to rely on reprogramming existing funds, calling on other agencies for help, and potentially pushing lawmakers for a supplemental appropriations package.
Making a request could help the administration both logistically and politically. "Sending up a supplemental saying, 'Here's what we need to deal with it,' is a way to change the dynamic a little bit," said Monument Advocacy CEO Stewart Verdery, a former DHS official. "And again, it's probably needed."
'Déjà Vu'
Far from Capitol Hill, humanitarian groups are pushing the Biden administration to nail down logistics so they're not caught flat-footed when Title 42 sunsets next month.
Granado of Catholic Charities said groups still haven't been able to coordinate specific plans with federal agencies because they don't know where officials will send migrants who are allowed to remain in the U.S.
"Our agencies have to ramp up for providing shelter, transportation, housing, behavioral health services, food and nutrition, legal assistance," he said. The Biden administration's plans so far are "steps in the right direction," he added, "but we need a lot more detail than that."
Some groups have a more positive assessment. Barbara Ammirati, senior advisor for child protection at the nonprofit Save the Children, said government officials have been "quite forthcoming," and she credited DHS for launching the new coordination center.
Some chalk up the disconnect to a communications problem.
"They have the tools in their toolbox but just need to package it in a way that reassures Democrats and the public that they will ensure that order is maintained at the border," said Kerri Talbot, deputy director of the advocacy group Immigration Hub.
But Vignarajah of the Lutheran Immigration and Refugee Service remains apprehensive, citing potential parallels to efforts to get the Biden administration to lay out a clear plan to help Afghans ahead of the U.S. withdrawal from Afghanistan. The evacuation last year was chaotic, and many allies were left behind.
"Unfortunately, I'm feeling déjà vu," she said. "We regularly pressed, what's the plan? We were met with radio silence."
To contact the reporter on this story: Ellen M. Gilmer in Washington at egilmer@bloombergindustry.com
To contact the editors responsible for this story: Sarah Babbage at sbabbage@bgov.com; Michaela Ross at mross@bgov.com
Stay informed with more news like this – from the largest team of reporters on Capitol Hill – subscribe to Bloomberg Government today. Learn more.