U.S. Covid Program Leaves Uninsured With 'Bills They Can't Pay'
Government has spent $1.36 billion on uninsured Covid-19 care
Program is voluntary, and not all claims are eligible
Bloomberg Government subscribers get the stories like this first. Act now and gain unlimited access to everything you need to know. Learn more.
The federal program to pay for Covid-19 medical services for the uninsured is only covering a fraction of the cost for millions who contract the virus but lack coverage, leaving Americans saddled with debt and hospitals with mounting bills.
The government designed the program to pay hospitals, laboratories, and doctors who care for the uninsured, instead of providing insurance of some kind to those who lack it, hospital executives and industry observers said.
More than a third of the cost of coronavirus tests or care provided to the uninsured this year has gone uncompensated by the government, hospital groups said. Some of the millions of dollars in unpaid bills have fallen on patients, consumer advocates said.
"In a sense the government is claiming you have insurance by saying they'll pay for it," said Craig Antico, founder of RIP Medical Debt, a charity that helps people pay old medical bills. "That's not how it works when they pay on the back end. People are still getting bills they can't pay."
With little sign that Congress will strike a deal before November to inject the program with new funds or overhaul it, those without insurance remain vulnerable to the high cost of care if they contract Covid-19.
Rising Uninsured
Almost 30 million Americans lacked health insurance at some point in 2019, an increase of 1 million people from 2018, according to recent Census data. The number of uninsured people increased in 19 states last year.
Additionally, as many as 6 million Americans may have lost their employer-sponsored insurance as the pandemic shuttered businesses and swelled the jobless ranks, the Economic Policy Institute estimated in August.
Lawmakers have been split on how to extend health coverage to the rising number of uninsured: Democrats have repeatedly called for the creation of a special enrollment period for Obamacare, which the Trump administration has rejected.
Congress approved through two laws $175 billion in provider relief funds, and the administration moved to use some of those funds to pay hospitals and doctors for testing and caring for the uninsured infected by Covid-19.
The Health Resources and Services Administration, the section of the Department of Health and Human Services running the program, had given $1.36 billion to more than 8,000 health-care providers to pay for uninsured Covid-19 care and testing as of Oct. 1. Much of those funds—$881 million—have covered treatment.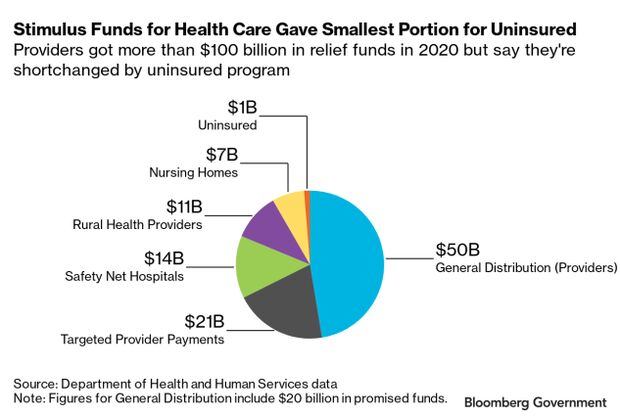 There are signs the need far exceeds what the government is spending. The Kaiser Family Foundation estimated in April that the cost of paying for hospitalization for the uninsured would range between $13.9 billion and $41.8 billion, depending on how many people are hospitalized with the virus.
Not Coverage
President Donald Trump has promoted the program as insurance access: In his September executive action outlining his vision for health care the president said the program gave "any individual without health-insurance coverage access to necessary COVID-19-related testing and treatment."
The program is voluntary, meaning health-care providers can choose to either bill the government for caring for people without insurance or seek to collect directly from the patient.
Antico said for his organization, which pays off outstanding medical bills at discounted rates by buying large bundles of debt, it's too early to get a picture of how many Americans without insurance are getting billed for Covid-19 treatment or tests.
People are calling Antico's organization to say they've been stuck with bills for Covid-19 tests and services they believed were free, he said.
Hospitals are finding that roughly 40% of their claims for the uninsured are ineligible for the program, said Molly Smith, vice president for coverage and state issues forum for the American Hospital Association. The AHA hasn't done a complete survey of its members, however, and that figure is an estimate.
Smith said many of those claims were ineligible when Covid-19 patients also got sepsis, a condition in which the body has an extreme response to an infection, which is typically given prominence in a patient's list of diagnoses in their health records. HRSA only pays for claims where Covid-19 is the primary issue.
Smith said many hospitals are not billing the uninsured and are instead simply leaving the bills unpaid.
Testing Concerns
The payment structure for Covid-19 tests can give providers an incentive to seek payment from individuals or insurers instead of the government.
Labs that test the uninsured can be compensated by the government at Medicare rates, which would pay between $51 to $100 per test. Insurers regularly pay triple that amount, according to one analysis.
The country's largest providers of Covid-19 tests say they check if a person is eligible for the federal uninsured program when they seek a test, and those that get bills generally have coverage or another way to pay.
"If a person's claim is not submitted to HRSA it is likely because the person has an alternative means of insurance or there is an alternative source of payment," Kim Gorode, a spokeswoman for Quest Diagnostics Inc., said in a statement to Bloomberg Government.
Quest has received more than $66 million through the program, more than any other single entity for Covid tests.
LabCorp, second on that list at $50 million, has a policy of not charging any fees ahead of a Covid test, spokeswoman Kelly Smith Aceituno said.
Covid Tests, Touted as Free, Spur Bills at Some Doctors' Offices
Available Testing Funds
Separate from the provider relief fund, Congress provided another $2 billion for uninsured testing that has also been largely untouched. The government had spent $161.2 million of those funds as of July 31, according to a Government Accountability Office report.
For those without insurance who receive a bill for Covid-19 testing or treatment, the HHS suggests they check if the government reimbursed their provider for those services. If not, the person who received the test may be responsible.
"If an uninsured individual receives a bill for COVID-19 testing and/or treatment services that individual can contact the health care provider to discuss how best to resolve payment," Scott Kodish, a spokesman for HRSA, said in an email.
Kodish said a "small handful" of people have contacted the agency about getting bills that should have qualified for reimbursement through the program and that HRSA has resolved those complaints if the provider was paid by the government. He declined to give an exact figure.
There is no cap on how much the government has pledged to spend on uninsured care through the provider relief fund, Kodish said, and providers are encouraged to keep submitting claims or resolve rejected claims.
To contact the reporter on this story: Alex Ruoff in Washington at aruoff@bgov.com
To contact the editors responsible for this story: Gregory Henderson at ghenderson@bloombergindustry.com; Sarah Babbage at sbabbage@bgov.com
Stay informed with more news like this – from the largest team of reporters on Capitol Hill – subscribe to Bloomberg Government today. Learn more.