'Turmoil' Seen as TSA Plans to Deploy Staffers to Help at Border (1)
Agency to send hundreds to deal with migrant surge
Industry warns resources stretched during busy travel season
(Updates throughout with Coast Guard, Federal Protective Service personnel also deploying, congressional reaction)
Hundreds of personnel from the U.S. Transportation Security Administration will be redirected to the Southwest border, stoking concerns before the busy summer travel season.
The move is part of a broader initiative by the Department of Homeland Security to pull personnel, including Coast Guard and Federal Protective Service workers, to aid with a surge of Central American migrants at the Southwest border, according to a DHS spokemsan. The Federal Protective Service guards government buildings.
Personnel have been asked to volunteer from across the department, a TSA spokesman said in an email. Checkpoint security screeners, air marshals and other law enforcement officials will deploy to help the U.S. Customs and Border Protection deal with the migrants.
"Further stretching CBP and TSA resources — especially headed into the busiest time of year at our nation's airports and points of entry — clearly could result in turmoil for business and leisure travel that supports millions of livelihoods all across the country," Tori Barnes, U.S. Travel Association executive vice president of public affairs and policy, said in a statement.
The agency is stressing the move will affect less than 1% of its approximately 60,000 workers and aviation security won't be compromised, according to a spokesman.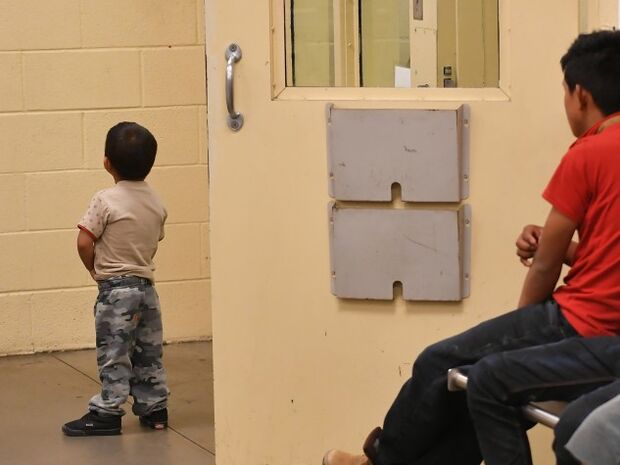 "Security operations will continue as always and TSA will minimize operational impact across the transportation system," James Gregory, a TSA spokesman, said in an email.
About 150 Coast Guard personnel are at the U.S.-Mexico border, with more on the way to help to care for migrants, while some of the Guard's boats and aircraft are helping patrol the Rio Grand Valley, a DHS spokesman said.
The move met with criticism in Congress.
"This is really stupid," House Transportation and Infrastructure Committee Chairman Peter DeFazio (D-Ore.) said. "Coasties and TSA and Federal Protective Services cannot adjudicate them and they can't shelter them, so why the hell are we sending them there?"
Busiest Travel Days
Summer is typically one of the busiest times for the agency, which saw its annual passenger rate grow more than 5%. Travel days from years past around Memorial Day and the July 4 Independence Day holiday top the TSA's list of busiest days ever.
"We are two weeks away from the beginning of the holiday vacation period," House Homeland Security Chairman Bennie Thompson (D-Miss.) told reporters. "The question I'm hearing more from members is, what does this do for airline safety issues and the traveling public?"
Thompson said he spoke Wednesday with David Pekoske, who currently is heading TSA as well as serving as No. 2 at DHS. Thompson said Pekoske told him the plan had been under review internally at the secretary level for some time, and agreed to brief members about details, but didn't set a date.
Hundreds of customs officers from the border agency have already been pulled from airports and other U.S. entry points to help with the migrant influx, which has caused millions of dollars in canceled and delayed cargo shipments from Mexico and hours of waiting for passenger vehicles.
"We vehemently oppose any effort by this Administration to diminish our security by diverting Federal Air Marshals and other personnel away from transportation security," the Association of Flight Attendants, a union that represents about 50,000 attendants, said in a tweet.
Facilities Overwhelmed
The border agency says its facilities are overwhelmed by the record wave of undocumented families and children. TSA staffers will support migrant care by helping with the distribution of meals, transportation, personal property management and legal support. TSA personnel won't be deployed to support customs officer duties at airports and on the border, Gregory said.
DHS disputed the criticism, saying the volunteer force wouldn't affect other operations.
"DHS is fully capable of deploying more resources to address the crisis at our southern border while simultaneously maintaining our operational capabilities throughout the Department in order to carry out our mission to protect the American people," department spokesman Tyler Q. Houlton said in an email.
Almost 99,000 undocumented migrants were taken into custody at the U.S.-Mexico border last month, and the agency estimates it will apprehend 1 million migrants this fiscal year, up from about 400,000 last fiscal year.
To contact the reporter on this story: Michaela Ross in Washington at mross@bgov.com
To contact the editors responsible for this story: Paul Hendrie at phendrie@bgov.com; Robin Meszoly at rmeszoly@bgov.com; Jonathan Nicholson at jnicholson@bgov.com