Trump's Space Force Launches in $738 Billion Defense Policy Bill
The U.S. military will have a new separate service branch—the Space Force—under a final agreement reached by House and Senate negotiators on the defense authorization bill, according to two people familiar with the outcome who asked not to be named because the bill is not yet public.
The compromise measure would hand President Donald Trump a significant policy victory: the creation of the first new military service in seven decades.
The separate space-focused military branch would be located inside the Department of the Air Force in the same way the Marine Corps is inside the Department of the Navy. Space Force would be added into Title 10 of the U.S. code, the portion of the law that enumerates each of the existing armed services and provides authorities to each, according to the people.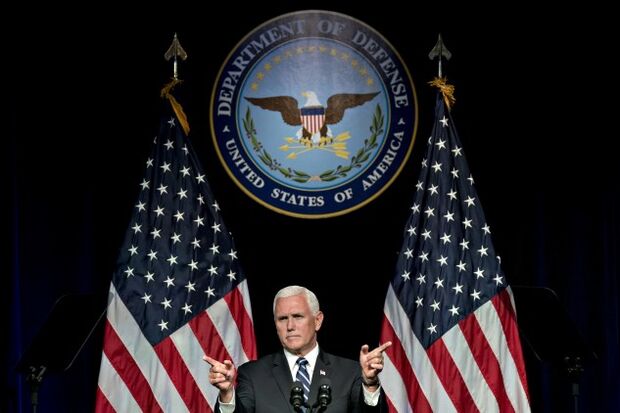 The Pentagon had sought this distinction. The House had included it in its version of the bill, H.R. 2500, while the Senate didn't in its version, S. 1790, amid concern over unnecessary growth in the military.
Negotiators also agreed to name the military Space Force, as Trump had wanted, instead of the House's suggestion it be named Space Corps.
The compromise measure would also back the creation of two space-specific positions within the Pentagon, a deputy secretary for space and an acquisition executive for space, a position that would be gradually phased in over three years, the people said.
The Title 10 statutory change was "vital" to the president's goal of having a new military branch, said a defense official, who spoke on condition of anonymity because they were not authorized to comment on the issue.
New Authority Sought
In recent months, Deputy Defense Secretary David Norquist and former acting Air Force Secretary Matt Donovan had advocated publicly and privately to lawmakers for the legal authority necessary to create the first new service branch since the Air Force was founded in 1947.
The Pentagon and the Air Force, which conduct about 80% of military space operations, have been planning for the creation of an initial Space Force staff for months and are poised to begin the transition as soon as Trump signs the authorization.
The Pentagon's budget request in March proposed $72 million to set up the Space Force headquarters with 160 personnel. It asked for a four-star general to lead the service and sit on the Joint Chiefs of Staff, as well as the new under secretary of the Air Force for space.
Despite winning an authorization, the Pentagon will still need fiscal 2020 appropriations to fund the space service. So far, congressional appropriators are divided. The House Appropriations Committee recommended $13.5 million to study and refine plans for the establishment of a Space Force. The Senate Appropriations Committee granted the Pentagon's request for $72 million in annual funding.
To contact the reporters on this story: Roxana Tiron in Washington at rtiron@bgov.com; Travis J. Tritten at ttritten@bgov.com
To contact the editors responsible for this story: Paul Hendrie at phendrie@bgov.com; Jonathan Nicholson at jnicholson@bgov.com