Trump's Mail-In Voting Fraud Claims Draw Republican Critics
Bloomberg Government subscribers get the stories like this first. Act now and gain unlimited access to everything you need to know. Learn more.
President Donald Trump's unsubstantiated claims that voting by mail will result in massive fraud in November has prompted worried protests from an increasing number of luminaries from within his own party.
"It's actually disappointing because it means you're trying to sow the seeds of doubt in a process that has been so much a part of Americans' history," former Homeland Security Secretary and Pennsylvania Gov. Tom Ridge said about the president's vote-by-mail tweets. "It flies in the face of what I think both parties should be focused in on, and that's creating options that are safe and secure for all voters, particularly during the pandemic."
Ridge is the Republican face of VoteSafe, a bipartisan campaign to ensure that every U.S. state and territory has secure mail-in ballots and safe, in-person voting sites during the Covid-19 pandemic. The group, also led by former Michigan Gov. Jennifer Granholm, a Democrat, launched May 21.
By politicizing access to voting for a perceived short-term political gain, Trump risks undermining one of the basic tenets of American democracy, Ridge and other former leaders of the Republican Party say.
"Ensuring that Americans can vote safely and securely amidst the pandemic is not a partisan issue. It's good for Republicans, Democrats, and everyone else," Ridge said. "I don't believe that voting is a privilege, I believe it's a responsibility of citizenship."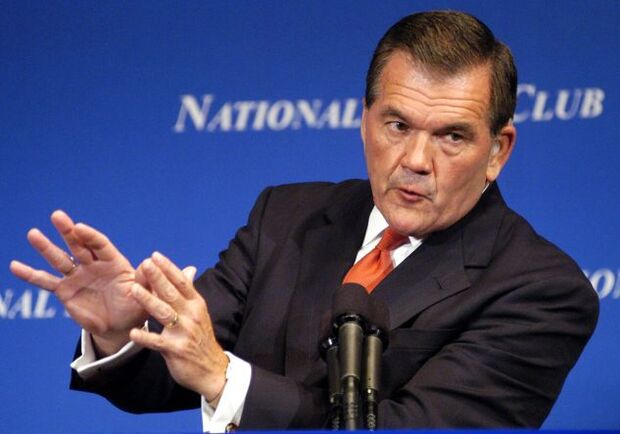 The President and the RNC
Trump, in at least three White House coronavirus briefings and media availabilities in April and May, questioned the validity of mail voting. In six separate tweets between April 11 and May 26, he criticized vote-by-mail efforts across the country. Twitter, on May 26, labeled one of the president's Tweets with a fact-check marker directing people to stories that dispute claims of fraud.
In his tweet, the president claimed all mail-in ballots would result in the "greatest Rigged Election in history" and said there would be thousands of forgeries.
The Republican National Committee sued California May 24 to stop the state's plan to mail a ballot to every registered voter. The RNC is fighting Democrats' efforts to get states like Pennsylvania and Florida to accept and count mail-in ballots that are postmarked by, but may arrive after, Election Day, for example.
"Republicans have always supported absentee voting with safeguards in place. What we oppose is a nationwide experiment that would eliminate those safeguards, invite fraud, and weaken the integrity of our elections. Democrats are determined to remove every safeguard on absentee ballots that ensure the integrity of the process." " RNC National Press Secretary Mandi Merritt wrote in an email to Bloomberg Government.
Republican Voices of Protest
Ridge's VoteSafe is aligned with similar groups helmed by Republicans—there's the Bill Kristol-backedRepublicans for the Rule of Law and the U.S. Vote Foundation, where Michael Steele, ex-lieutenant governor of Maryland and a former Republican National Committee chairman, leads the board.
Ads targeting Republicans in tight Senate races run by Republicans for the Rule of Law call on Congress to give states the resources they need to prepare for the November election during the pandemic. Ads have aired in Alabama, Arizona, Colorado, Iowa, Kentucky, Maine, and North Carolina.
VoteSafe does not advocate for mailing ballots to every voter on the rolls nor does it call for vote-by-mail-only rules.
Ridge criticized those who are against stay-at-home rules, but are in favor of vote-only-in-person rules.
"I'm not gonna say it's hypocritical, but isn't it ironic? Those who say, 'I want freedom to exercise my right to do this and freedom to exercise to do that, and the freedom to choose to do this,' ought to be embracing [voting choices]," he said. "That's the traditional Republican mindset, I thought, individual accountability, individual responsibility."
Election Integrity
Trump's tweets feed a general distrust among some voters in the integrity of the voting process itself, according to some experts. That would only be exacerbated if there is a close vote in the presidential contest, and it takes days after Election Day to name a winner.
That gap opens up opportunities for candidates, their supporters, or even outside agitators egging on a candidate's supporters to question the validity of the vote count, said University of California Irvine Professor Rick Hasen.
"It's certainly possible that, say, Trump could be in the lead on election night and then five days later Joe Biden is declared the winner," he said. "I worry about what happens in those five days as the votes shift."
That could fuel allegations of fraud and official manipulation such as systematic miscounting, said Nathaniel Persily, a Stanford Law professor leading the Stanford-MIT Project on a Healthy Election.
It's not hard to imagine angry people, distrusting media reporting, converging on ballot-counting locations, said Sarah Longwell, a founder and spokesperson for Republicans for the Rule of Law.
"My greatest fear is that the current administration would claim that the outcome of the election is false if they lose and not step down," Sam Woolley, author of "The Reality Game" and a University of Texas at Austin professor, said. "I'm not sure that we live in a time where we can reliably say, 'Oh, that's definitely never going to happen to us.'"
The president's goal is to soften the ground for a potential loss, said Longwell.
"You've already got an environment of distrust. You've already got an environment of skepticism. You've got a president who is perfectly willing to elevate and be a proponent of accusations of fraud," she said.
But a scenario where Trump loses in a close election to Biden and refuses a peaceful transition of power seems "possible, but implausible," Longwell said. "I have tremendous faith in the American people generally wanting to preserve the tradition of peaceful transition of power."
To contact the reporter on this story: Shaun Courtney in Washington at scourtney@bgov.com
To contact the editors responsible for this story: John Dunbar at jdunbar@bloomberglaw.com; Heather Rothman at hrothman@bgov.com; Paul Hendrie at phendrie@bgov.com
Stay informed with more news like this – from the largest team of reporters on Capitol Hill – subscribe to Bloomberg Government today. Learn more.