Trump's Immigration Victory Lap Decried by Advocates, Democrats
Bloomberg Government subscribers get the stories like this first. Act now and gain unlimited access to everything you need to know. Learn more.
President Donald Trump used his State of the Union address Tuesday night to trumpet campaign promises on immigration policies that have drastically abated border crossings but also all but cut off asylum in the U.S.
"My administration has undertaken an unprecedented effort to secure the southern border of the United States," Trump said. "If you come illegally, you will now be promptly removed from our country."
A relentless string of initiatives in 2019 reduced to a trickle the historic surge of migrant families that were crossing the southwest border at this time a year ago. Favorable court decisions for those policies from Trump-picked judges as well as inaction by Congress to pass major immigration legislation left the White House an open path to move its agenda ahead.
The array of new programs—which include miles of border wall, deep cuts to the annual refugee cap, abbreviated asylum screenings with little due process, and the deportation of asylum seekers to Guatemala or to wait in Mexico—have been decried by Democrats who say the Trump administration has stripped away American values by excluding immigrants based on race, religion and poverty.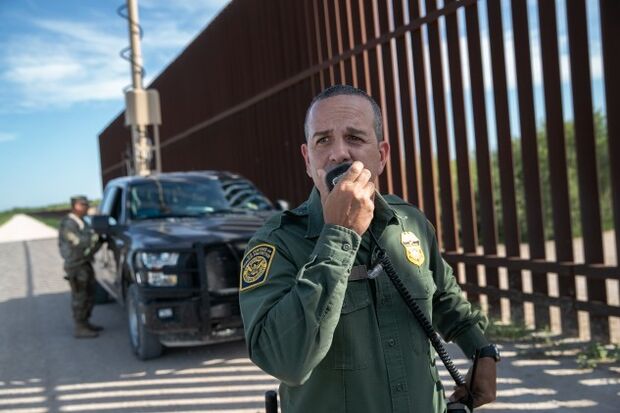 "If his immigration goal was to change the intent of the founding fathers in terms of America being a welcoming place for people who have been forsaken in their countries of origin, people who are seeking asylum, he's been successful," House Homeland Security Committee Chairman Bennie Thompson (D-Miss.) said in an interview before the speech.
Dick Durbin (D-Ill.), the Senate's No. 2 Democrat, was more blunt.
"I am just fed up with what the president is doing on this immigration issue," Durbin said after Trump spoke. "He is just fostering hatred. It is just fundamentally unfair. It is nothing new in American history. He is just taking it to new depths. "
Trump celebrated his policies as a win for national security.
"He deserves a victory lap, and it's not only a victory lap for him it's a victory lap for America," Chuck Fleischmann (R-Tenn.), ranking member of the House Appropriations Homeland Security Subcommittee, said in an interview before the speech.
Trump's guests in the chamber's gallery Tuesday night included Raul Ortiz, recently promoted to deputy chief of U.S. Border Patrol. Another guest was a family member of a murder victim allegedly killed by an undocumented migrant who had been released in a sanctuary city.
Trump criticized states and localities with sanctuary laws, which generally means local officials won't assist in immigration enforcement and deportation. Trump said he supported legislation (S. 2059) by Sen. Thom Tillis (R-N.C.) to allow victims of undocumented migrants to sue the releasing localities. He also said his administration is working on new legislation to promote merit-based immigration.
"The United States of America should be a sanctuary for law-abiding Americans—not criminal aliens!" he said.
Acting Department of Homeland Security Secretary Chad Wolf, who was in attendance, said in a statement after the speech that "DHS will soon announce measures to counter dangerous state and local laws that prohibit coordination with DHS law enforcement officers." 
Series of Court Wins
Trump's policies have helped reduce the number of southwest border apprehensions by 35% from December 2018 to December 2019, to 32,858 migrants. Fiscal 2019 border crossing totals reached highs not seen since 2007, including a historic surge of more than 473,680 migrants traveling in families.
"It's the biggest accomplishment they can point to," Jessica Vaughan, director of policy studies at the Center for Immigration Studies, which favors limiting immigration, said in an interview.
Unlike in earlier years of his presidency, a number of those Trump policies have passed muster in the courts, where his efforts to confirm high numbers of federal judges have begun to bear fruit. The U.S. Supreme Court, now with two Trump-picked justices with broad views of executive power, have allowed high-profile policies that were blocked by lower courts to temporarily go forward while under debate.
Human Rights Abuses
Opponents of Trump's policies argue that the drastic drop in migration is in part because the Trump administration is now largely bypassing due process using abbreviated asylum screenings. Other policies are sending asylum seekers back to Mexico to await trial or to Guatemala to apply for protections there.
"One way they're getting the numbers down is by eliminating fundamental asylum rights for individuals and putting families and children in grave danger," Lee Gelernt, counsel for the American Civil Liberties Union, which has brought challenges against most of Trump's policies, said in an interview.
Migrants' advocates have pointed to more than 800 cases of rape, murder, and assaults of those camped out in Mexico alone, many lacking food, water, or shelter, according to data from the group Human Rights First.
Only 117 individuals, or 0.4%, under the Mexico program won asylum out of 24,000 applicants with cases complete as of November, according to data from Syracuse University. This is down from historic asylum grant rates of 20%, the report said.
Action This Year
Trump has made the U.S. immigration system, developed by bipartisan lawmakers over decades, "unrecognizable—all without a single act of Congress," Ur Jaddou, director of DHS Watch, an oversight group, and former chief counsel to U.S. Citizenship and Immigration Services said in an email.
Vaughan, the immigration-limiting advocate, also wants Congress to act, but instead by passing legislation to codify Trump's policies and fund more enforcement.
A number of final court decisions are slated this year that could upend or double down on Trump's policies, Aaron Reichlin-Melnick, a policy analyst with the American Immigration Council, a non-partisan immigration advocacy group, said in an interview.
Real change may take a presidential election, Thompson says.
"I can't wait until November," he said before the speech.
Erik Wasson (Bloomberg News) contributed to this story. To contact the reporter on this story: Michaela Ross in Washington at mross@bgov.com
To contact the editors responsible for this story: Paul Hendrie at phendrie@bgov.com; Robin Meszoly at rmeszoly@bgov.com
Stay informed with more news like this – from the largest team of reporters on Capitol Hill – subscribe to Bloomberg Government today. Learn more.