Trump's 5-Year Budget Plan for Navy Would Add 82 New Vessels (2)
Strategy to bolster fleet to counter China in Pacific
$167 billion price tag benchmark as Biden takes over
(Updates Dec. 9 story with quotes in sixth and last two paragraphs.)
Bloomberg Government subscribers get the stories like this first. Act now and gain unlimited access to everything you need to know. Learn more.
The Trump administration's long-term shipbuilding plan, required by Congress, projects spending $167 billion over five years to boost the Navy's fleet as it confronts a rising China in the Pacific.
The shipbuilding budget would increase to $27 billion in fiscal 2022, a 33% boost over this fiscal year, then to $28.5 billion in fiscal 2023, reaching $38.5 billion in fiscal 2026, according to a senior administration official who asked not to be named because the plan isn't public.
The projections are part of the 30-year shipbuilding plan, a report that Congress was supposed to receive at the same time as the fiscal 2021 budget request. Bloomberg Government obtained a copy of the report.
The Trump's administration new plan for a 500-ship Navy by 2045 and the underlying naval force structure study are part of the reason for the delay.
Congress has already finished writing this year's defense authorization and spending measures. The outgoing administration's blueprint can serve as a map for deliberations over future defense bills. The numbers in the plan will be used by pro-shipbuilding lawmakers as benchmarks against which to assess President-elect Joe Biden's eventual budget submission.
"Since taking office, President Trump has promised to increase the size of our naval fleet to 355 battle ships, re-establish the United States as the global power at sea to continue to secure our country while making it more prosperous," Office of Management and Budget Director Russell Vought said in a statement. "Our updated 30-year shipbuilding plan is a credible, affordable road map for achieving maritime supremacy—all while tightening our belts—and sending a strong message to our adversaries like China,"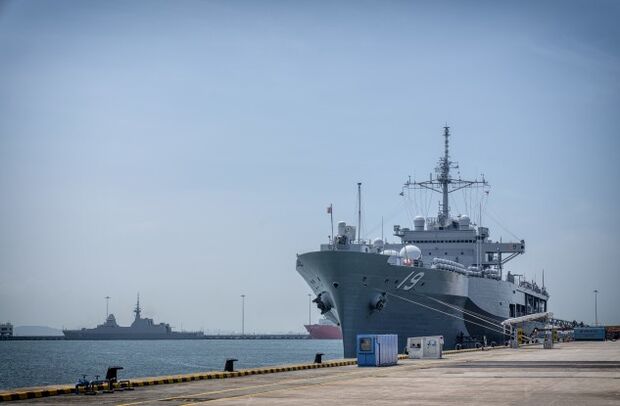 The projections rely on boosting robotic ships as a key to reaching a 500-ship Navy and reducing maintenance costs plaguing manned ships. The plan projects spending $4.3 billion on 21 robotic ships from fiscal 2022 to 2026.
Compared with the fiscal 2021 plan for new shipbuilding that includes 14 types of vessels, including a new frigate, the draft Navy plan would boost ship quantities by five in 2022 to 12, six in 2023 to 15, and five in 2024 to 16. The plan calls for 19 new vessels in 2025, a 10 vessel increase. It calls for 20 vessels in 2026.
The plan includes updated figures on the new Columbia-class nuclear missile submarine that began construction this month — $30 billion through 2026, increasing from $4.7 billion planned for next year to $8.2 billion in 2026. General Dynamics Corp and Huntington Ingalls Industries Inc. are the prime contractors.
Overall, the plan calls for 403 battle force ships and 143 unmanned vessels by 2045.
By 2045, the Navy would have in its inventory: 11 aircraft carriers, nine amphibious landing ships, 57 amphibious warfare ships, 74 large surface combat ships, 66 small combatant ships, 72 attack submarines, and 12 ballistic missile submarines, according to the draft.
Shifting Funds
The plan relies on a national defense budget topline of $759 billion in fiscal 2022, adjusted for inflation in the future years. That number includes Energy Department nuclear weapons programs and would be derived in part by moving $30 billion from the overseas contingency operations account to the Pentagon's regular budget. That money is projected to be freed up in large part by the withdrawal of U.S. troops from Afghanistan and the Middle East, the administration official said.
The new plan "is a terrible idea, because the Navy won't have the money to pay for sustainment and manning of the additional ships," said Bryan Clark, a naval programs analyst at the Hudson Institute. Rising support costs will require new ship construction funds to be shifted, he said.
"If a future administration doesn't continue the additional funding" for new ship construction, the service "may have to retire some ships early to manage their operations and supports costs," he said. "This is the problem the Navy had in the 1990s when the Reagan-era fleet couldn't be sustained by Clinton-era budgets," Clark said.
Capital Alpha Partners defense analyst Byron Callan, in a note to clients, wrote, "Clearly, the plan is likely to be adjusted by the Biden Administration, so for now, it's a blueprint."
Vertical Research Partners' Robert Stallard was more blunt. The plan is `"an epic piece of DoD budget fiction" issued in ""the dying embers of the Trump Administration," he told his clients.
To contact the reporters on this story: Roxana Tiron in Washington at rtiron@bgov.com; Tony Capaccio (Bloomberg News) in Washington at acapaccio@bloomberg.net
To contact the editors responsible for this story: Sarah Babbage at sbabbage@bgov.com; Robin Meszoly at rmeszoly@bgov.com
Stay informed with more news like this – from the largest team of reporters on Capitol Hill – subscribe to Bloomberg Government today. Learn more.