Trump Travel Tab for Political Events Prompts House Inquiry
Lofgren questions if taxpayers picking up bill for campaign
Air Force One was backdrop for video criticizing DiBlasio
President Donald Trump's travel costs for political events are being questioned by a top House Democrat.
House Administration Committee Chairwoman Zoe Lofgren (D-Calif.) demanded that the White House and Trump campaign provide information about whether Trump's travel is being legally financed under federal law.
"The President frequently mixes official travel with campaign-related political purposes, which raises questions about whether American taxpayers are footing the bill for political travel that should be paid for by his campaign." Lofgren said in a May 21 letter to White House Counsel Pat Cipollone released Wednesday.
The counsel's office didn't immediately respond to an emailed request for comment.
Lofgren cited reports that Trump flew to more than 40 political rallies in advance of the 2018 midterm elections and his campaign-related travel leading up to the 2020 election is well underway. Her letter said Trump frequently mixes official travel with campaign-related political purposes, including using Air Force One as a backdrop to film a video criticizing New York Mayor Bill de Blasio's entry into the race for the 2020 Democratic presidential nomination.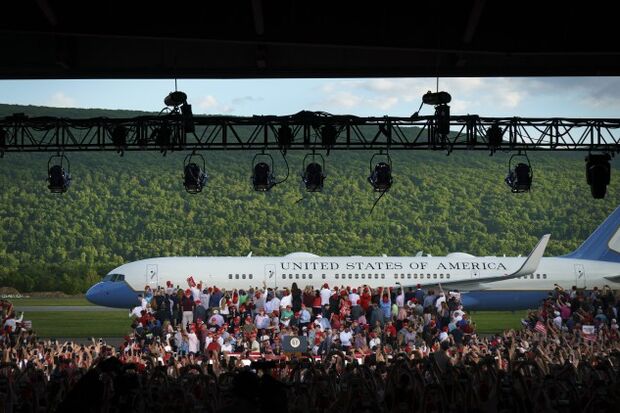 Presidents have always used government resources to travel, chiefly due to security concerns, but campaigns are required to reimburse at least part of the cost of political travel. An analysis published last year by Quartz, a business news publication, estimated Trump's air travel during the midterms cost about $17 million, while only $112,000 was reimbursed by the Trump campaign over a two-month period.
Lofgren sent a similar letter to Trump campaign treasurer Bradley Crate. The letters asked for responses by June 20, including records regarding how Trump's expenses are apportioned for official and political travel.
Lofgren asked for a list of events determined to require reimbursement by Trump's campaign or another political entity, such as the Republican National Committee. She also asked for any guidance provided by the Justice Department or Federal Election Commission regarding travel by Trump or Vice President Mike Pence.
Paul Ryan, an election law attorney with the watchdog group Common Cause, said in an email that a presidential trip made for purely political purposes must be paid for fully by the campaign.
Federal Election Commission rules require campaigns to reimburse the cost of a charter plane big enough to transport campaign travelers but not the size of Air Force One, which includes the president's security detail and equipment needed for national security, Ryan said.
"If the trip is for mixed campaign and official purposes, the campaign must pay a portion of the cost," Ryan added. He said a formula used by the Treasury Department to determine the campaign's portion of travel costs is largely secret.
To contact the reporter on this story: Kenneth P. Doyle in Washington at kdoyle@bgov.com
To contact the editors responsible for this story: Bennett Roth at broth@bgov.com; Robin Meszoly at rmeszoly@bgov.com