Trump Target Rice Loses, Mace Wins in South Carolina Primaries
Mace faced pressure for her criticism of Jan. 6 riots
Rice's vote to impeach Trump drew ex-president's ire
It was a split decision in South Carolina for two top Republican targets of former President Donald Trump, with one prevailing and one losing to a primary challenger on Tuesday.
Rep. Tom Rice, who voted to impeach Trump, lost to state Rep. Russell Fry, while Rep. Nancy Mace cleared the 50% threshold to avoid a runoff against Katie Arrington.
The races were key tests of Trump's power in the GOP. Most of the former president's endorsed candidates have secured wins, but no Trump-backed challenger had ousted an incumbent.
Rice and Mace earned Trump's ire not because of their voting records, which are solidly conservative, but for being deemed insufficiently loyal.
Rice was one of 10 Republicans who voted to impeach Trump in 2021, a vote that surprised many in Washington and South Carolina given his previous support for Trump and his conservative record.
Mace didn't vote to impeach Trump, but repeatedly called him out in the aftermath of the Jan. 6, 2021, riot at the Capitol. In October, Mace was one of nine Republicans to support referring criminal contempt charges against former Trump adviser Steve Bannon.
Rice's vote to impeach Trump was so surprising that Minority Whip Steve Scalise (R-La.) called him to make sure he voted correctly. The five-term congressman had previously defended Trump and voted for him twice. But he's remained firm about his vote to impeach Trump, telling ABC's "This Week" that he "took an oath to protect the Constitution, and I did it then and I would do it again tomorrow."
Fry fashioned his campaign as a referendum on allegiance to Trump, with campaign ads focused on Rice's vote to impeach. One ad put Rice in the same room as the devil and the Joker, and urged voters "to kick another villain out of D.C. and vote for President Trump's choice."
Mace unseated Democrat Joe Cunningham in 2020. Since then, redistricting made the new district she's seeking re-election in more firmly Republican by shifting more of Charleston to House Majority Whip Jim Clyburn's (D-S.C.) neighboring district.
Mace has fluctuated between a Trump critic and supporter. Shortly after Jan. 6, she made multiple TV appearances suggesting the party needed to move away from Trump. She told CNN the riots "wiped out" Trump's entire legacy. She said on NBC's "Meet the Press" that Trump "put all of our lives at risk."
In February, a day after Trump endorsed Arrington while slamming Mace as "very disloyal," Mace filmed a video outside Trump Tower in New York reminding viewers she worked for Trump's 2016 campaign and supported him in 2020.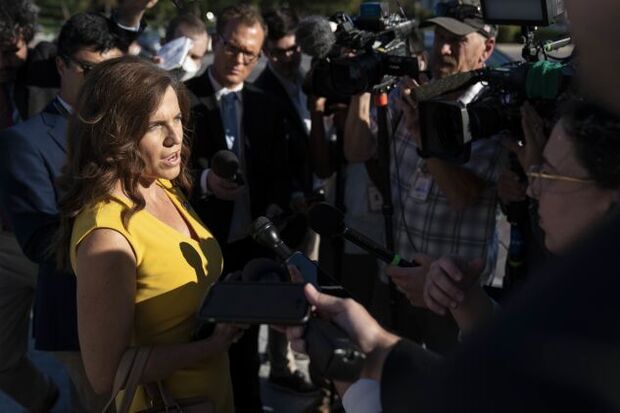 Mace picked up local support, including from former South Carolina Gov. Nikki Haley (R), who was also Trump's ambassador to the United Nations, and the mayor of Summerville where Arrington currently lives.
Arrington, a former state legislator, was the Republican nominee for the district in 2018 when she unseated Rep. Mark Sanford in his primary. Arrington then lost to Cunningham in the general election, one of dozens of seats Democrats picked up across the country. But she maintained Trump's support – he held a rally that she and Fry appeared at in March.
To contact the reporter on this story: Emily Wilkins in Washington at ewilkins@bgov.com
To contact the editors responsible for this story: Kyle Trygstad at ktrygstad@bloombergindustry.com; Bennett Roth at broth@bgov.com