Trump Record on Migrants, Race Bias Demands Fix, Critic Says
DHS needs tougher civil rights oversight, former aide says
Efforts to reauthorize agency failed in Congress last year
Alleged racial profiling, mistreatment of detained migrants, and other human rights abuses show Congress needs to beef up the powers of the Department of Homeland Security's civil rights arm, a former DHS official says.
"The Muslim travel ban and the family separation issue show how broad DHS' ability to violate the Constitution can be and how much harm it can do," Scott Shuchart, a former senior adviser for the Office for Civil Rights and Civil Liberties, said in an interview. He called for steps to help the office shape and carry out policies and ring the alarm on potential violations.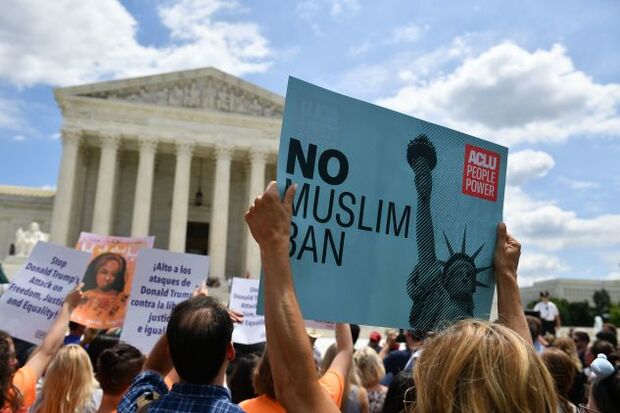 Shuchart, currently a fellow at the progressive-leaning Center for American Progress, commented in a report from the think tank released to Bloomberg Government Tuesday. Americans and lawmakers are again becoming sensitive to the need for the office after the administration's high-profile immigration crackdowns, Shuchart said, but the office has historically suffered from lack of effectiveness in its oversight.
The department under the Trump administration has frequently defended the legality of its policies — for example, denying that the travel ban and other immigration restrictions were motivated by religion or race.
A spokesman from the department did not immediately respond to a request for comment.
Potential Remedies
Shuchart said he hopes Congress will consider the report during any efforts to reauthorize DHS, after bipartisan attempts to do so during the 115th Congress failed (H.R. 2825). Congressional appropriators have also taken steps in recent years to boost the office's oversight, he said.
Congress created the office in the early 2000s after concerns arose the federal government's immediate reaction to the Sept. 11, 2001, terrorist attacks violated the civil rights of some U.S. citizens and foreign nationals. Apart from overseeing and influencing department policies, the office accepts complaints from individuals who say DHS violated their civil liberties.
Congress should give the office clearer authority to help craft department policies, as well as subpoena power to better investigate allegations of civil rights violations, the report says. It should mandate the office respond to complaints more quickly and with greater transparency, Shuchart said.
Lawmakers should also ensure the office has independent legal counsel to clear away any potential conflicts of interest that could arise from the office's probes of alleged violations by DHS, he said.
The head of the office under the Obama administration, Margo Schlanger, recently testified for the U.S. Commission on Civil Rights about the need to empower the office.
To contact the reporter on this story: Michaela Ross in Washington at mross@bgov.com
To contact the editors responsible for this story: Paul Hendrie at phendrie@bgov.com; Robin Meszoly at rmeszoly@bgov.com; Jonathan Nicholson at jnicholson@bgov.com