Trump `Militia' in Cities Risks Homeland Mission, Ex-Leaders Say
Bloomberg Government subscribers get the stories like this first. Act now and gain unlimited access to everything you need to know. Learn more.
President Donald Trump has exploited flaws in how the Department of Homeland Security was set up to subvert local law enforcement and broaden its investigatory authority in ways never intended, threatening its mission of protecting the nation from terrorism, former department secretaries of both parties said.
"You don't come sweeping in like a militia and take over the law enforcement jurisdiction. It's beyond the scope of DHS, it's certainly beyond the mission, and may be questionably bumping up against the Constitution," Tom Ridge, the first Homeland Security secretary under President George W. Bush and a former Pennsylvania governor, said in an interview. "DHS is not your personal, private militia. Period."
The agency has since its inception after the Sept. 11, 2001 terrorist attacks had a broadly-defined role that includes protecting federal property. But in Portland, Ore., agents from Customs and Border Protection were also used to disperse street protests and round up suspects, over the objections of city officials. Trump said he now plans to deploy federal personnel to Chicago and Albuquerque to crack down on violent crime.
Local and state leaders, national lawmakers and the former agency heads said Trump's actions may prompt lawmakers to seek to curb the department's capabilities—possibly to the detriment of its original mission to protect the homeland.
"One thing that they need to be careful about is if they misuse DHS, that there will be public pushback and legislative attempts to narrow the mission of DHS, and maybe that's a good thing, but, you know, it could also have unintended consequences," said Janet Napolitano, DHS secretary under President Barack Obama and a former Arizona governor.
Portland's Mayor Is Tear Gassed by Federal Agents: Protest Wrap
Leadership Matters
Congress, in creating the Homeland Security Department, folded 22 agencies into the largest law enforcement entity in the federal government.
As the youngest U.S. cabinet-level department, DHS is still developing a central operational structure that makes it more than the sum of its parts, several former DHS officials said. Much of the direction of the agency depends on who leads it, the two former secretaries and four other former agency officials said in interviews.
The current head of DHS, Chad Wolf, is a former lobbyist who is serving in an acting capacity. He is the fifth person to hold the post as either secretary or acting secretary during the Trump administration.
"Its leadership is very gung-ho and its authorities are very broad. And so, it's available for the administration to use as a kind of police force that doesn't have a huge strong tradition where people say, 'No, no. We're not doing that. You tell me to do that, I resign'," said Margo Schlanger, law professor at University of Michigan Law School. She addressed potential and actual civil rights violations by DHS when she served in the department's Office for Civil Rights and Civil Liberties under Napolitano.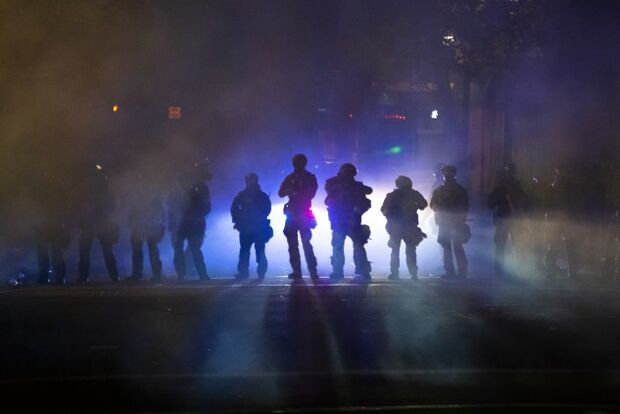 Both Ridge and Napolitano pointed to the number of top DHS positions that are filled by officials in acting capacities or vacant. Leaders that don't have the backing of a Senate confirmation find themselves at the mercy of the president, limiting DHS's ability or desire to defend the agency's core missions, they said.
"You put in place a bunch of folks who aren't going to question what the president wants and turn them loose on an agency like DHS and it's as kind of a recipe for overreach," Napolitano, currently president of the University of California, said.
The department under Wolf has blocked almost all asylum applications from refugees trying to cross the border, citing the health concerns and impacts on jobs lost due to the coronavirus. They have also used the virus to turn away unaccompanied minors at the border. Both moves face lawsuits as immigrant rights groups argue they violate U.S. and international law.
Napolitano noted that many of the people who serve at DHS are former police officers or veterans who are accustomed to following the chain of command.
"If they're given a mission, that's what they do. And so that makes it dependent on leadership to make sure that the mission they're given is an appropriate mission. And that, to me, it's just not occurring here," she said.
Just Because You Can
The DHS has a sprawling field presence with personnel in almost every state and almost every major urban area. But until now, the agency's roles in combating crime has been secondary to and in support of local law enforcement or local governments, Ridge and Napolitano said.
DHS is lawfully protecting federal government property in Portland and did so because the agency didn't believe local officials were doing enough or taking the threat from protests seriously, Wolf, Acting Commissioner of U.S. Customs and Border Protection Mark Morgan, and Federal Protective Service Deputy Director of Operations Richard Cline said during a Tuesday news conference.
Wolf cited a 2005 statute giving the FPS the ability to deputize other Homeland Security law enforcement agencies to assist it and allowing the DHS to conduct investigations on or off of federal property — a law Ridge and Napolitano said they were unfamiliar with until recent events.
"I was surprised that that statute existed. We never used it for any operation—we never conducted any kind of operation like what they're doing in Portland and threatening for other cities at all," Napolitano said. "Just because you technically can doesn't mean you should."
It seems like someone is trying to find a justification for "unjustifiable conduct," said Ridge.
"They're digging around in federal authorities to find a hook that they can point to even if not persuasively," Schlanger said. "I assume that will happen in Chicago, too."
Trump fired back Thursday morning against Ridge's criticism of his old department's actions in Portland, calling Ridge a "failed RINO" and "pathetic" in a Twitter posting. RINO is short for Republican In Name Only.
What Happens Next?
The former officials interviewed each worried about the long-term effects of how the Trump administration is using the DHS, but no one said they thought it would be the end of the agency. Their consensus was that the administration that follows Trump's will have a lot to clean up and repair.
"If the president turns these law enforcement agencies into unfettered, unaccountable forces that can implement his whims, that's terrible. I hope the courts will shut it down. I hope the people shut it down," Schlanger said.
Napolitano and Ridge said they believe in the DHS's mission to protect the U.S. from global terrorism and that the work that the men and women of the department do remains critical.
"Swooping into any community unannounced to unilaterally take action, particularly if the purpose is to combat lawlessness and crime, that's not the mission. Never has been, never should be, never will," Ridge said.
To contact the reporter on this story: Shaun Courtney in Washington at scourtney@bgov.com
To contact the editors responsible for this story: Bernie Kohn at bkohn@bloomberglaw.com; Paul Hendrie at phendrie@bgov.com; Robin Meszoly at rmeszoly@bgov.com
Stay informed with more news like this – from the largest team of reporters on Capitol Hill – subscribe to Bloomberg Government today. Learn more.