Trump Influence Poised to Shape Wide-Open GOP Senate Primaries
Party hopes to pick up a seat, win back chamber in 2022
Trump has started PAC, preparing to endorse candidates
Republican Senate primaries in key states are ripe for intervention by Donald Trump, who's promising to maintain his leadership of the party heading into the 2022 midterm elections.
David Perdue's surprising decision not to run next year after losing his seat in a runoff added Georgia to the list of states without a Republican front-runner that are set for expansive fields of candidates. The states include those hosting top pickup opportunities and seats critical to defend for a chance to take back control of the Senate.
Three GOP retirements and four Democrats seeking re-election — all in potentially competitive states — invite the potential for crowded and combative nominating contests poised to come down to who's most aligned with and loyal to Trump. Such intraparty warfare has the potential to politically damage the candidates in a match with Democrats.
"We do want candidates to run that can win general elections," Senate Minority Whip John Thune (R-S.D.) said when asked if he's concerned about GOP primaries. "That's how we get the majority back."
Trump told the Conservative Political Action Conference on Sunday that this election cycle he'd use his leverage within the GOP, which he said is "going to unite and be stronger than ever before." But Trump attacked his critics in the party, belittling Senate Minority Leader Mitch McConnell (R-Ky.) and naming all the lawmakers who voted to impeach or convict him. "Get rid of them all," he said.
That won't have much of an effect on 2022 Senate races. Sen. Lisa Murkowski (R-Alaska), the only senator who voted to convict and facing re-election next year, only has to finish in the top four in the state's newly implemented open primary to advance to the general election, which for the first time will be held using ranked-choice voting.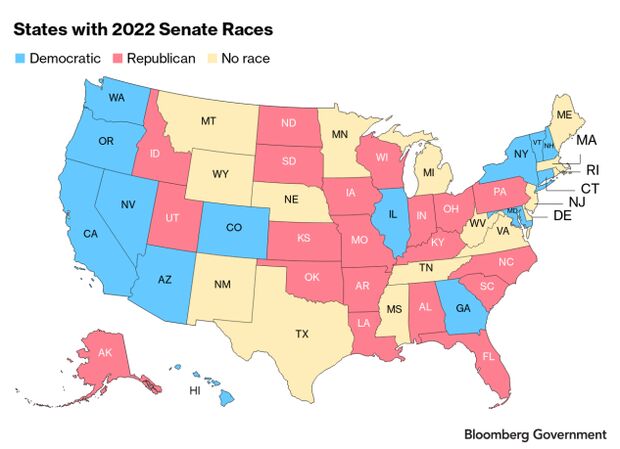 Primary Lineup
Still, Trump may have an outsize role in deciding who emerges from GOP primaries in the most competitive states.
Democrats' two 2020 special election winners Mark Kelly (Ariz.) and Raphael Warnock (Ga.) may be the most vulnerable and are likely to invite several GOP challengers. Former Sen. Kelly Loeffler (R-Ga.) is considering a rematch with Warnock, and Arizona GOP Chairwoman Kelli Ward, who's led efforts to censure fellow Republicans disloyal to Trump, is considering a bid as well.
The three competitive open-seat races in North Carolina, Ohio, and Pennsylvania are inviting primaries in both parties. In Ohio, former state GOP Chairwoman Jane Timken and former state Treasurer Josh Mandel launched Republican campaigns with aggressively pro-Trump messages. In North Carolina, former Rep. Mark Walker's (R) campaign features pictures with Trump. And in Pennsylvania, Lt. Gov. John Fetterman (D) and real estate developer Jeff Bartos (R) could face off in a rematch of the 2018 race Fetterman won — if they can prevail in their respective primaries.
Then there are three potentially vulnerable incumbents who could invite crowds of challengers: Sens. Maggie Hassan (D-N.H.), Catherine Cortez Masto (D-Nev.), and Ron Johnson (R-Wis.), a key Trump supporter who's greatest test will be in the general election.
Trump's Influence
On Feb. 27, Trump converted his presidential campaign committee to a political action committee, which provides him an avenue to continue to raising money and contribute to candidates he's endorsed ahead of the midterm elections.
His forthcoming endorsements, which Axios reported will require candidates to fill out questionnaires, will affect which candidates move on to the general election as the party seeks to regain control of the Senate. But the general elections will test the appeal of these candidates without Trump and his coattails on the ballot.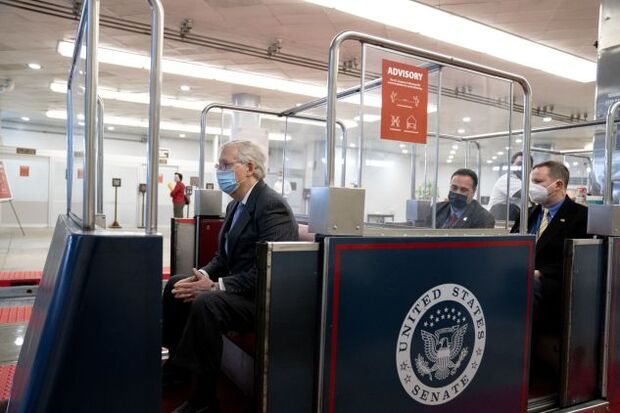 A divided party will make it difficult to win back the evenly divided chamber on a map that gives Democrats more offensive opportunities. So Senate Republican leaders have tried to paper over conflicts regarding Trump's future in the party by emphasizing where they're aligned.
McConnell said on Fox News he'd support Trump if he's the party's 2024 presidential nominee, despite excoriating Trump for his role in provoking his supporters to storm the Capitol. That had led Trump to respond with a blistering statement calling the Senate leader "a dour, sullen, and unsmiling political hack" and saying he's "destroying the Republican side of the Senate."
Sen. Rick Scott (R-Fla.), chairman of the National Republican Senatorial Committee, rejected a suggestion that he should mediate any lingering dispute between Trump and McConnell. Instead, he simply declared in an NRSC video that "the Republican civil war has now been canceled," before criticizing what he said were Democratic priorities.
That was an echo of what McConnell told reporters when asked at a news conference about divisions over Trump. "What you need to focus on is how united we are today in opposition to what the Biden administration is trying to do," he said.
Democrats Delighted
Democrats say the GOP divisions over Trump will help them retain and expand their razor-thin Senate majority next year. The party won the majority in January, when Warnock and Jon Ossoff won a pair of Georgia runoff elections dominated by Trump's grievances over the presidential election he lost in November.
"The deep divisions and internal feuding among Republicans have already fueled new retirements and dissuaded candidates from running for Senate in 2022," said Stewart Boss, spokesman for the Democratic Senatorial Campaign Committee.
To contact the reporters on this story: Kenneth P. Doyle in Washington at kdoyle@bgov.com; Nancy Ognanovich in Washington at nognanov@bgov.com
To contact the editors responsible for this story: Kyle Trygstad at ktrygstad@bgov.com; Bennett Roth at broth@bgov.com