Trump Inaugural Probe Spurs Warning on Election Commission Bias
Lofgren says action needed to prevent perceived bias at FEC
Report says agency official appeared at Trump inauguration
Bloomberg Government subscribers get the stories like this first. Act now and gain unlimited access to everything you need to know. Learn more.
A top Democratic lawmaker is calling for election regulators to guard against the appearance of bias at the agency after a watchdog found problems with the Federal Election Commission's review of Donald Trump's inaugural committee.
The inspector general's findings "suggest both the FEC and Congress should act to ensure personal and political bias plays no role in the official business of the Commission," Rep. Zoe Lofgren (D-Calif.), the chair of the House Administration Committee that oversees the commission, said in an emailed statement.
Lofgren responded to an investigation led by FEC Inspector General Christopher Skinner that examined allegations that the commission's review of Trump's inaugural committee was tainted by a top official's ties to a top Trump campaign aide, derailing pursuit of possible campaign finance violations.
While he found no actual bias in the commission's review of the Trump committee, Skinner's report said the handling of the committee showed a need for more FEC vigilance.
"It is important to address the ethical principle that federal employees should avoid even the appearance of impropriety," the investigative summary said, recommending that the commission review and update its ethics policies. The agency issued a press release Monday on the inspector general's findings, which were sent to the commissioners on July 29.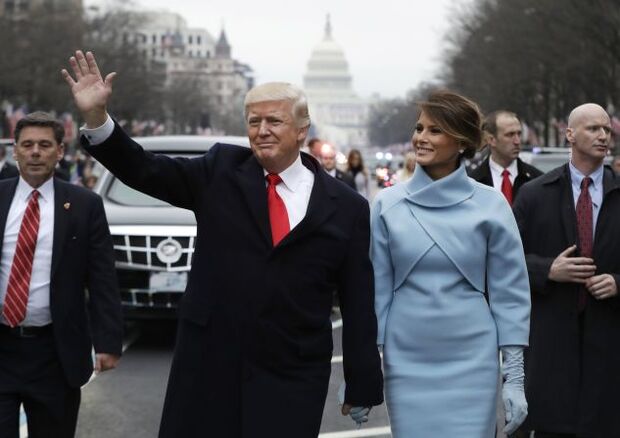 Skinner's probe focused mainly on Debbie Chacona, a veteran top staffer overseeing the review of all FEC disclosure reports. Chacona had close ties to Donald McGahn a former FEC commissioner and top Trump aide, according to an October 2020 ProPublica report that prompted the IG's probe.
One of Chacona's Facebook posts shows her and her family gathered around a "Make America Great Again" sign at Trump's January 2017 inauguration, according to ProPublica. The publication obtained personal and professional emails between McGahn and Chacona through the Freedom of Information Act.
In the messages, the two exchanged negative remarks about Democratic commissioner Ellen Weintraub and Fred Wertheimer, a longtime campaign finance reform advocate who heads Democracy 21.
After leaving the FEC, McGahn became Trump's campaign attorney and later White House counsel. He's now in private practice at the firm Jones Day.
Chacona declined to comment and McGahn didn't respond to an email. Neither FEC spokeswoman Judith Ingram nor the six FEC commissioners commented on the IG's recommendation for more guidance on political bias.
Limited Restrictions on Staff
FEC staff, like other federal employees, are covered by the Hatch Act, which restricts political contributions and active campaigning, as well as by government ethics rules curbing financial conflicts of interest. Beyond that, there are no current rules restricting FEC employees' personal or political affiliation or other possible impediments to objectively performing their duties.
Former FEC Commissioner Ann Ravel said said the situation raised questions about possible bias but entrenched partisanship on the commission could prevent any action to follow up on the inspector general's report. "Unfortunately, the commission is still extremely divided and unlikely to act," she said in a phone interview.
Ravel, a Democrat, said Republican commissioners would be reluctant to follow the inspector general recommendations because the findings focus on Trump.
Former Republican Commissioner Bradley Smith said he wasn't sure if the FEC needed to change its ethics rules and cautioned against being "too cynical about bias."
Chacona, who has been at the FEC since 1992 and still heads the commission's Reports Analysis Division, is "a very professional employee," Smith said.
Foreign Contributions
The FEC inspector general's report also concluded the FEC's lax screening of possible foreign contributions disclosed by the Trump inaugural committee and others posed "significant national security risks, particularly in light of recent high-profile reports of foreign influence in U.S. elections."
FEC analysts don't independently verify a donation is legal, even when a disclosure report lists a foreign address for the donor, the inspector general found. Instead, analysts check with the committee receiving the money and generally just accept that it verified that donors are U.S. citizens, without probing further.
The report noted this was a general commission practice for all regulated campaign committees in addition to inaugural committees.
The FEC's review of the Trump inaugural committee recommended no enforcement action, though the committee, which raised a record $107 million, later was targeted by a Justice Department probe into possible illegal foreign contributions. Its chairman, Thomas Barrack, was indicted on unrelated charges of illegal foreign lobbying. He has pleaded not guilty.
Presidential inaugural committees are required to file public reports with the FEC listing donations, but there are few rules — aside from a ban on foreign contributions — regarding their financing. They are the only major committees regulated by the FEC that are still allowed to file disclosures on paper, rather than electronically.
Smith said the FEC's authority over presidential inaugural committees is limited and it's largely up to Congress to decide if the rules should be strengthened. It's possible the commission hasn't provided enough guidance to staff about how to review inaugural committee reports, he said, "but Congress hasn't provided enough guidance to the commission."
A House-passed campaign finance measure (H.R. 1) contains provisions that would set clear rules for inaugural committees, including barring straw donor contributions, requiring reporting of disbursements and barring personal use of money collected. The bill also would ban contributions from any entity besides an individual and limit individual contributions to $50,000. Senate Democratic leaders have been unable to obtain enough support to advance that measure or similar Senate versions (S. 1, S. 2093).
Larry Noble, a former FEC general counsel, said in a phone interview the lack of clear procedures and thresholds to evaluate inaugural committee reports means the risk of subjective decision-making is even greater than for other regulated political committees.
"I think the commission needs to take this very seriously," Noble said of the inspector general's findings.
To contact the reporter on this story: Kenneth P. Doyle in Washington at kdoyle@bgov.com
To contact the editors responsible for this story: Bennett Roth at broth@bgov.com; Loren Duggan at lduggan@bgov.com
Stay informed with more news like this – from the largest team of reporters on Capitol Hill – subscribe to Bloomberg Government today. Learn more.