Trump Hush Money, Russia Probes Nixed by GOP Election Officials
Divided FEC dismisses old complaints against former president
Panel Republican says law wasn't broken in Stormy Daniels case
Bloomberg Government subscribers get the stories like this first. Act now and gain unlimited access to everything you need to know. Learn more.
Probes into Donald Trump's campaign finance activities, including alleged payments to a porn star and accusations of indirect Russian contributions, have been blocked by Republican election regulators reluctant to pursue old cases against the former president.
The recently revived Federal Election Commission has dismissed a half-dozen complaints involving Trump filed by campaign finance watchdog groups, as the equally divided six-member panel failed to garner a majority vote to initiate enforcement on the backlogged cases.
Democrats and watchdog groups said the decisions underscored the partisan divisions that have plagued the panel for years and raised questions about whether commissioners could make fair judgments on complaints against politicians of their own party.
"This is just the latest example of the severe dysfunction of the FEC and points to the need for structural reform," said Paul S. Ryan, an attorney with the watchdog Common Cause.
Ryan filed a complaint that $130,000 in hush money paid to porn star Stormy Daniels to conceal her alleged affair with Trump was an illegal, unreported campaign contribution. Ryan said he didn't know if the Republican commissioners who voted to dismiss cases against Trump were put on the election panel for that purpose but said it was reasonable to ask if they were objectively enforcing the law.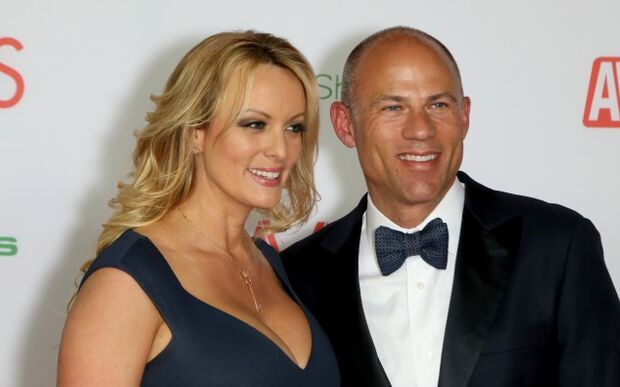 James Trainor, one of the Republican commissioners voting to drop the Trump cases, said in a phone interview that he doesn't believe the payoff to Daniels — the stage name of Stephanie Clifford — was illegal. "I don't think it was a violation," he said.
Trainor said the federal prosecutors who charged Trump's former lawyer, Michael Cohen, over the payoff had "just a misunderstanding of campaign finance law." Under this interpretation, Trump didn't violate the law, either.
Cohen said in federal court that he was directed to make the payment by Trump in order to prevent negative publicity just days before the 2016 election. He made the statement during elocution of a guilty plea in 2018, which led to a three-year prison sentence.
Private Matter
Trainor said Cohen was "a private lawyer handling a private matter" for Trump. Trainor also said it was too close to the end of the five-year statute of limitations to begin an FEC investigation of Trump.
This point was emphasized in a written statement explaining his vote released last week, which was joined by fellow Republican commissioner Sean Cooksey. Trainor's doubts about Cohen's violations weren't mentioned in the statement, which said Cohen's guilty plea resolved the matter.
Trainor, who worked as an attorney for Trump's 2016 campaign, promised in a Senate confirmation hearing last year to consider recusing himself from Trump-related matters. He said in the interview he voted in the Daniels case and other recent Trump cases because he wasn't personally involved in them during his work on the campaign.
Foreign Money
Other matters recently dismissed by the FEC included allegations that Trump's campaign received illegal foreign support from Russian money funneled through the National Rifle Association and that Trump's inaugural committee got an illegal $500,000 foreign contribution from Venezuelan-owned Citgo Petroleum Corp.
The NRA denied getting money from Russia. In the Citgo case, the FEC Republicans accepted the argument that the inaugural contribution was from a U.S. subsidiary and that it made no difference that it was owned by the Venezuelan parent and the company board had no U.S. members.
The three Democratic appointees on the panel voted to pursue these Trump-related matters but agreed to drop one involving payments to former Playboy model Shera Bechard, who received payments from Trump donor Elliott Broidy but who denied having a relationship with Trump.
Another major case stemming from the investigation by Special Counsel Robert Mueller and involving Russia's offer of assistance to Donald Trump Jr. and others in the campaign in a 2016 meeting in Trump Tower was also dismissed — though not yet publicly announced by the commission — according to Trainor and others. The Mueller report said it would have been difficult to prove the participants knew their conduct was illegal and there was no evidence Trump knew about the meeting.
In addition, the commission recently dismissed cases involving alleged violations by two other 2016 Republican presidential hopefuls, Scott Walker and John Kasich.
Democratic Commissioner Ellen Weintraub, who's served on the FEC since 2002, said in a phone interview she's disappointed by the recent deadlocks and said they send the wrong message about the commission.
"I think we should move forward on these important cases and show that we're not afraid of anybody," she said. "That's the message I'd like to send."
Restructuring Proposal
Weintraub has opposed structural changes to the FEC, saying its current, bipartisan structure can work if the commissioners are committed to enforcing the law. But she said the latest developments made her "very sympathetic to people who say the current structure isn't working."
Senate Democrats have included provisions to restructure the FEC and eliminate the need for bipartisan consensus in enforcement in a wide-ranging elections bill (S. 1) voted on Tuesday by the Senate Rules and Administration Committee and expected to be considered on the Senate floor in the coming months.
Rules Committee Chairwoman Amy Klobuchar (D-Minn.) defended the provision during the markup by saying the current structure of the commission "only benefits those who are messing around with the system on either side."
But Republicans said the proposal for a five-member commission with a strong chairperson appointed by the president was a formula for disaster. It would "turn the FEC into a partisan agency that would predictably be used to persecute, target and attack whichever party is out of power," Sen. Ted Cruz (R-Texas) said at the committee meeting.
To contact the reporter on this story: Kenneth P. Doyle in Washington at kdoyle@bgov.com
To contact the editors responsible for this story: Bennett Roth at broth@bgov.com; Kyle Trygstad at ktrygstad@bgov.com
Stay informed with more news like this – from the largest team of reporters on Capitol Hill – subscribe to Bloomberg Government today. Learn more.