Food Boxes Get $1 Billion Bump Amid Mismanagement Claims (1)
Congress to look into contracting practices, program failures
Food box program "working as intended," Republican leader says
(Updates Aug. 26 story with Agriculture Department response starting in 14th paragraph and additional quote from Erenwert in 17th paragraph.)
Bloomberg Government subscribers get the stories like this first. Act now and gain unlimited access to everything you need to know. Learn more.
A program to connect hungry Americans with food suppliers struggling during the coronavirus pandemic is at the center of a Democratic-led investigation, while the Trump administration funnels more money into the initiative.
House Select Committee on the Coronavirus Crisis Chairman James Clyburn has launched an investigation into the Farmers to Families Food Box program. He alleged "questionable contracting practices, a lack of accountability, and a failure to deliver food to many communities that need it most," in a Monday letter to Agriculture Secretary Sonny Perdue.
Clyburn (D-S.C.) also said letters from President Donald Trump included in food boxes were a means of "seeking political benefits."
The Trump administration brushed aside criticism from Democrats, along with the food businesses and nonprofits that the program is meant to help. The same day Democrats opened their investigation, Trump dedicated an additional $1 billion to the program while touring a produce distribution facility in North Carolina ahead of the first night of the Republican National Convention.
Trump touted the success of the food box program as part of his administration's broader response to the coronavirus pandemic. "It's made people that were looking for food happy and it's made the farmers happy," he said.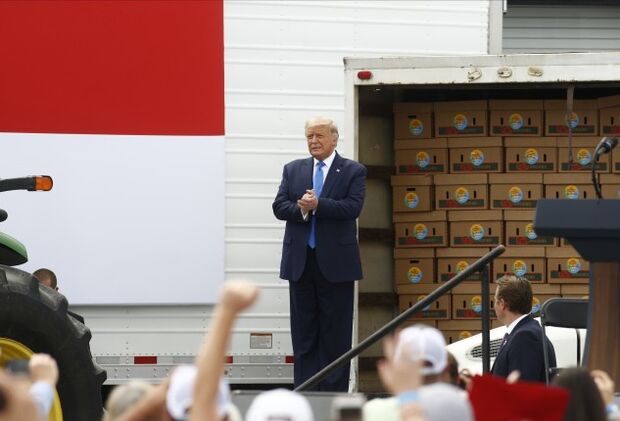 Large Distributors Benefit
Nonprofits and food suppliers have raised issues with the food box program since its May start.
Small agriculture businesses criticized the program's choice of food suppliers, saying federal officials overlook local companies to choose distributors that are well-versed in government contracts or can afford to hire their own bid writers. Recipients of about 200 contracts included large corporations, such as Borden Dairy Co. and Gordon Food Service Inc., as well as a Texas event planner.
Food banks overwhelmed by demand also turned to the program for help, but many nonprofits disclosed problems coordinating logistics with distributors. Staff from Virginia to Kentucky said they were left in the lurch without local suppliers.
Food Banks With No-Show Suppliers Scramble to Feed Hungry
The Agriculture Department allocated $3 billion to the food boxes in April. The federal purchases of produce, meat, and dairy for distribution to food banks and nonprofits are an element of the $19 billion Coronavirus Food Assistance Program, which also allotted about $16 billion in direct payments to agriculture producers hurt by the pandemic.
The funds stem from the second coronavirus stimulus law (Public Law 116-127) and the CARES Act (Public Law 116-136).
'Self-Promoting Letter'
Trump's food-box letter, coming as he's campaigning for re-election, sounded alarm bells for Democrats. The note, on White House letterhead, addresses the recipient as "family," and details how Trump "prioritized sending nutritious food from our farmers to families in need."
"Using a federal relief program to distribute a self-promoting letter from the President to American families just 3 months before the presidential election is inappropriate and a violation of federal law," about 50 Democrats said in an Aug. 14 letter to Perdue.
The White House responded that the letter "reinforces COVID-19 safety guidelines." It mentions hand-washing, face coverings, and social distancing, among other best practices.
Distributors delivered more than 70 million food boxes over the program's first two rounds. In the latest round, USDA awarded new contracts to increase distribution to underserved areas, a department spokesperson said. Some of the new contractors are vendors whose proposals were previously declined, the official added.
The government has started issuing contract agreements for its next phase from Sept. 1 to Oct. 31.
"This third round of Farmers to Families Food Box Program purchases is a testament to the great work done by vendors in support of American agriculture and the American people," Perdue said in a July 24 statement.
'More Harm Than Good'
Still, small produce distributors, which the program was intended to support, consider themselves discounted. "This program did much more harm than good," said Brent Erenwert, CEO of Brothers Produce in Houston, Texas, adding that it had distorted prices. "It benefited the people, which is the most important thing, you know, where the boxes went. I think it did a terrible job at benefiting the industry as a whole."
Erenwert's earlier contract bid was rejected, and he applied last week for the forthcoming round. While the federal proposal process has improved with supplier feedback, "it's still very confusing," he said. "I've got no doubt that I probably filled it out wrong."
Tony Forsythe, president and co-owner of National Produce Consultants LLC, in Plano, Texas, hired a grant writer after his initial bid was denied. "There's hundreds of small distributors out there in need of some revenue right now and really praying they get a piece of the next round," said Forsythe, who employs 38 associates.
Event Planner Wins, Others Cry Foul in Food-Box Bidding War
'Working as Intended'
Congress scrutinized the food box program in a July House Agriculture Subcommittee on Nutrition, Oversight, and Department Operations hearing. Chairwoman Marcia Fudge (D-Ohio) described it as "fraught with waste, fraud, and abuse."
House Agriculture Committee ranking member Mike Conaway (R-Texas) countered that the federal initiative is "working as intended."
"Rather than continuing to nitpick a wildly successful program, I encourage my colleagues to focus their efforts on bipartisan solutions to the very real issues Americans are facing as a result of COVID-19," Conaway said in a statement Tuesday.
To contact the reporter on this story: Megan U. Boyanton in Washington at mboyanton@bgov.com
To contact the editors responsible for this story: Sarah Babbage at sbabbage@bgov.com; Robin Meszoly at rmeszoly@bgov.com
Stay informed with more news like this – from the largest team of reporters on Capitol Hill – subscribe to Bloomberg Government today. Learn more.