Trump Extends Utah Monument Panel, Drops Others on Environment (Corrected)
(Corrects status of drug-resistant bacteria panel in eighth paragraph.)
The White House is extending an advisory committee on the Grand Staircase-Escalante National Monument, site of President Donald Trump's controversial decision to open the Utah lands to potential mining, even as it moves to substantially cut the number of federal advisory panels government-wide.
Trump, whose 2017 decision to shrink the Escalante monument has triggered a congressional investigation, reauthorized the Grand Staircase-Escalante National Monument Advisory Committee for another two years, through Sept. 30, 2021. Opponents took no comfort in the administration's decision to continue the advisory committee.
"It is so slanted toward energy development there's no chance that they create any recommendations other than drill and mine everywhere," said Aaron Weiss, deputy director at the Center for Western Priorities, which describes itself as a nonpartisan conservation and advocacy organization.
"So that's why they're keeping this one going, is they know exactly what the outcome will be," Weiss said. The Grand Staircase-Escalante panel reauthorization was announced in an executive order late Friday.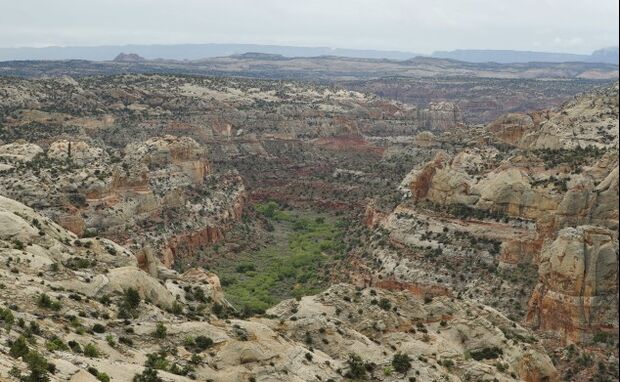 The advisory committee extension "allows for the appointed members to provide information and advice regarding the development and implementation of management plans as well as advise the BLM regarding ongoing local efforts to develop and achieve collaborative approaches to the management of the Monument," Bureau of Land Management spokesman Jeff Krauss said in an email. Among the panel's 12 members are Chad Baker, chairman of the Utah Mining Association board, and Callee Butcher, Elko Mining Group's environmental projects manager.
The House Oversight and Reform Committee is investigating the decision to open Grand Staircase-Escalante to mining. Additionally, House Natural Resources Committee Chairman Raul Grijalva (D-Ariz.) wants to know how much influence energy companies had in determining the new boundaries for Escalante and Bears Ears, both national monuments established by President Barack Obama. Grijalva cited as evidence of undue influence Interior Department documents obtained through Freedom of Information Act requests by the New York Times and other news organizations.
Democrats Probe Mining Influence on Shrinking Utah Monuments
The Natural Resources Committee held a hearing Sept. 26 on Interior's failure to respond to its requests for documents and information, said Adam Sarvana, communications director for committee Democrats. It's "ridiculous" that the administration is extending a problematic new advisory committee when there's still a court case determining the legality of the changes, he said.
Friday's executive order continues 30 panels while dropping three from a list in an executive order Trump issued two years ago: the Interior Department's Invasive Species Advisory Committee, the Commerce Department's Marine Protected Areas Federal Advisory Committee, and the Health and Human Services Department's Presidential Advisory Council on Combating Antibiotic-Resistant Bacteria. A law (Public Law No. 116-22) signed in June transferred authority for the antibiotic-resistant bacteria panel to the HHS secretary, so that committee will continue to operate, an HHS spokesperson said.
The administration says federal advisory committees cost taxpayers almost $400 million per year. Many are outdated, duplicative, or no longer serve their initial purpose, a senior administration official said in an email Sunday.
'Insidious Pattern'
Cutting the panels is more about silencing the scientists, doctors and academics who won't support the administration's policies, critics say.
"This is part of a much more insidious pattern of this administration sidelining science," said Genna Reed, the lead science and policy analyst at the Union of Concerned Scientists Center for Science and Democracy.
Public policy decisions increasingly involve scientific or technological expertise that the government just doesn't have, and it's relatively cheap to get it through a volunteer advisory committee, said Elaine Kamarck, senior fellow in the governance studies program at the Brookings Institution.
"If the committees go away, then you have the government sort of operating blind," Kamarck said.
Advisory committe e members generally aren't compensated other than travel expenses and a per diem for lodging and meals. "I mean, it's certainly cheaper than hiring nuclear physicists, molecular biologists," she said.
June Order
One-third of advisory committees that provide public input and technical expertise to the federal government are being axed under an executive order issued in June that also caps at 350 the total number of advisory committees government-wide. Agencies should target committees that had accomplished their objectives, become obsolete, or had excessive costs, that order said.
Advisory committees have been undermined since the start of the Trump administration through neglect, their charters left to expire or disbanded before their work is finished, Reed said.
The Environmental Protection Agency has been hit hardest, with its Science Advisory Board and the Clean Air Scientific Advisory Committee suffering breaches of process and precedent that have changed the way independent science feeds into the agency's work, Reed said.
The Office of Management and Budget has been reviewing agency recommendations and considering waiver requests to continue committees.
The Federal Advisory Committee Act was enacted in 1972 to ensure that advice by the various committees formed over the years is objective and accessible to the public. The General Services Administration maintains a database to manage the average of more than 1,000 advisory committees government-wide.
Committee members advise the executive branch on issues such as the disposal of nuclear waste, the depletion of atmospheric ozone, and diseases such as Acquired Immune Deficiency Syndrome, the GSA said.
Trump's order is modeled after a similar executive order issued in February 1993 by President Bill Clinton requiring each executive department to terminate at least one-third of the advisory committees subject to FACA by the end of the fiscal year.
To contact the reporter on this story: Cheryl Bolen in Washington at cbolen@bgov.com
To contact the editors responsible for this story: Paul Hendrie at phendrie@bgov.com; Robin Meszoly at rmeszoly@bgov.com; Jonathan Nicholson at jnicholson@bgov.com