Trump Critics Schiff, Ocasio-Cortez Hit Fundraising Jackpot (2)
Lawmaker leading impeachment effort has raked in $4.4 million
Trump critic Omar also near top of 2020 fundraising roster
(Updates with timing of report in eighth paragraph. Earlier versions were corrected to fix Omar's party affiliation and Sinema's name.)
House Democrats pursuing the impeachment of Donald Trump are hauling in campaign cash, with some of the president's biggest critics reaping the most dollars.
House Intelligence Committee Chairman Adam Schiff (Calif.), who's leading the impeachment inquiry, is the top Democratic fundraiser so far this year, collecting more than $4.4 million, according to reports filed this week with the Federal Election Commission.
Schiff was ahead of House Speaker Nancy Pelosi (D-Calif.), who collected more than $3.7 million and Rep. Alexandria Ocasio-Cortez (D-N.Y.), who collected almost $3.4 million. Trump defender Devin Nunes (Calif.), the ranking member on Schiff's panel, bucked the pro-Democratic trend, raising almost $5.7 million with strong support from conservatives.
The Intelligence Committee is one of three House panels pursuing Trump's pressing the president of Ukraine to investigate former vice president Joe Biden and his son Hunter. The impeachment inquiry has been taking place largely behind closed doors following an initial public hearing. It's set to continue next week, with depositions expected from Laura Cooper, a Defense Department deputy assistant secretary for Russia, Ukraine and Eurasia, and other witnesses.
In a hearing last month, Schiff compared Trump's interaction with the president of Ukraine to "an organized crime shakedown." Trump responded by suggesting on Twitter that Schiff be arrested for treason.
Schiff Honed Impeachment Skills at Trial of FBI Agent Turned Spy
Ocasio-Cortez won an upset primary victory in 2018 and has become one of the most visible lawmakers since taking her House seat in January. She has called Trump a criminal and a racist, while Trump tweeted in July that she and three other freshman Democratic lawmakers known as "The Squad" should "go back" where they came from.
Ocasio-Cortez and another Squad member, Rep. Ilhan Omar (D-Minn.), who's raised more than $2.5 million, are the top money draws among a Democratic freshman class. Their class accounted for 27 of the top 50 fundraisers among all House candidates so far this year, FEC reports show.
Disclosure reports for the first nine months of the election cycle were due to the FEC Oct. 15. The reports covered fundraising through Sept. 30.
Fundraising by Democrats in districts won by Trump in 2016 has been especially strong, with 22 of 30 of these lawmakers running for re-election having more than $1 million in cash on hand, with the 2020 election more than a year away.
Trump-District Democrats Flush With Cash Before 2020 Election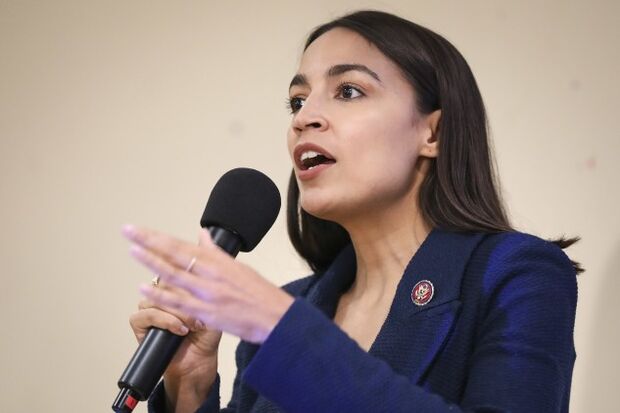 Safe Districts
Schiff has held his House seat representing a suburban Los Angeles district since 2001 and hasn't had a serious election challenge for more than a decade. He currently has almost $6.8 million in campaign cash on hand, according to the latest FEC report.
Several potential challengers have filed to run in Schiff's district in 2020, but none has raised much campaign money, compared with Schiff. The leading challenger in fundraising, Republican Eric Early, has $61,336 in cash and almost $40,000 in debt, his latest FEC report shows.
Ocasio-Cortez represents an overwhelmingly Democratic district that takes in parts of the Queens and the Bronx. New York City Councilman Fernando Cabrera said he plans to challenge her in the primary. However, so far no Democrats have raised any money to oppose her, according to FEC filings.
Two Republicans have raised more than $400,000 each in the primary contest for the seat. They are John Cummings, a former police officer, and Scherie Murray, a businesswoman and immigrant from Jamaica.
Ocasio-Cortez has more than $1.9 million in cash on hand, far outpacing Cummings who has almost $200,000 and Murray, who has $280,000. Ocasio-Cortez has given $17,000 to other candidates and entities, including $2,000 each to Omar and fellow Squad member Rashida Tlaib (D-Mich.). Ocasio-Cortez also gave $5,000 to her leadership political action committee, Courage to Change.
Small Dollar Donors
While Trump has jumped out to a big fundraising lead over other presidential contenders, Democratic contributors are motivated to fund down-ballot candidates who oppose him, said Erin Hill, executive director of the fundraising platform ActBlue.
The platform allows Democratic donors to direct campaign money to candidates across the country with the click of a mouse. The average amount of roughly 12 million contributions this year is $30.50.
Small-dollar donors are on track to give $3 billion to Democratic candidates and causes at all levels in the 2020 election, Hill said in a statement announcing that ActBlue has helped raise more than $716 million so far in the election cycle. The amount was double the $355 million collected through the platform at the same point in the 2018 cycle, which was key to helping Democrats win the House majority.
The record fundraising "really underscores how important the grassroots will be to taking back our state legislatures, the Senate, and the White House,"Hill said.
Republicans Outpaced
With a few exceptions such as Nunes, Republican House candidates generally haven't seen the same kind of success. Democratic candidates have collected a total of more than $245 million, 23% more that the almost $199 million total for Republican candidates, according to FEC data compiled from disclosure reports. The reports for House candidates included contributions collected through from Jan. 1 through Sept. 30.
In addition to Nunes, other big-dollar Republicans include House Minority Whip Steve Scalise (La.), who topped the overall fundraising list with roughly $9 million and Minority Leader Kevin McCarthy(Calif.) with about $5.5 million.
Kelly Tops Senate Fundraising
In the Senate, Republican candidates have collected more campaign money overall – a total of $153.6 million, or about 12% more than $137.6 million Democratic candidates have taken in. GOP fundraising is led by veteran incumbents facing re-election, including Majority Leader Mitch McConnell (R-Ky.) and Sens. John Cornyn (R-Texas) and Lindsey Graham (R-S.C.). All three are up for re-election in 2020, a year when Republicans are defending 23 Senate seats and Democrats 12.
The top Senate fundraiser, however, is a Democratic challenger: Mark Kelly, a former astronaut and husband of former congresswoman and gun-shooting victim Gabrielle Giffords (D-Ariz.). Kelly is running to unseat Sen. Martha McSally (R-Ariz.).
Kelly has raised just under $14 million, outpacing Cornyn with almost $13.5 million, McConnell with $13.4 million and Graham with $12.9 million. McSally has raised $8.5 million for the 2020 election. She was appointed the seat that had been held by late Sen. John McCain (R-Ariz.) after losing a race to Sen. Kyrsten Sinema (D-Ariz.).
To contact the reporter on this story: Kenneth P. Doyle in Washington at kdoyle@bgov.com
To contact the editors responsible for this story: Adam Schank at aschank@bgov.com; Bennett Roth at broth@bgov.com; Robin Meszoly at rmeszoly@bgov.com