Trump Critic Raskin Now Using His Legal Skills to Defend Biden
Maryland lawmaker named the top Democrat on Oversight panel
Raskin to use lessons from Jan. 6 panel to rebut GOP attacks
Bloomberg Government subscribers get the stories like this first. Act now and gain unlimited access to everything you need to know. Learn more.
Rep. Jamie Raskin's newest assignment is defending President Joe Biden. But he'll still be going after President Donald Trump.
The Maryland lawmaker is back in the spotlight after rising to prominence as the lead impeachment manager for Trump's role in the Jan. 6 attacks at the Capitol, and serving on the high-profile panel digging into the same event.
He's now the top Democrat on the House Oversight and Accountability Committee, which promises to be the venue for some of the most explosive and partisan hearings in the next two years as House Republicans investigate Biden, his family's finances and his cabinet members.
Raskin says he wants committee Democrats to serve "as a truth squad, debunking and refuting a lot of the disinformation and propaganda that's coming our way." At the same time he said his job is not to be a "pro-bono defense counsel for this or that president or politician."
Raskin's ability to parry Republicans' rhetorical attacks, blunt the sting of their probes and continue to go after Republicans on controversial topics could be key for Democrats and Biden who are eager to enter the 2024 election cycle with minimal political damage.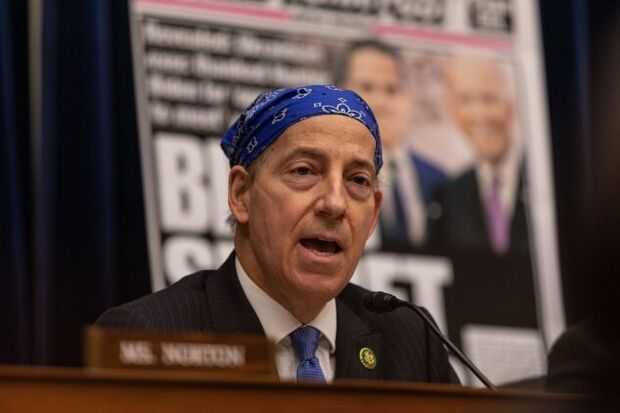 Raskin debuted his strategy at a recent hearing focused on Twitter temporarily blocking a news article about the contents of Hunter Biden's laptop.
In addition to poking holes in the theory that Twitter officials coordinated with the FBI, Raskin turned the table on Republicans inviting a witness discuss the issue of of violent incitement and hate speech online that led to the Jan. 6 attack .
In another hearing about border security, he changed the subject to replacement theory, a white nationalist conspiracy theory that equates immigration with the diminishing power of white people.
"The forces Donald Trump unleashed against us are still very much at large," he said in an interview with Bloomberg Government.
Elected to Congress in 2016, the former state senator and American University law professor resides in the liberal enclave of Takoma Park, Md. and represents a suburban district that's home to numerous federal civil servants. Raskin, 60, is married to Sarah Bloom Raskin, who served as deputy secretary of Treasury during the Obama administration.
Skewering Opponents
To win his party's top Democratic spot on the committee, Raskin catapulted over more senior Reps. Gerry Connolly (D-Va.) and Stephen Lynch (D-Mass.). Some of his colleagues say that's testament to his skills going toe-to-toe with Republicans, his ease of recalling the specifics of laws, dates and legal opinions.
Raskin also has a history of grabbing headlines by verbally skewering his political opponents. He said that lawmakers who voted to acquit Trump at his second impeachment trial were having "quitter's remorse," and called Special Counsel John Durham's investigation into origins of the Trump-Russia probe a "total flop."
Rep. Madeleine Dean (D-Pa.), who served alongside Raskin as an impeachment manager, whipped committee members to help secure the Oversight spot for Raskin.
"It was a little unusual because there were others of greater seniority," Dean said. "But I think this is an extraordinary moment in history, and I think the times have found him."
Rep. Dan Kildee (D-Mich.), who helps head the Steering and Policy Committee that nominated Raskin to the role, said Raskin's background as a constitutional law professor gives him a "deep well of knowledge" and the ability to speak in terms people understand.
"He's proven himself to be an incredible, thoughtful leader and a guy who thinks really well on his feet," Kildee said.
As he he takes on this new responsibility, Raskin is coping with this own health issues having earlier this year disclosed that he was battling a form of cancer, diffuse large B-cell lymphoma, He's easily identified these days by the bandanas he's donned since undergoing chemo-immunotherapy. After Raskin compared his look to musician Steven Van Zandt's, the guitarist with Bruce Springsteen's E Street band gifted Raskin a head covering.
Raskin also has suffered tragedy in recent years with the suicide of his 25-year old son, Tommy, who died on New Years eve 2020 after suffering from mental illness.
The Maryland lawmaker's ability to steer his party through the current polarized environment could well affect his own political trajectory. Sen. Ben Cardin (D-Md.) is mulling a retirement, and his departure would open up a safe Democratic seat.
Several names, including Raskin's, are already being tossed around, said Todd Eberly, an associate professor of political science at St. Mary's College of Maryland. Raskin, he said, has the advantage of being "incredibly popular."
"His profile was raised considerably during the Trump administration and especially the impeachment trials," Eberly said. "He was already well respected, but that pushed him even higher."
Raskin said he's recently spoke with Cardin and doesn't expect the senator to make a decision for a few more months.
"My objectives now are to make it through this health struggle and manage all the great new Democrats on the Oversight Committee and battle for our agenda in Congress," he said. "I don't have other things on my mind now."
Offense to Defense
Raskin's strategy for the Oversight Committee hearings is partially drawn from his time on the Select Committee on the January 6th attack.
While that panel – which only had two Republicans – had the advantage of having all members working in lockstep, Democrats now must contend with GOP control of the agenda.
During the Jan. 6 hearings, Raskin said members "set out in advance a real investigative agenda, and then we unfolded it."
"That meant members of the committee did not get to speak on particular day," he said. "It meant containing all of the of the egos so we could harness our collective force."
Raskin plans to again coordinate a common narrative during the Oversight hearing, even though the Democratic side includes some strong personalities, among them progressive Reps. Alexandria Ocasio Cortez (D-N.Y.) and Cori Bush (D-Mo.). The committee also includes freshman Rep. Dan Goldman (D-N.Y.), the lead Democratic counsel during Trump's first impeachment.
Raskin suggested these lawmakers have the traits to "debunk the conspiracy theories and then refocus the committee on what's important."
If he isn't feeling well, Raskin said he plans on setting his colleagues "loose on my behalf in the world."
Raskin hasn't been shy about confronting Republicans on the committee such as when Rep. Jim Jordan (R-Ohio) at the Twitter hearing, sought to cast doubt about an October 2020 letter from 50 former intelligence officials warning Hunter Biden's laptop could be a "Russian information operation."
Raskin asked Jordan if he was denying the Russian disinformation campaign or Russian collusion, reminding the panel that Special Counsel Robert Mueller's report found there were "dozens of contacts between Trump and Russians."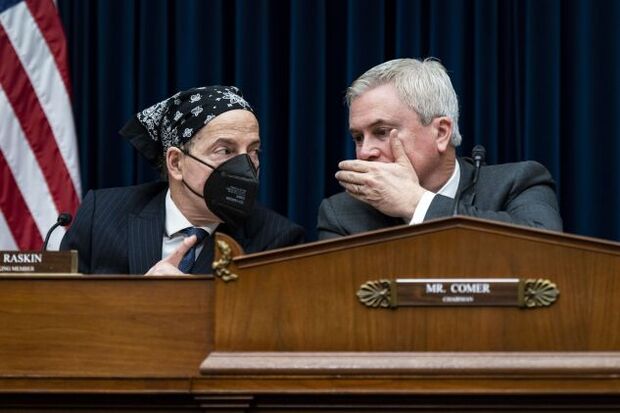 Both Raskin and Oversight Chairman James Comer (R-Ky.) said they can find common ground on legislation for the handling of classified materials by former presidents and vice presidents when they leave office.
Trump and Biden as well as former Vice President Mike Pence have come under in fire recent months for failing to ensure classified documents are in control of the National Archives after they have left office.
"We might be able to establish some set legislative protocols for managing an effective transition," Raskin said.
Raskin also said he is "absolutely" open to legislation Comer suggested that could set legal parameters around how a president's family interacts with the office.
"We want to make sure the office of the presidency is respected and not exploited by anybody at any point in our history," Raskin said.
Comer said that Raskin has been fair. "I don't have any complaints thus far," he said.
Raskin has a working relationship with other Republicans on the panel. He and Rep. Nancy Mace (R-S.C.) held a hearing on cannabis last fall.
While Raskin has quarreled with conservative firebrands like Rep. Chip Roy, the Texas Republican said he was impressed with Raskin's dedication to his job, accepting the role of impeachment manager days after his son died by suicide.
"I get a little bugged by people who say one thing and then do the opposite," Roy said. "You can't say that about Jamie."
To contact the reporter on this story: Emily Wilkins in Washington at ewilkins@bgov.com
To contact the editors responsible for this story: Bennett Roth at broth@bgov.com; George Cahlink at gcahlink@bloombergindustry.com
Stay informed with more news like this – from the largest team of reporters on Capitol Hill – subscribe to Bloomberg Government today. Learn more.