Trump Border Wall Dream, Downsized, Gets Revival in Defense Bill
Legislation includes mandate to dust off unused materials
US agencies or states would use supplies to build barriers
Bloomberg Government subscribers get the stories like this first. Act now and gain unlimited access to everything you need to know. Learn more.
A little-noticed provision in an annual defense bill would resurrect former President Donald Trump's deeply politically divisive vision of building a wall on the US-Mexico border.
President Joe Biden halted most construction along the southwest border when he took office, calling it a waste of money. But Republicans have held fast to the dream of building and extending barriers to thwart migrant crossings.
Senate GOP lawmakers notched a victory this summer when they used the National Defense Authorization Act (S. 2226) to advance a border bill from Roger Wicker (R-Miss.), the top Republican on the Senate Armed Services Committee.
The proposal (S. 1498) would force the Defense Department to restart wall construction using materials the US has mothballed for more than two years, or transfer those materials to states and allow them to build the wall. The House defense policy bill (H.R. 2670) includes a similar but less detailed provision.
Forcing the Biden administration to restart construction, or allowing states to do so, by just using the materials still on hand wouldn't produce a wall as monumental in scale as Trump envisioned. But it would represent a decisive political and operational victory for Republicans who blame Biden for an increase in unauthorized crossings since he took office.
The House and Senate still must hash out differences in competing defense policy bills, and many Democrats view border wall construction as a red line. The provision's inclusion so far keeps the debate alive and offers a chance for it to be included in legislation that has become law for more than 60 years with large bipartisan support.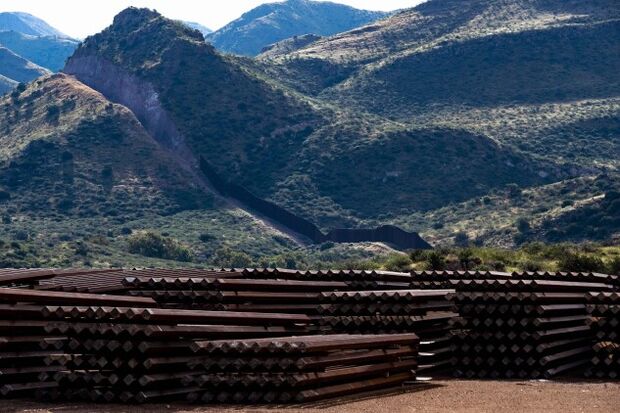 Republicans, in the meantime, have accused the Biden administration of speeding up auctions of border wall materials in a "brazen attempt to circumvent" their bill. The Army Corps of Engineers, which oversees construction, confirmed it's been offloading unused border wall materials, and says it's following the standard government process for disposing of excess materials.
1. Why is the border wall still a hot topic?
The US has built barriers along the US-Mexico border for decades, but the wall became a powerful political symbol during Trump's 2016 presidential campaign. Supporters chanted "Build the wall!" and Trump vowed Mexico would pay for it.
Mexico didn't pay for it, and Trump's fervor for the wall eventually led to the longest government shutdown in US history as Congress refused to provide the full funding he requested. In the end, his administration built 458 miles of primary and secondary border barriers, with about 52 miles of primary and 33 miles of secondary barriers in areas where walls and fences didn't already exist, according to US Customs and Border Protection.
Trump's use of the wall as a rallying cry in his 2016 and 2020 campaigns permeated GOP discourse in Washington, with Republican lawmakers embracing the wall and other border security measures as powerful talking points for their own campaigns.
Biden halted most construction when he took office. However, the Department of Homeland Security has since approved more than 100 projects to fill gaps and address safety concerns and is planning up to 20 miles of new border barriers in the Rio Grande Valley in Texas. Republicans say stopping the wall is one of the reasons border crossings have skyrocketed in recent years, with migrant encounters surpassing records across many months of Biden's term.
Separate from the defense authorization debate, House Republicans passed marquee border security legislation (H.R. 2) in May that would restart wall construction and require other deterrence measures. Some are now trying to force the Senate to take their bill across the finish line to avert a potential Oct. 1 government shutdown.
House Conservatives Threaten to Shut Down Homeland Security
2. What materials are in storage, and what's the cost?
Biden ordered DHS and the Pentagon to pause border wall projects in early 2021, and the Army Corps of Engineers — which oversees construction — later canceled all contracts awarded under Defense Department authority and some awarded under DHS auspices.
The cancellation triggered a long process of settlement proposals, audits, and negotiations. It also left building materials sitting in storage. The Army Corps has been working to reuse, transfer, sell, or scrap the more than $260 million-worth of leftover materials from the canceled contracts.
Border Wall Storage Costs Add to GOP Ire on Biden Border Policy
The Pentagon has more than 20,000 border wall panels in storage, Col. Jason Jefferis, who oversees Army Corps contracting, told lawmakers in July. The agency spends about $160,000 a month on storage, he added. GOP members fumed about the expense, though Republican-led studies have estimated even higher costs of as much as $130,000 a day.
3. What would the border wall provision do?
The border bill included in the Senate NDAA would require the Defense Department to use, transfer, or donate to southern border states all the wall materials left over from the last construction efforts. It's "imperative that Congress stop the waste and deploy these materials to secure the border as soon as possible," Wicker said.
States seeking materials would have to certify that they would use them exclusively for constructing a permanent barrier to disrupt illegal crossings. Language in the House defense policy bill is less detailed. It directs the Pentagon to use or transfer the materials without specifying how they should be used.
Recent history indicates at least one state would gladly use the materials to erect a border wall. Texas has already built a variety of fences and buoy barriers to deter crossings of the Rio Grande. Former Arizona Gov. Doug Ducey (R) also tried to build his state's own wall out of shipping containers, but the federal government pushed back, and Ducey had the wall taken down. The state now has a Democratic governor.
Immigrants' rights advocates are concerned about the prospect of direct federal support for state-led border barriers.
"Sen. Wicker is trying to get a blank check for border wall construction without any regard for the wishes of local communities," American Civil Liberties Union deputy legal director Cecillia Wang said in an interview. The ACLU led litigation against the Trump administration's wall construction.
Rep. Henry Cuellar (D-Texas), who favors increased border security measures but opposes building a wall, said he was concerned the approach would lead to state projects that don't adequately coordinate with federal and international officials — which he said is already a problem in Texas.
"I would have a problem with giving materials to a state that is not even trying to coordinate anything with the federal government," Cuellar said in an interview.
4. What's going on with the auctions of the materials?
The federal government's efforts to unload unused border wall material drew scrutiny from Senate Republicans last month when the New York Post and other outlets suggested the sales were designed to circumvent the NDAA provision.
The Post reported on recent sales of metal beams on a government surplus auction platform and called the transaction "an apparent end-run around pending legislation in Congress."
Wicker and other Republican members of the Senate Armed Services Committee demanded answers from Defense Secretary Lloyd Austin and called on the Pentagon to halt the auctions and investigate the department's communications to Congress about the materials.
"We are deeply disappointed to learn that rather than using construction materials that were purchased to secure the southwest border for that purpose, the Department of Defense has begun auctioning these materials off for other purposes," they said in an Aug. 22 letter.
The Army Corps says it's following standard procedures for getting rid of excess materials.
The Corps "is disposing of the excess border wall materials in accordance with the Federal Acquisition Regulation," the agency said in a statement, adding that it "stands ready to implement a decision regarding disposition of the remaining materials."
5. Is the border wall provision likely to become law?
It depends how negotiations go on the final defense policy package.
While both chambers haven't entered official conference negotiations for the defense bill, committee staff have already started hashing out differences.
House leaders have yet to appoint conferees, which usually include members from all House committees, not just Armed Services. In the Senate, the process is easier as all members of the Senate Armed Services Committee serve as negotiators on the bill, giving Wicker additional power at the table. He's projecting optimism about the border bill's fate.
"My Finish It Act is a simple but effective provision in this year's NDAA, and I am confident our conference process will recognize this reform is needed," Wicker said in a statement to Bloomberg Government.
To contact the reporters on this story: Ellen M. Gilmer in Washington at egilmer@bloombergindustry.com; Roxana Tiron in Washington at rtiron@bgov.com
To contact the editors responsible for this story: Robin Meszoly at rmeszoly@bgov.com; Michaela Ross at mross@bgov.com
Stay informed with more news like this – from the largest team of reporters on Capitol Hill – subscribe to Bloomberg Government today. Learn more.