Trump-Backed Mooney Defeats Fellow House Republican in Primary
GOP lawmakers pitted against each other in redistricted seat
Trump's endorsement was central to Mooney's pitch to voters
Rep. Alex Mooney rode a Donald Trump endorsement to victory over fellow Rep. David McKinley in a reapportionment-forced Republican primary and is now poised to represent West Virginia's 2nd District in the next Congress.
Mooney led 52%-38% Tuesday evening when the race was called, according to a tally by the Associated Press. The district leans heavily Republican, so the primary result is tantamount to victory in November.
It's also a win for Trump, who endorsed the four-term congressman last fall. Mooney and his supporters frequently noted Trump's endorsement in ads and campaign materials. Last week Mooney crossed state lines to appear at a rally Trump held for Pennsylvania Senate candidate Mehmet Oz.
"President Donald Trump endorsed me for a reason, that I am a true conservative fighter," Mooney said on Fox News Sunday last weekend.
This was the first of five member vs. member primaries this year.
Mooney's win, which came despite the fact that McKinley represents far more of the new district, was an early test of Trump's ability to shape the House GOP conference, which could control the chamber next year. He's also involved in several Republican Senate primaries.
Two more Republican incumbents will face off in Illinois next month, Trump-endorsed Rep. Mary Miller and Rep. Rodney Davis. As did McKinley, Davis voted for the creation of a bipartisan committee to investigate Jan 6. In August, Rep. Liz Cheney (R-Wyo.) will face Trump's chosen candidate, Harriet Hageman, in a primary.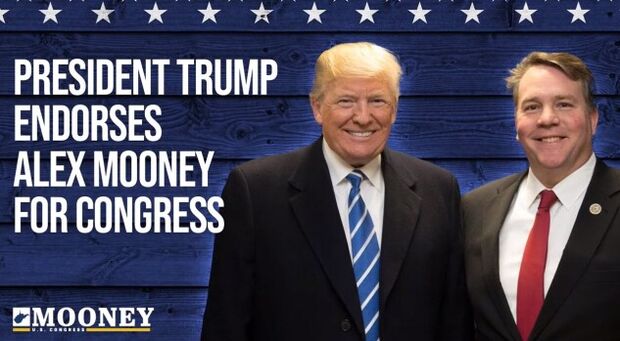 Trump's endorsement eclipsed the sway of the major West Virginia politicians who backed McKinley, including Gov. Jim Justice (R) and Sen. Joe Manchin (D). McKinley attempted to also tie himself to the former president, highlighting in ads the times he voted with Trump.
In one ad, Justice praised McKinley as supporting West Virginians and added "I know exactly where David McKinley is, and he stands with Trump."
Mooney and McKinley have similar voting records overall, though McKinley supported the bipartisan infrastructure package (Public Law 117-58), which Mooney painted as a "trillion-dollar spending spree that's creating record inflation." McKinley campaigned on the infrastructure bill, which will bring an estimated $6 billion to West Virginia for roads, broadband, water systems, and other needs.
The gritty primary had no shortage of attacks from either side. McKinley, a six-term congressman and seventh-generation West Virginian, slammed Mooney as a carpetbagger who served in the Maryland state legislature before moving to West Virginia and running for Congress. McKinley also highlighted a House ethics investigation into whether Mooney used campaign donations improperly for personal expenses.
Mooney painted McKinley as an inauthentic conservative aligned more closely with President Joe Biden and House Speaker Nancy Pelosi (D-Calif.). One Mooney-backed ad said McKinley "betrayed" and "sold out" West Virginians.
To contact the reporter on this story: Emily Wilkins in Washington at ewilkins@bgov.com
To contact the editors responsible for this story: Kyle Trygstad at ktrygstad@bloombergindustry.com; Bennett Roth at broth@bgov.com