Trump, 2020 Democrats Depend on Big Donors Despite Bashing Them
Super PAC already raising money to bolster Trump's re-election
Democrats stress small donations as liberal super PAC gears up
President Donald Trump — who began his 2016 presidential campaign with a pledge to self-finance it — is getting help from a giant political action committee, or super PAC, that plans to raise more than $200 million for his re-election.
"We're now building for the real war," said Erin Montgomery, spokeswoman for America First Action, the main super PAC supporting Trump.
Trump's eventual opponent is likely to benefit from a similar, $200 million super PAC effort.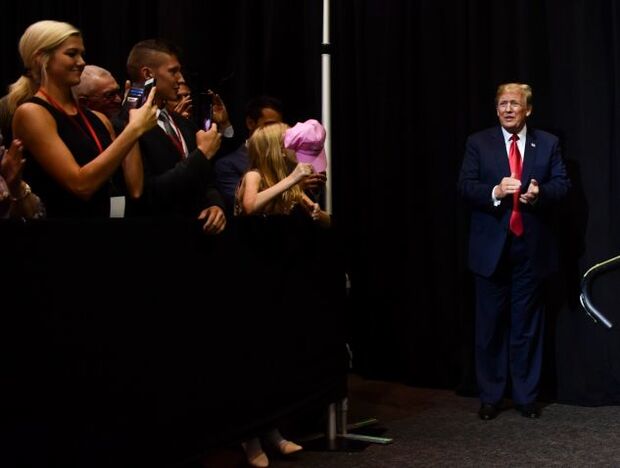 Trump didn't pay a political price for embracing super PACs after railing against them in 2016, and a Democratic nominee might not either this time around, said Paul Ryan, an election law attorney with the nonprofit Common Cause who's tracking developments in the 2020 fundraising race.
The end result, however, will be someone sitting in the White House with the help of some combination of billionaires, companies and unions that provided millions of dollars in support, said Ryan, who has set up a web page tracking fundraising by the presidential candidates.
Super PACs can raise and spend unlimited amounts to help candidates, as long as they don't formally coordinate their spending with the candidates. Individual contributions to a federal candidate, however, are limited to $2,800 per election for the 2020 race.
Donor Wakeup Call
Montgomery declined to discuss details of the super PAC's current fundraising efforts, except to say that "the emergence of 2020 Democrat candidates and their socialist policy proposals are starting to wake up big donors" on the Republican side. The group's goal is to raise "more than the outside groups raised for Hillary Clinton in 2016," she said. Clinton received a total of $231 million in spending support from outside groups in the 2016 campaign, according to Federal Election Commission reports.
America First supported Trump-allied congressional candidates in the 2018 midterm elections, Montgomery noted in an email to Bloomberg Government. The group spent almost $30 million to aid nearly two dozen Republican candidates, according to reports filed with the Federal Election Commission. About half the candidates it backed won.
The super PAC has been funded mainly by billionaires and privately held companies, according to FEC reports. Its biggest donor in the last election cycle was Sheldon Adelson, head of Las Vegas Sands Corp., who along with his wife Miriam gave $10 million. Donors for the 2020 election cycle won't be revealed until the first semi-annual PAC reports are due to the FEC in July.
America First's efforts will amplify the message of Trump's campaign committee, which has already raised $67.5 million for the re-election effort and had $19 million in the bank at the beginning of 2019. In an unprecedented move, Trump declared his candidacy for re-election and started raising campaign money immediately after he was inaugurated last year.
Trump and Vice President Mike Pence have embraced support from America First Action and helped raise money for the super PAC and its allied nonprofit America First Policies. Pence appeared at two dozen of the group's events last year to praise Republican-backed tax cuts, and participated in fundraising dinners and other events across the country, according to Montgomery. Trump headlined a "leadership summit" fundraiser last June and participated in four fundraising dinners for America First.
Reversal From 2016
Trump didn't always want help from super PACs. During the 2016 race, his campaign counsel, Donald McGahn, sent a letter to Great America PAC, a super PAC that was touting support for Trump, saying the candidate disavowed the group's efforts and asked it to return money to donors.
Trump believed "the rules and regulations of super PACs are difficult to understand, and are interpreted differently by everyone," McGahn's letter said, adding that Trump was "personally funding his own campaign in connection with the primaries with his vast personal fortune, and has made it clear that he does not need the financial support of others."
Trump and his immediate predecessor, Barack Obama, both received major support from small donors to win the presidency but both also relied ultimately on super PACs and joint fundraising committees, which can collect far more than the $2,800 limit on individual contributions to a candidate.
In 2016, most candidates welcomed big donor support from super PACs. Democratic nominee Hillary Clinton and most Republican contenders besides Trump had major support going into the race from single-candidate super PACs. These included a super PAC supporting former Florida Gov. Jeb Bush that raised $100 million before the 2016 primaries even started. Outside spending in the last presidential campaign totaled more than $700 million, including nearly $300 million during the primaries, according to FEC reports.
Things didn't shape up the same way going into the 2020 race because "the Democratic base" has pressured the party's candidates to reject super PACs, Ryan said. He said he filed complaints with the FEC and Justice Department charging that Trump's America First super PAC and allied nonprofit group broke the law by coordinating with Trump's campaign and paying for "express advocacy" messages that call directly for votes.
Donors giving smaller amounts through online platforms such as ActBlue played a key role in funding Democrats' takeover of the House majority in the 2018 midterms.
Small Donors
An open letter sent this month by a PAC called End Citizens United urged candidates to "declare that you oppose single-candidate super PACs in the Democratic presidential primary – and will publicly and privately demand that any super PAC designed to support your primary campaign be shut down." End Citizens United takes its name from the 2010 Supreme Court case Citizens United v. FEC, which allowed unlimited corporate spending to influence federal elections. The letter, addressed to Democratic presidential candidates, also was signed by eight other groups, including Public Citizen and MoveOn.
Several of the 2020 Democratic candidates, including Sens. Elizabeth Warren (Mass.), Kamala Harris (Calif.) and Bernie Sanders (I-Vt.), have explicitly rejected help from such super PACs. Sanders claimed to raise more than $10 million in limited contributions for his campaign shortly after announcing his candidacy last month. Other Democrats also are emphasizing their appeal to small donors.
The half-dozen Democratic senators now running for president also had a total of nearly $50 million in cash in their Senate campaign accounts at the begining of 2019 – all of which can be transferred to help jump-start their presidential efforts. The first FEC reports disclosing money raised this year by presidential candidates won't be filed until mid-April.
So far, only one super PAC has spent any money to support a 2020 Democratic candidate. Washington Gov. Jay Inslee, who announced his candidacy this month, received more than $1 million worth of support from a super PAC called Act Now on Climate, according to independent expenditure reports filed this month with the FEC.
The money is paying for digital and television ads, including ads running in Iowa nearly a year before that state's presidential caucuses. They tout Inslee as a "clean energy leader."
Waiting in the Wings
While most other Democrats are spurning help from single-candidate super PACs now, some of the candidates have received such support before and have donors ready to offer it again.
Harris was backed by a super PAC called Standing Up for California's Middle Class during her 2016 Senate race in California. The super PAC, which spent $1.2 million, received contributions up to $205,000 from the International Association of Firefighters, other unions and investment firms, according to FEC reports.
A super PAC called Dream United is prepared to spend millions of dollars to support Sen. Cory Booker (N.J.), according to a New York Times report, which said the group would be financed Steve Phillips a Democratic donor in San Francisco. The super PAC registered with the FEC late last year but hasn't yet reported any spending.
The Democrats rejecting single-candidate super PACs have been careful not to rule out all outside support. Candidates still need to raise enough money for a presidential campaign whose total price tag could top the $2.4 billion spent in 2016.
Anti-Trump Billionaires
The Democratic super PAC Priorities USA spent nearly $200 million backing Hillary Clinton in 2016 and $65 million supporting Obama in 2012. Funded mainly by billionaires and unions, the super PAC says it plans to spend that much or more to help the eventual 2020 Democratic nominee defeat Trump. Its top donor, financier Donald Sussman, gave $21 million during the 2016 campaign.
Democratic candidates and liberal groups generally haven't commented on the super PAC's efforts.
Last month, Priorities USA unveiled plans to spend $100 million from now into early 2020 on the initial phase of its efforts opposing Trump. The super PAC said it had already lined up $70 million to fund the effort, but donors won't be disclosed until its next FEC report is filed in July.
The super PAC's money will be spent mainly on using online outreach to mobilize voters, as the Trump campaign did in 2016, Guy Cecil, chairman of Priorities USA, said at a press conference last month. "We will have a better program than Trump," he said.
Democratic Super PAC Effort Launched as Party Decries Big Money
To contact the reporter on this story: Kenneth P. Doyle in Washington at kdoyle@bgov.com
To contact the editors responsible for this story: Nora Macaluso at nmacaluso@bloomberglaw.com; Bennett Roth at broth@bgov.com