Troops Fret About Empty Stomachs as Covid Worsens Hardships (1)
Mission readiness, recruitment, retention all risked by hunger
Massive defense budget still leaves some short of assistance
(Updates with House Rules Committee announcement in the sixth paragraph.)
Bloomberg Government subscribers get the stories like this first. Act now and gain unlimited access to everything you need to know. Learn more.
The coronavirus pandemic has exacerbated hunger among military families, adding to pressure on bipartisan lawmakers to grant them more federal nutrition assistance.
Democratic and Republican supporters on the Hill have pushed their colleagues for years to help hungry Americans in uniform, pointing to food insecurity as a risk to mission readiness, recruitment, and retention. In spite of the country's $700 billion-plus defense budget, low-income troops and their families can get barred from some government food aid, relying oncharities in times of hardship. The situation has only gotten worse with instability and job losses during the pandemic.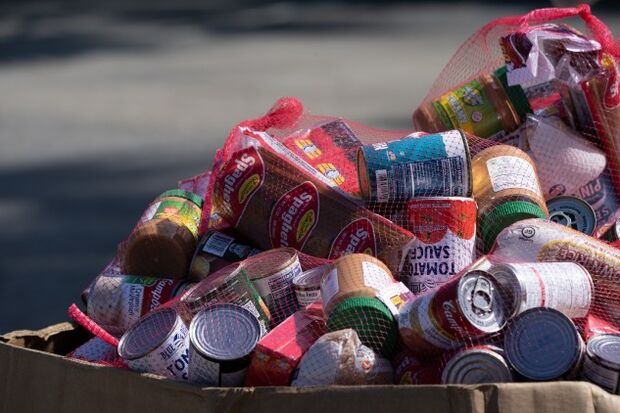 Food pantries operate on or near every military base nationwide, according to anti-hunger organization MAZON: A Jewish Response to Hunger.
"If that is not a signal that there are people on that base who are struggling with food insecurity, I don't know what is," said Abby Leibman, the group's president and CEO. "We know the pandemic has exacerbated this."
One in 5 respondents experienced food insecurity in the first quarter of the year, according to a survey of military families from nonprofit the Military Family Advisory Network Inc., up from 1 in 8 in 2019.
The House Rules Committee is set to hold a May 27 roundtable on what Chair Jim McGovern (D-Mass.) called "the often-silent epidemic of food insecurity among those who serve our country and their families."
Sens. Tammy Duckworth (D-Ill.) and Marsha Blackburn (R-Tenn.) sponsoredlegislation (S. 1488) last month to establish a basic needs allowance for low-income troops, with a House companion bill (H.R. 2339) from Reps. Jimmy Panetta (D-Calif.) and Don Young (R-Alaska). Duckworth first introduced the bill in 2018.
Advocates also support an alternative fix: expanding military families' eligibility for Agriculture Department food aid through the Supplemental Nutrition Assistance Program, or SNAP.
The military allots service members a monthly basic allowance for housing if they can't get on-base housing. Recipients of these funds can be disqualified from SNAP, formerly known as food stamps, because the Agriculture Department considers the housing allowance earned income.
"We're confident it was an oversight," Leibman said of the policy. Still, she said in a phone interview that the government has been reluctant to take executive or legislative action on the issue.
Expanding Food Aid Opens Fresh Partisan Divisions in Congress
Expanding Pentagon Data
The Agriculture Department doesn't count combat pay, hostile fire pay, and imminent danger pay as income when determining eligibility for SNAP, an agency spokesperson said. States can also exclude certain housing payments and other allowances for military personnel when deciding who's eligible for the Special Supplemental Nutrition Assistance Program for Women, Infants, and Children, the official said.
But federal law dictates that the USDA must consider basic housing allowances as earned income in SNAP,the spokesperson said, and Congress would need to change this policy.
Panetta said the next farm bill, which governs SNAP, could be an opportunity to "permanently fix the underlying statute that created this loophole" for the basic allowance for housing. The current authorization of most agricultural and food programs is set to expire in 2023.
He also encourages the Defense Department to expand its collection of data on military families seeking food assistance. "It's that type of foundational information that we can use in Congress to create and pass other forms of legislation to help military families receive federal support so that they can continue to serve our country," he said in an emailed statement.
The Defense Department didn't provide comment by publication time.
Duckworth and Sen. Mark Warner (D-Va.) pressed Defense Secretary Lloyd Austin in a letter in March to release an overdue report on military food insecurity, as required by the fiscal 2020 National Defense Authorization Act. Her office didn't answer whether the military responded.
Food-Aid Politics Take Stage as Vilsack Cancels Trump Program
Path in Congress
This year's must-pass National Defense Authorization Act could be another chance to push through legislation to help military families.
"The last thing they should be concerned with is putting food on the table," Blackburn said in an emailed statement.
Her and Duckworth's Military Hunger Prevention Act was referred to the chamber's Agriculture, Nutrition, and Forestry Committee. The panel may also split jurisdiction with the Armed Services Committee, a Senate aide said. Duckworth and Blackburn, both committee members, are prepared to offer their measure as an amendment to this year's defense authorization bill, another Senate aide said.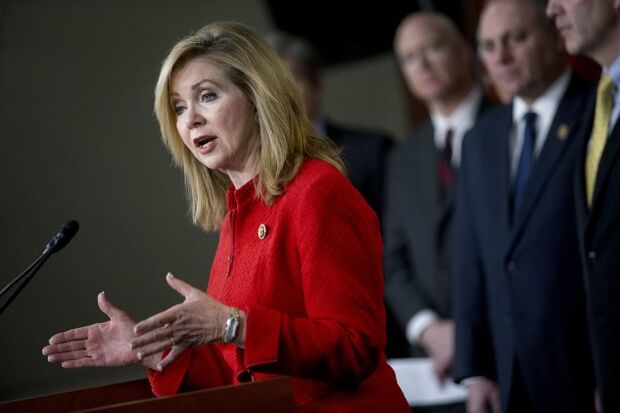 Agriculture Committee member Mike Braun (Ind.), the top Republican on the Food and Nutrition, Specialty Crops, Organics, and Research Subcommittee, would "definitely" be willing to look into the military hunger issue, he said in a telephone interview.
There's also interest in the House. Young said this measure wasn't included in last year's defense authorization bill, but he remains undeterred to "get it across the finish line this year."
His and Panetta's legislation was referred to the House Armed Services Committee. Monica Matoush, the panel's Democratic spokesperson, called the measure "a prime example of where members look to close the resource gap of our military families."
She added that it's too early to determine if some form of this legislation will be added as a provision in the fiscal 2022 NDAA, which the committee is focused on drafting now.
Pentagon Gets Diversity Watchdog in Bill Passed Over Trump Veto
National Security Issue
Part of the struggle to address military hunger has been the lack of data, and the hesitancy to even discuss food insecurity.
"There is a culture of resilience among us," said Shelley Kimball, a member of a military family. "We're maybe not as likely to go seek help, and we're definitely not going to talk about it."
Kimball, the senior director of research and program evaluation for the Military Family Advisory Network, said the pandemic may have lifted some of that stigma. Because Covid outbreaks impacted everyone, service members might feel more encouraged to discuss the issue of hunger, she said.
A separate 2020 Military Family Lifestyle Survey by nonprofit Blue Star Families Inc. found that 29% of junior enlisted military members' families reported hunger, compared to 14% of enlisted active-duty members' families across all ranks. For example, an enlisted Army private with two years of experience or less can expect about $21,000 annually in basic pay — plus allowances for housing and subsistence.
Military spouses, who already struggled to find jobs due to frequent moves, were particularly hard-hit by Covid, said Vince Hall, interim chief government relations officer at Feeding America. The country's gradual recovery has also hurt women who are getting fewer economic opportunities now compared to pre-Covid, he said—which hasn't helped in a military made up largely of male service members with female spouses.
Hall previously worked as CEO of Feeding San Diego, which serves one of the nation's largest concentrations of active-duty military and veteran personnel.
"The real responsibility for solving this problem lies with our military leadership," he said. "We are hopeful that Secretary Austin will prioritize the issue of military family hunger, and work very quickly and effectively to ensure that every military family in the U.S. is able to pay the rent, afford adequate nutrition, and afford the other essentials of life."
With assistance from Roxana Tiron
To contact the reporter on this story: Megan U. Boyanton in Washington at mboyanton@bgov.com
To contact the editors responsible for this story: Anna Yukhananov at ayukhananov@bloombergindustry.com; Heather Rothman at hrothman@bgov.com
Stay informed with more news like this – from the largest team of reporters on Capitol Hill – subscribe to Bloomberg Government today. Learn more.