Transit, Rail Backers Fight to Keep Funds in Biden Spending Bill
Democrats look to trim once-$3.5 trillion social spending plan
Stakeholders push transportation as climate, equity policy
Bloomberg Government subscribers get the stories like this first. Act now and gain unlimited access to everything you need to know. Learn more.
Transit and rail advocates are making their case that transportation funding should be included in Democrats' sweeping domestic policy package even though it's advancing in tandem with an infrastructure bill that funds similar priorities.
As Democrats look for ways to trim their once-$3.5 trillion social spending and tax bill, advocates say transportation proposals in the House bill (H.R. 5376) should be retained as ways to improve equity and the environment. The measure included about $10 billion for transit near affordable housing, $10 billion for high-speed rail, and $4 billion to reduce transportation emissions.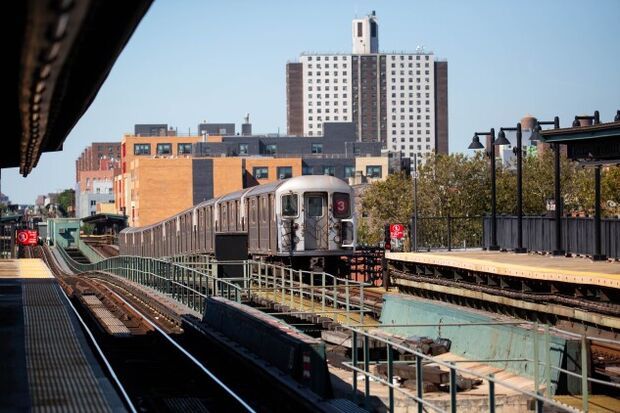 Republicans argue that additional transportation money in the reconciliation bill would violate a pledge President Joe Biden made to not overlap with spending in the Senate-passed infrastructure package (H.R. 3684).
Democratic Split on Taxes, Spending Imperils Deal Deadline
"At every twist and turn there's someone trying to cut" the high-speed rail funding, said Andy Kunz, president and CEO of the U.S. High Speed Rail Association. "We have to fight it all the way to the end."
House Transportation and Infrastructure Chair Peter DeFazio (D-Ore.) still feels strongly about addressing climate change and reducing transportation emissions, a spokesperson said. He wants Democrats' final agreement to include the bill his panel drafted.
But difficult decisions lie ahead as negotiations continue. Sen. Ben Cardin (D-Md.) said reducing the package's total dollar amount could make it more difficult for transportation portions to survive.
"Every program that's in the bill is likely to be subject to re-evaluation," Cardin said.
'Front and Center'
Advocacy group Transportation for America is mounting a push to ensure funding for transit and other transportation programs stays in the package.
Enacting the Senate infrastructure bill "without these provisions in the reconciliation bill will leave the nation in a worse state than before," the group wrote in a blog post. It's concerned the infrastructure bill focuses more on building roads than on transportation projects that would reduce emissions.
"We'll continue to bring attention to it and we encourage our advocates to keep this issue front and center," said Benito Pérez, policy director at Transportation for America.
Advocates have been talking up the equity and climate benefits the spending could provide. LeeAnn Hall, campaign director of the National Campaign for Transit Justice, said the transit spending would "drive equity across our society."
Climate Spending to 'Fix' Infrastructure Bill Advances in Panel
The infrastructure bill wouldn't provide dedicated funding for high-speed rail, so advocates say it is needed in reconciliation. "Even $10 billion is a drop in the bucket compared to what we should be doing," Kunz said. "Meanwhile, we're about to spend a couple-hundred-billion dollars on more highways that we don't need that are going to dig us deeper into climate problems."
Biden also touted the benefits of high-speed rail to the climate and in competing with China in a speech Wednesday in Scranton, Pa., which rail groups saw as bolstering their argument.
"If you can get in a train and go from here to Washington much faster than you can go in an automobile, you take a train," Biden said. "We will take literally millions of automobiles off the road. Off the road, saving tens of millions of barrels of oil, dealing with cleaning up the air."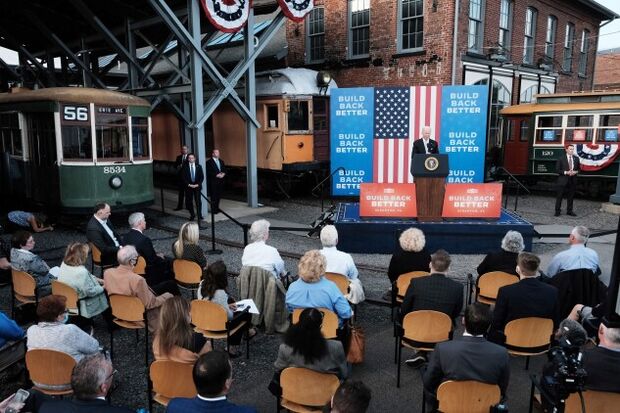 'Double-Dip' Question
The top Republican on the Senate panel that oversees transit, Sen. Pat Toomey (Pa.), wants Democrats to uphold a commitment he said Biden made not to put items cut during bipartisan infrastructure negotiations into the bill Democrats plan to pass on their own.
Toomey wrote in a letter to Sen. Sherrod Brown (D-Ohio), chairman of the Banking, Housing and Urban Affairs Committee, that the House's plan to create a $10 billion grant program for transit would violate that double-dip agreement.
Democrats have pushed back on those claims, arguing that the reconciliation bill's transportation programs are distinct. They also say they're justified in moving the programs forward.
"We've got climate goals to realize here," Rep. Jared Huffman (D-Calif.) said. "I am much less concerned about whatever handshake occurred in a backroom of a Senate office than I am about something that works."
Push for Priorities
Some Democrats are demanding the inclusion of transportation funds in the final package as a way of paying for specific projects back home.
Sen. Jon Ossoff (D-Ga.) is pushing leadership to provide at least $10 billion for high-speed passenger rail planning and construction, some of which could fund the long-planned Southeast High-Speed Rail Corridor.
Ossoff also led a group of congressional Democrats from Georgia in asking for the final deal to include $10 billion for transit near affordable housing.
DeFazio hopes the final spending bill will include a set of earmarks, or funding for specific projects, cobbled together in the House earlier this year. That chamber's version of the infrastructure bill, passed in July, included nearly $6 billion for more than 1,400 earmarks from both Republicans and Democrats.
Democratic States Reap Twice the Gains in House Highway Bill
The Senate didn't include those earmarks in its infrastructure bill, which the House plans to vote on without changes, sending it to Biden's desk.
The House transportation committee's portion of the reconciliation bill would, however, provide $6 billion for "projects to advance local surface transportation priorities." DeFazio said that funding is "potentially" for the earmarks that were part of the House-passed transportation bill.
"We've got over 300 members of the House who went through a very rigorous process for very meritorious projects for small amounts of money in their districts and I'm hoping that that work will be recognized," DeFazio said. "Why should it all be done by DOT or state DOTs?"
To contact the reporter on this story: Lillianna Byington in Washington at lbyington@bloombergindustry.com
To contact the editors responsible for this story: Sarah Babbage at sbabbage@bgov.com; Loren Duggan at lduggan@bgov.com
Stay informed with more news like this – from the largest team of reporters on Capitol Hill – subscribe to Bloomberg Government today. Learn more.