Transgender Student Athletes Limited in House-Passed Bill (1)
GOP seizes transgender rights as wedge issue
Republicans cite fairness but Democrat calls bill 'creepy'
(Updates to include House passage and vote tally.)
Bloomberg Government subscribers get the stories like this first. Act now and gain unlimited access to everything you need to know. Learn more.
House Republicans pushed through a partisan bill limiting transgender students playing sports, engaging on a cultural hot-button issue that has fired up their base. But they also avoided some of the thornier issues around LGBTQ rights that risk alienating moderate and independent voters.
Transgender rights have been an increasing Republican target across the country as the party looks for a wedge issue to excite social conservatives before the 2024 election. This year alone, 10 Republican-led state legislatures have banned gender affirming care or surgery for minors. And Bud Light faced a recent backlash after partnering with transgender influencer Dylan Mulvaney.
The House passed the legislation (H.R. 734), 219-203, in party-line vote on Thursday. The bill would bar schools that receive federal funding from allowing transgender students assigned male at birth from playing on female sports teams in public elementary and secondary schools as well as colleges and universities. It wouldn't prohibit transgender students from practicing or training with a program designated for women or girls.
BGOV Bill Summary: H.R. 734 Transgender Student Athletes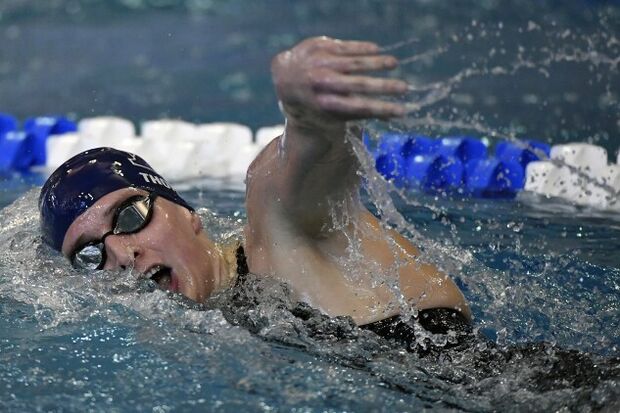 The bill has virtually no chance of becoming law, with the Senate Democrats unlikely to bring it up and President Joe Biden promising to veto it.
But Republicans believe they can make inroads with moderate and women voters who could be swayed by a message questioning the fairness of allowing transgender individuals to compete in women's sports.
"Everybody has a right to be whoever the hell they want to be," said Rep. Kelly Armstrong (R-N.D.), but added that as a former baseball and softball coach "there's a reason we have separate boys and girls sports."
Rep. Victoria Spartz (R-Ind.) said allowing transgender women on sports teams "is a disservice to a lot of our women who work very hard."
Men, she said, have "some physical advantage, we have to recognize it."
Rep. George Santos (R-N.Y.), an openly gay Republican representing a parts of New York City and Long Island who has been photographed in drag, also voted for the bill.
"I don't care about people's genders," said Santos, who is under scrutiny for fabricating large chunks of his resume. "I just want to make sure that we're protecting girls sports, that's all."
Republicans have tied the issue of sports with a larger push for public schools to give parents more access to learning materials and get parental consent before changing a minor's gender pronouns. Those issues have "erupted" in the aftermath of Covid-19 and are likely to stick around until the next election said Jessica Anderson, executive director at Heritage Action, which has been tracking the issue since 2018.
"It's made that a political movement where you've got parental rights at the forefront of it," she said. "It's hyper hyper hot and I think it's only going to continue through '24."
'Creepy' Bill
Some Democrats suggest the transgender measure would put local school officials in an awkward position of intimately examining students who participate in sports.
Democratic Caucus Vice Chair Pete Aguilar (D-Calif.) characterized the bill as "creepy" to reporters.
"The only way to enforce this bill is to empower school officials to inspect the genitals of kids," he said at a press conference.
The issue didn't rank high with many voters when it was used in a number of races in 2022.
Riley Gaines, a former NCAA swimmer, appeared in several campaign ads in 2022, criticizing Democrats for allowing transgender women to compete against cisgender women. In one, she took aim at Sen. Raphael Warnock (D-Ga.), in another she called out Kansas Governor Laura Kelly. Both Warnock and Kelly won their re-elections.
Jill Normington, a pollster who worked with Kansas Democrats on the race, said she spoke with voters who disagreed with Kelly's stance on transgender athletes, but voted for her anyway.
"Our research showed pretty definitively that this is not an issue on which voters cast their ballot," she said. "They are raising its profile in their attempt to change that calculus for people."
Republican say they have public backing for their nuanced stand. A 2022 Pew Research Center poll found that while 64% of all adults thought transgender individuals should be protected from discrimination, 58% said that trans athletes should compete on the teams that match the sex they were assigned at birth.
Protecting Women's Sports
Rep. Don Bacon (R-Neb.) one of the GOP conference's more moderate members who will likely face a tough re-election campaign, supported the bill. He said the vote isn't about whether or not lawmakers support transgender people, but about "protecting women's sports."
Bacon also has a personal tie to the issue – his sister played point guard for Clarkson University's women basketball team and lead them to the NCAA Final Four. He noted that Lia Thomas, a transgender swimmer who competed for the University of Pennsylvania beat cisgender female swimmers to win a NCAA Division 1 title.
"It's fairness," he said. "What happened with that swim competition was, I mean, I don't think it's frequent. But it was wrong."
Carl Thorsen, a Republican lobbyist who has represented the gay rights group, Human Rights Campaign, said there are "plenty of members who would consider themselves personally pro-equality, anti-discrimination against the trans community in concept." But sports teams are different.
"Transgender athletic competition is an issue that they don't see as just about equality or discrimination," he said. "It's a fundamental fairness issue."
The White House says the president will veto the bill, arguing that a "national ban does not account for competitiveness or grade level."
"Politicians should not dictate a one-size-fits-all requirement that forces coaches to remove kids from their teams," said the Statement of Administration Policy from the Office of Management and Budget.
The White House has angered some in the transgender community with a new proposed rule that would also provide for leeway for schools to develop their own policies that could ban transgender athletes in certain cases.
One of those questioning parts of the rule is Thomas, the former NCAA champion swimmer, who said the sport had "given me so many opportunities to learn, grow, develop and connect with my peers – opportunities I wouldn't have gotten if I didn't have access to athletics."
"That's why is breaks my heart to see trans kids across the country lose out on these opportunities," she said in a video on her Instagram account.
To contact the reporter on this story: Emily Wilkins in Washington at ewilkins@bgov.com
To contact the editors responsible for this story: Bennett Roth at broth@bgov.com; George Cahlink at gcahlink@bloombergindustry.com
Stay informed with more news like this – from the largest team of reporters on Capitol Hill – subscribe to Bloomberg Government today. Learn more.