Toss-Up Oregon Governor's Race Augers Chance for Big GOP Gains
Recent out-of-state giving tops $9 million for governor race
Oregon could send more than one Republican to Congress
Oregon's unusually tight gubernatorial race, which could flip party control for the first time in 36 years, is drawing eyes—and money—to competitive state legislative and congressional races.
Oregon GOP candidates are flush with cash and in-kind contributions in the final weeks before an election that could bring up to three more Oregon Republicans to Congress, flip the Oregon Senate, and erode the Oregon House's Democratic supermajority.
Three women—former Oregon House Speaker Tina Kotek (D), former House Minority Leader Christine Drazan (R), and Betsy Johnson, a former state Senator who left the Democratic party to run as an independent—have their sights on the governor's mansion as Gov. Kate Brown (D) departs with a dismal 56% disapproval rating.
The governor's election "has brought national attention to what's going on here," said Oregon political analyst Jim Moore, an associate professor at Pacific University. "There's a spotlight that goes to the other races, especially the Oregon Senate."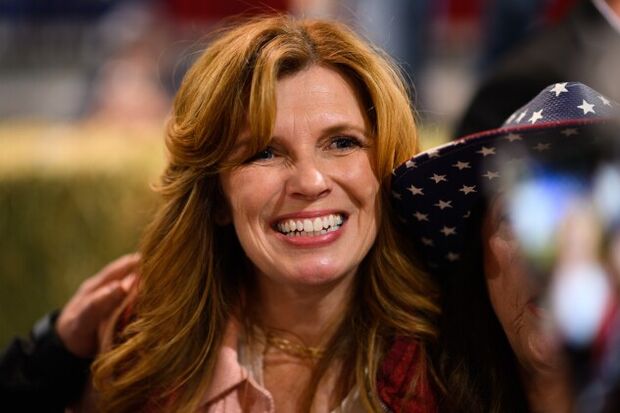 The governor's race is listed a toss-up between the Republican and Democratic candidate by the top three political ratings scorecards, with Johnson potentially playing the role of the spoiler candidate.
Out-of-state donors have poured more than $9 million into the candidates' accounts in the month before Election Day, according to a Bloomberg Government analysis of campaign finance data.
The Democratic Governors Association supported Kotek with $6.6 million this cycle, and the Republican Governors Association contributed over $7 million to Drazan's campaign.
In-state, billionaire Nike Inc. co-founder Phil Knight gave Drazan $1.5 million last month after favoring Johnson earlier in the race.
Drugs, Homelessness, Abortion
Republicans cite the visible homelessness in Portland, drug decriminalization, and the violent protests in the wake of George Floyd's death as reasons to change the party in charge. Republican Drazan promises to repeal Measure 110, a 2020 ballot initiative that reduced penalties for possession of heroin, methamphetamine, and other drugs.
"I will support law enforcement, I will lower the cost of living in our state, and I will stand with families as they demand better from our schools," Drazan told Fox News.
Democrats are leaning on abortion to get their party members out to vote. Kotek, like many national Democrats, made the U.S. Supreme Court's reversal of Roe v. Wade central to her campaign. She is urging Oregonians repelled by that decision not to choose independent Johnson, who also supports abortion rights.
"A vote for Betsy Johnson is a vote for Christine Drazan," Kotek said at a Eugene rally with Sen. Bernie Sanders (I-Vt.).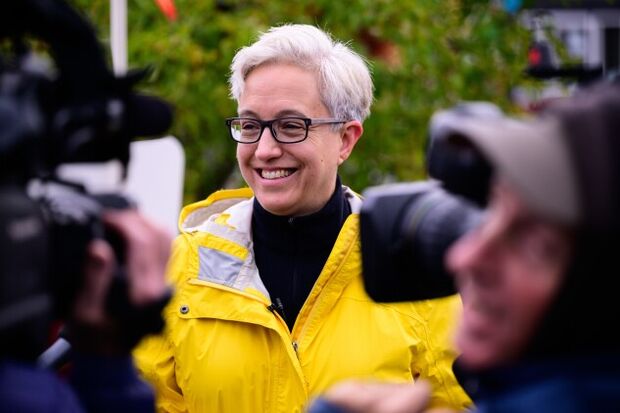 Johnson, who favors gun rights and limited environmental regulation, denies that she's Kotek's spoiler candidate.
"I am in this until the fat lady sings, and this fat lady hasn't even tuned up yet," she recently told supporters.
Drazan opposes abortion, but has stated several times that she would not try to change Oregon's abortion access laws as governor. In 2017, Oregon codified Roe v. Wade into state law. Health plans in the state are barred from charging co-pays for the procedure.
Three Close Districts
Oregon's 4th, 5th, and 6th U.S. House districts are competitive this year despite a new congressional map that favors Democrats. Concerns over inflation and President Joe Biden's performance provide a more favorable environment for Republicans to win House seats.
A GOP victory in any of those districts would bring at least two Oregon Republicans to Congress for the first time since 1996. Rep. Cliff Bentz is the delegation's lone GOP member representing inland Oregon's 2nd District, which is reliably Republican.
If all three races go the GOP's way, Oregon would have a majority Republican U.S. House delegation.
The Congressional Leadership Fund, which works to elect conservatives to Congress, has poured some $2.4 million in Oregon races since September. The lion's share is going to the 5th District open-seat race between Lori Chavez-DeRemer (R) and Jamie McLeod-Skinner (D). The nonpartisan Cook Political Report with Amy Walter rates the race as 'Leans Republican.'
Alek Skarlatos (R) is running against Oregon Labor Commissioner Val Hoyle (D) to represent Southern Oregon's coastal 4th District, a race that Cook rates as 'Lean Democratic.' Mike Erickson (R) and state Rep. Andrea Salinas (D) are competing for the new 6th District around Salem, which is rated as a toss-up.
State Senate Could Flip
Republicans need only to flip three seats to reclaim the State Senate majority they lost in 2000, assuming GOP-turned-Independent Sen. Brian Boquist votes with the party.
Polling for state-level seats is hard to come by, but GOP fundraising indicates they sense an opportunity for big gains. Five Republican candidates have each raised over $1 million to win competitive seats. Usually, only one or two races per election cycle break the million-dollar mark, Moore, the Pacific University professor, said. He analyzed the competitiveness of the races based on Democratic voter registration and Republican fundraising numbers.
Two statewide PACs are spending heavily to elect Republicans to the Legislature. The Bring Balance to Salem PAC, a committee with ties to former longtime Rep. Greg Walden (R), has raised more than $4 million for state legislative races, including $2 million from Nike's Knight and $350,000 from Sierra Pacific Industries.
The Leadership Fund PAC has raised $2.8 million. Top donors include the Pharmaceutical Research and Manufacturers of America, the Republican State Leadership Committee, and construction equipment company Papé Group Inc., as well as Altria Client Services LLC, Koch Industries Inc, and Juul Labs Inc.
The chances of Republican control of the Oregon House are slim. They would need to gain at least eight seats. Two of the most promising prospects are Kevin Mannix, the 2002 GOP nominee for governor and former chairman of the state Republican party, who's running to represent a Salem-area district against Democrat Ramiro Navarro, and Republican Jeff Helfrich is having another go in a redrawn Eastern Oregon district where he lost in 2020 by 84 votes.
With assistance from Greg Giroux
To contact the reporter on this story: Tiffany Stecker in Sacramento, Calif. at tstecker@bgov.com
To contact the editors responsible for this story: Fawn Johnson at fjohnson@bloombergindustry.com; Bennett Roth at broth@bgov.com