TikTok, Bumble Help Democrats Register and Motivate Young Voters
Biden campaign using social apps to reach students
TikTok influencers help promote Democrats, registration
Catchy raps about the "carrot demon" earned Maya Nepos 4.6 million likes on TikTok. Now, she's one of the social media influencers partnering with Democratic-led organizations to make sure young people know how to vote — and vote for Joe Biden.
Youth turnout is poised to provide a significant boost for Democrats in the presidential and congressional elections this year. A Harvard Kennedy School Institute of Politics poll released this month found that 60% of voters under 30 support Biden. But they'll have to know where and how to vote during the pandemic.
After a turnout surge in the 2018 midterms, the Biden campaign and other Democratic groups are using social media movements, platforms, and personalities to ensure another record year.
Snapchat and Facebook are helping register voters, and campaigns and celebrities on Instagram and TikTok are spreading voting information. Yard signs and rallies have gone virtual on Animal Crossing, a social simulation video game, and volunteers are recruiting on dating apps, including Bumble.
"It's been an exercise in finding those natural gathering places for students online when they cease to be gathering at the student center or on the quad," said Alex Butcher-Nesbitt, a spokesman for NextGen America, a progressive advocacy group that targets youth voters.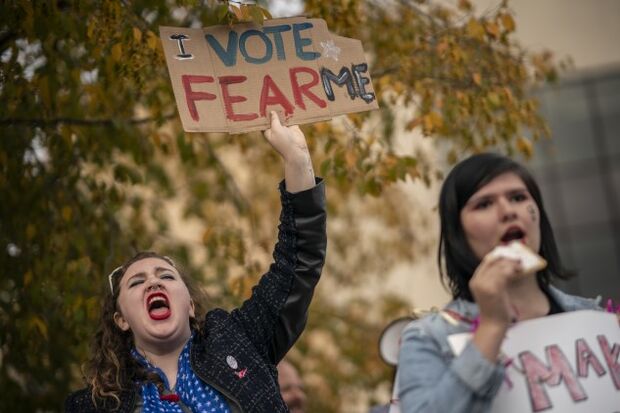 'Jumping on Every Meme'
Voter registration drives on Snapchat and TikTok have already gained traction. Around 905,000 people had registered to vote using Snapchat as of Friday, according to data within the app, and Tok the Vote's registration campaign gained almost 5 million views one weekend in September. The Democratic National Committee said it's seen a 222% increase in Snapchat subscribers since January, and 38% are between 18 and 24.
Biden campaign spokesman Matt Hill said in a statement that young people are "a driving force of our campaign," and the campaign has built a "robust network of students, young elected officials, and other young people across the country."
The Biden campaign started targeting the youth vote in August 2019 with its Students for Biden launch. The grassroots program now has over 400 chapters at colleges across the country. Since the pandemic moved organizing online, the Biden campaign has turned to actors and influencers on Instagram to replace traditional rallies and local fundraisers. The campaign started an Instagram Live series where celebrities with millions of followers interview Biden's advisers and staff.
On Instagram, the Settle for Biden account is run by a group of former Bernie Sanders and Elizabeth Warren supporters who wanted to ensure young progressives still vote. It has 167,000 followers, with posts ranging from highlighting Biden's climate change plan to a picture of Biden with a baseball bat saying, "Because a foul ball is better than a strike."
"We're trying to say to people that they don't have to agree with the candidate 100% of the time in order to support them," said Samuel Weinberg, the 19-year-old founder of the account and a former Sanders supporter. "Right now, we'll take what we can get."
The Republican National Committee has also made efforts to register young voters. The RNC launched its Make Campus Great Again program in September 2019 designed to focus on campus voter registration with both in-person and virtual events, and currently has 73 campuses. Its most recent initiative is a March Madness-style voter contact competition called "MAGA Madness" in which students at different campuses compete to contact the most voters for Trump and other Republican candidates, and the results are shared over Twitter.
The Trump campaign's Snapchat account has 1.8 million subscribers and 76% of them are at least 18 years old. Its content focuses on reaching younger voters, posting meme-like videos, information on how to register to vote, and messages from Trump urging users to avoid mail-in-ballots.
Allie Carroll, the RNC national assistant press secretary, said in a statement that enthusiasm for Trump is "strong" among young voters because they know "a strong economy puts them in a strong position to kickstart their careers after graduation."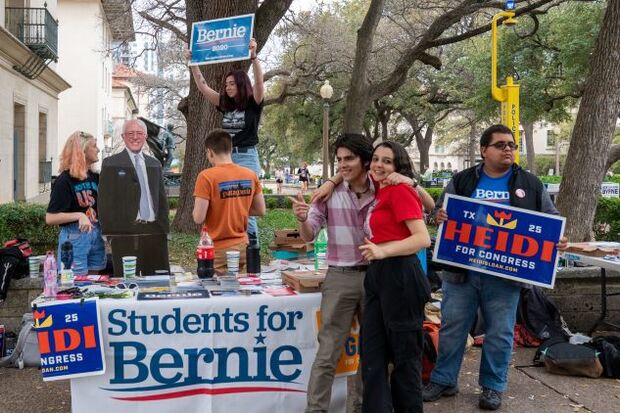 Room to Improve
Annie Levene, a Democratic digital consultant at Rising Tide Interactive, said campaign communications on social media have improved since 2016. She said successful social media strategies don't use formal press releases on platforms such as Twitter and avoid content that won't seem authentic coming from the candidate.
So far, the Biden campaign has been successful on platforms highlighting the former vice president's empathy, Levene said, without needing "to be jumping on every meme."
But there are areas where some see a need for improvement. Sean Ahern, a 27-year-old lawyer with 526,000 followers and 9.5 million likes on TikTok, said campaigns getting on TikTok could help increase youth voter engagement. Ahern is planning a voter registration push on the app, where he also posts explainer videos on mail-in-ballots and legal issues.
"Clearly the campaigns are trying to reach young voters in some way and keeping themselves relevant by posting with celebrities," Ahern said. "All I have to say is they could be doing a lot on TikTok."
One of the most effective ways campaigns can reach young voters is by collaborating with influencers who have already gained a following, Levene said. These creators know what content appeals to their audience, whether that's snarky posts or TikTok dances, and can use that to spread the word about changes in voting laws or Biden's platform.
Levene said partnering with young influencers is particularly helpful to engage on platforms such as TikTok, which campaigns in general won't join because of security concerns.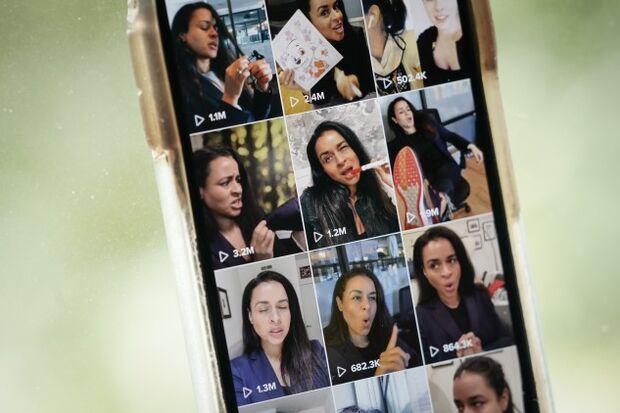 Nepos, a senior at Washington University in St. Louis, said it's easier for other young people to understand the type of content that does well on the app. Nepos gained her following, by performing raps about Trump and encouraging people to become poll workers.
After several of her videos went viral, Nepos started working with Bigtent Creative and Tok the Vote, which recruit young influencers to promote information about voting and Democratic candidates. On her account, Nepos includes a link to the website No Angry Cheeto, a voter registration page surrounded by Cheetos with Trump's face.
"Seventy-year-old men are not going to post good content that will actually please the algorithm," Nepos said. "So let younger people do it."
The Trump administration has sought to bar the Chinese-owned TikTok from app stores run by Apple and Google, although a federal judge has issued a preliminary injunction halting the order.
Nepos said the move by Trump would fire her and others up more. Her first rap about it had 2.2 million views, riffing that if TikTok goes, something new will take its place.
"It just made sure that young people cared about the election," Nepos said, "even the ones who normally would not have cared at all."
Read More:TikTok Unveils U.S. Voter Guide Amid White House Battle
To contact the reporter on this story: Samantha Handler in Washington at shandler@bloombergindustry.com
To contact the editors responsible for this story: Kyle Trygstad at ktrygstad@bgov.com; Bennett Roth at broth@bgov.com