Three More Congressional Incumbents Lost Primaries on Tuesday
Newman (D), Davis (R) lost in Illinois to fellow members
Palazzo (R) defeated by challenger in Mississippi runoff
Reps. Rodney Davis (R-Ill.), Marie Newman (D-Ill.), and Steven Palazzo (R-Miss.) won't be returning to Congress next year after they were unseated in elections Tuesday.
Their defeats mean eight House members total have been unseated in primaries so far this year.
Multiple losses were guaranteed in Illinois, where pairs of Republican and Democratic incumbents faced off after redistricting. Palazzo lost in a runoff in part because of allegations about his ethical behavior in office.
Here's what happened:
Illinois' 6th District: In metropolitan Chicago, Newman was overwhelmingly defeated, 68%-29%, by Rep. Sean Casten in a matchup between two progressive Democrats who highlighted their support for abortion rights.
Newman was hampered by an Office of Congressional Ethics report that said there was "substantial reason to believe" that during her 2020 campaign she "may have promised federal employment to a primary opponent for the purpose of procuring political support." Newman and the potential rival, who didn't run against her and wasn't hired, settled their case and signed nondisclosure agreements.
Illinois' 15th District: Davis, who helped write a bill that would have created a bipartisan Jan. 6 commission in lieu of the current select committee, fell to Rep. Mary Miller, a member of the strongly conservative House Freedom Caucus who ran with former President Donald Trump's endorsement.
Miller led Davis 57%-43% and won 25 of 35 counties wholly or partly in the sprawling 15th District. She took 79% of the vote in Adams County, which included the site of the Mendon, Ill., rally where Trump stumped for Miller three days before the primary. Neither Miller nor Davis currently represent Adams.
In a nod to Trump's sway with Republican primary voters, Davis' concession statement congratulated both Miller and Trump.
Davis's departure will leave open the top Republican spot on the House Administration Committee, which oversees legislation related to elections.
Mississippi's 4th District: Mike Ezell, the sheriff in Jackson County in and around Pascagoula, won 54% of the vote compared with 46% for Palazzo, who denied allegations he converted campaign and congressional office funds for personal use.
Ezell will be a shoo-in to win the Nov. 8 election in a district where Trump won more than two-thirds of the vote in 2020.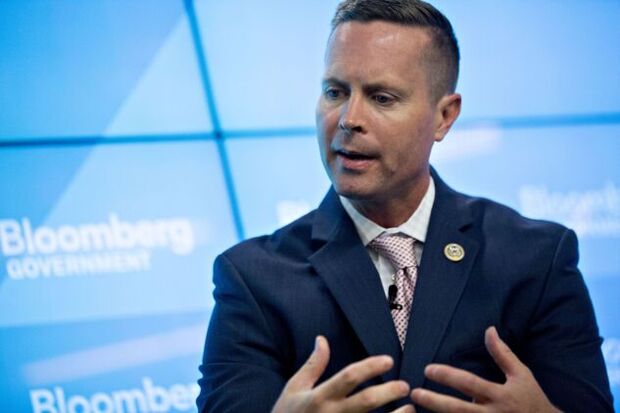 Some other at-risk incumbents held on to win on Tuesday.
Rep. Danny K. Davis (D-Ill.) in effect secured a 14th term in the Chicago area by winning his primary 52%-45% over Kina Collins, a gun-control activist almost half a century his junior.
In Mississippi's 3rd District, Rep. Michael Guest (R) crushed challenger Michael Cassidy 67%-33% in a runoff three weeks after they essentially tied in a first-round primary. Guest, who voted for the bipartisan Jan. 6 commission, won almost twice as many votes Tuesday as he did in the first-round primary after retooling his campaign and receiving outside assistance from the Congressional Leadership Fund super PAC run by allies of the House Republican leadership.
In Colorado's 5th District in and around Colorado Springs, Rep. Doug Lamborn (R) defeated three challengers with 48% of the vote — the third time in the past five primaries that Lamborn was renominated with less than 53%. Lamborn's rivals brandished a House Ethics Committee investigation into allegations that he misused official resources by having members of his staff perform personal and campaign-related tasks for him and his family during official working hours. Lamborn denied wrongdoing.
The 2022 primary schedule enters a lull in July, when only Maryland holds a primary on the 19th.
Most of the rest of the primaries are in August, including the two remaining matchups between House members of the same party — Michigan Democrats Haley Stevens and Andy Levin and New York Democrats Jerry Nadler and Carolyn Maloney.
The four House Republicans who voted to impeach Trump and have yet to face the voters also have primaries in August: Liz Cheney (Wyo.). Jaime Herrera Beutler (Wash.), Peter Meijer (Mich.), and Dan Newhouse (Wash.).
To contact the reporter on this story: Greg Giroux in Washington at ggiroux@bgov.com
To contact the editors responsible for this story: Kyle Trygstad at ktrygstad@bloombergindustry.com; Loren Duggan at lduggan@bgov.com