This Is IT: Peraton Eyes Top Federal IT Spot with Perspecta Buy
Bloomberg Government subscribers get the stories like this first. Act now and gain unlimited access to everything you need to grow your opportunities. Learn more.
Veritas Capital Fund Management LLC may have just created the largest U.S. federal information technology contractor.
In just two months, Veritas bought Northrop Grumman Corp.'s IT services business for $3.4 billion and Perspecta Inc. for $7.1 billion, and now plans to merge them under Peraton Inc. The venture capital firm bought Peraton from L3Harris Technologies Inc. in 2017 for $690 million. Both deals are expected to close in the first half of 2021. The result is the metamorphosis of Peraton, the No. 45 IT contractor in fiscal 2020, into a company with a footprint more than 13 times larger and positioned to take over the top federal IT contractor spot in fiscal 2021.
In this week's This Is IT, Bloomberg Government uses its historical contract data to determine what that newly combined company might look like and how these deals fit into a broader mergers and acquisitions trend in the federal market.
A New IT Leader?
Perspecta, Peraton, and Northrop's IT services brought in a combined $3.5 billion in IT obligations in fiscal 2020. Had the companies been a combined entity then, they would have been worth enough to be the No. 2 IT contractor last year. That mega-firm would have been about $150 million shy of taking the top spot, but still solidly above the No. 3 position by more than half-a-billion dollars.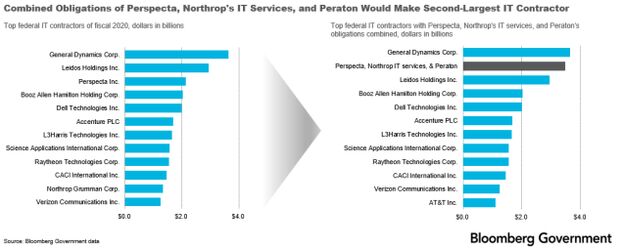 Perspecta and Northrop were the No. 3 and No. 11 IT contractors in fiscal 2020, respectively. But it's difficult to tell exactly how much revenue Northrop's IT services business gets from federal agencies because it doesn't detail company finances that way in the data it reports to the federal government.
To estimate Northrop's IT services obligations, BGOV filtered historical contract data by IT services. It's possible some obligations were missed or, conversely, some were included that shouldn't have been. If all Northrop IT obligations were counted, another $246 million would be included and put the combined company into the No. 1 spot.

The three companies' obligations have either been roughly steady or declined since fiscal 2017. If that trend continues, the new Peraton would have a hard time taking over the number one spot in fiscal 2021. Conversely, Peraton will likely take advantage of IT contracts and customers Northrop and Perspecta currently have to grow the company.
One of the largest contracts Peraton is likely to benefit from accessing is Alliant 2 Large Business (A2). The company was in on the predecessor vehicle and received $34 million in obligations, but didn't win a spot on A2. Perspecta and Northrop each hold a spot on A2 and have been obligated a combined $190 million on the vehicle since its start in 2017. A2 was the fourth-largest IT contract vehicle in fiscal 2020 and will likely obligate more funds as task orders on Alliant Large Business expire. Those factors, combined with its $50 billion ceiling, indicate A2 was probably a target for Peraton in the acquisitions.
The Social Security Administration's (SSA) IT Support Services Contract II (ITSSC II) could benefit the company as well. Just three contractors hold spots and the contract is for IT services across SSA. Northrop has received $646 million on the contract since 2017. Moving forward, the expertise of Peraton and Perspecta could make the company more competitive in winning additional work. Five years and $1.9 billion remain.
Peraton has also greatly strengthened its changes of a spot on Chief Information Officer – Solutions and Partners 4 (CIO-SP4). All three companies have spots on the predecessor. CIO-SP3 and CIO-SP3 Small Business will be combined into one $40 billion contract with up to 125 unrestricted spots available. With all three companies likely to submit a bid, just one will need a spot for all three to have access after the deals close. The request for proposals is expected this month.
In addition to contracts, Peraton may gain access to the relationships Perspecta and Northrop have in different agencies and bureaus. The companies are connected to the Department of Health and Human Services' Centers for Medicare and Medicaid Services, the Department of Homeland Security's Cybersecurity and Infrastructure Agency, and the departments of Housing and Urban Development and Treasury, among others. Peraton may also benefit from Northrop's strength in the intelligence community.
Part of a Larger Trend
Over the last few years, contractors have refined their offerings and worked to grow their footprints to better compete, especially in the IT sector where everyone is racing for spots to create a select group of top federal IT contractors, similar to the "big five" defense contractors.
The path to get to this new Peraton has been complicated. In 2017, Computer Sciences Corp.'s (CSC) commercial sector merged with Hewlett Packard Enterprise's enterprise services business to become DXC Technology Co. DXC then spun off its public sector business and merged it with Vencore Holding Corp. and KeyPoint Government Solutions Inc. — which had been held by Veritas — to become Perspecta. Now Perspecta will have a relationship with Veritas again.
Other companies have taken similar routes in hopes of reaching the top IT contractor spot. In 2015, SRA International Inc. and CSC's public sector merged to become CSRA Inc., which General Dynamics Corp. (GD) then acquired in 2018. GD is the top IT contractor, for the moment. Science Applications International Corp. bought Unisys Corp. in 2020 and Engility Holdings Inc. in 2019, helping it become the No. 8 IT contractor in fiscal 2020. L3Harris Technologies Inc. became the No. 7 IT contractor after L3 Technologies Inc. and Harris Corp. merged.
Northrop took a different path by divesting its IT services firm and focusing more on defense contracting, supported by its 2017 Orbital ATK acquisition to expand into the space and missile defense sector. The company's contract obligations put Northrop solidly in the top five federal contractors, where it is likely to remain even after the divestiture.
Looking ahead, there may be a flurry of M&A activity in the IT market based on CIO-SP4. Large businesses that don't win one of the up to 125 unrestricted spots awarded by the National Institutes of Health's IT Acquisition and Assessment Center may acquire a small business to buy their way in. This tactic was common after the General Services Administration awarded Alliant Small Business, but deals like this stalled when solicitations started including language that required small businesses to stay small throughout the contract in order to keep their spot. CIO-SP4 doesn't include that language, but does include up to 300 small business spots. Awards are expected in January 2022.
To contact the analyst on this story: Laura Criste in Salt Lake City, Utah at lcriste@bgov.com
To contact the editors responsible for this story: Michael Clark at mclark@ic.bloombergindustry.com
Stay informed with more news like this – the intel you need to win new federal business – subscribe to Bloomberg Government today. Learn more.